By Lori Stultz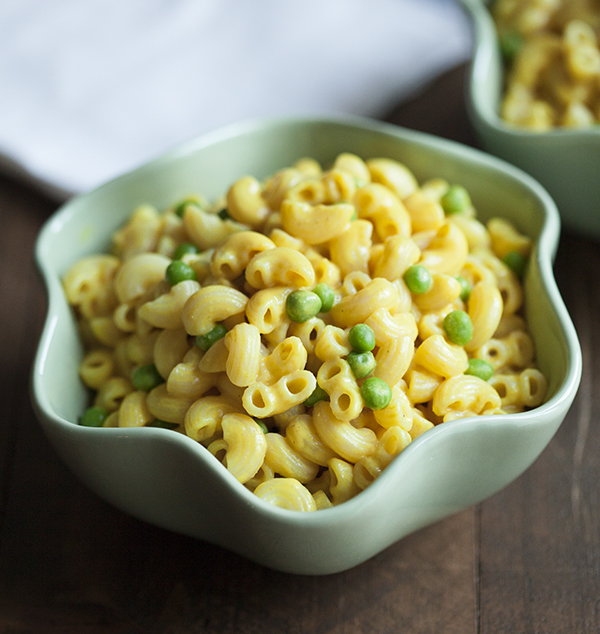 Macaroni and Cheese is one of those meals that you can almost guarantee everyone is going to enjoy. I don't think I've met a single person, kid or adult, who doesn't enjoy a warm bowl of pasta and cheese. It's also one of those meals that people think they'll have to "give up" when they choose to cut animal food products out of their diet. Little do they know there is a whole host of homemade and store bought vegan mac and cheese options out there!
Today, I'm going to share one of my favorite mac and cheese recipes, which was created by vegan food blogger Gena Hamshaw. I've been following Gena's blog, The Full Helping, since 2014, but Gena has been creating and blogging about her scrumptious food creations since 2009.
My favorite part about this recipe is that Gena included peas! For anyone who hasn't tried this combo before, I highly recommend it! If you're truly not a green veggie person, though, they can easily be omitted (or served on the side). I used this recipe for a small get together about a year ago, and everyone absolutely loved it! The guest who ended up eating the most was my friend Stephanie's nine-year old son—a testament to the age demographic it is sure to satisfy.
I made the gluten-free version of this meal, but if you're not gluten intolerant feel free to use whatever type of pasta you like!
Enjoy!
Easiest Vegan, Gluten-Free Mac n' Cheese + Peas
Ingredients
⅔ cup (about 3 ounces) raw cashews, soaked in water for at least 2 hours (and up to 8), drained
½ cup cooked cannellini, great white northern, or navy beans
2 tablespoons freshly squeezed lemon juice
½ teaspoon smoked paprika
1 teaspoon ground turmeric
2 tablespoons miso (I like to use mellow white miso or chickpea miso)
¼ cup nutritional yeast
1 clove garlic
Dash cayenne
½ cup water
1 cup green peas, blanched for 1-2 minutes and rinsed in cold water, then drained (I used frozen green peas, but fresh would be great too)
12 ounces elbow pasta (I like to use brown rice pasta)
Instructions
First, make the pasta sauce. Place the cashews, beans, lemon juice, paprika, turmeric, miso, nutritional yeast, garlic, cayenne, and water into a blender or a food processor and blend/process until totally smooth. The sauce should yield about 1½ cups. Set it aside until you're ready to use it.
Bring a pot of salted water to boil and add the pasta. Cook the pasta, stirring frequently, until the pasta is tender, using the package instructions to help inform cooking time.
Drain the pasta and return it to the pot. Add the cooked peas. Add the sauce and fold everything together gently, until the pasta dish is creamy and evenly coated. Adjust seasoning to taste. You may not need to use all of the sauce—if you have a few tablespoons leftover, you can reserve them as a dip or a dressing for a salad or a grain bowl, or you can use them to top leftovers.
Divide the mac n' cheese onto four plates or bowls and serve. Leftovers will keep for up to three days in an airtight container in the fridge.
You can check out this blog (and more) of Gena's here.