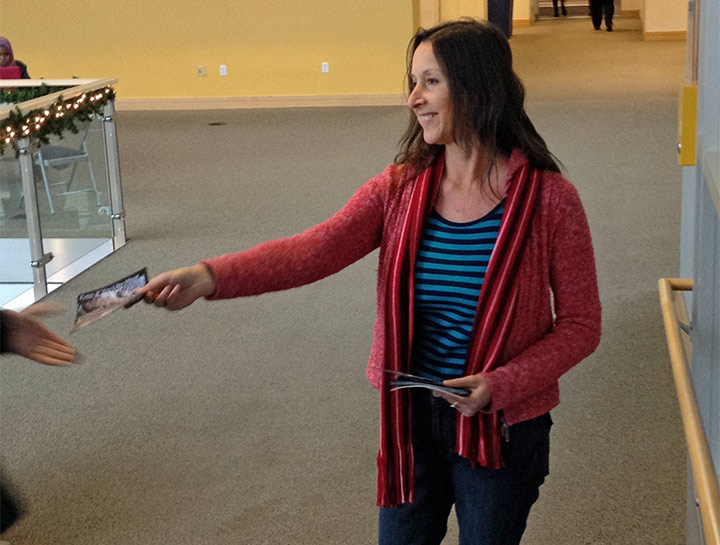 The Power of a Leaflet
At Vegan Outreach, we believe that until most people give up eating animals, we cannot create a society that is free from the major abuses of animals. We have found that one of the most effective ways to move individuals away from eating animals is to leaflet with our booklets.
Through Vegan Outreach's Adopt a College program, leafleters hand booklets to about 2.5 million individuals every year.
A study conducted by Farm Sanctuary in 2013 found that about 1 out of every 50 students surveyed indicated that they became vegetarian or pescatarian after receiving a booklet on a college campus. You could reach 100 students (often many more) spending just an hour on a college campus, and there are now two new vegetarians!
The study concludes that 50 animals per year are spared for every 100 booklets distributed – that's one animal spared for every two booklets you hand out! Over time, two new vegetarians can go on to spare thousands of animals from a lifetime of unnecessary suffering.
For best results, Vegan Outreach focuses on reaching high school and college students who are at the age where they are questioning the status quo and not yet set in their habits. These young adults also have many years of potential vegetarian eating ahead of them, so their potential to reduce cruelty for decades to come is immense.
We frequently see the direct results of our work – whether it's running into a vegetarian who cites our literature as their foray into veg eating, overhearing "I'm never eating meat again!" several times each day, or seeing text-message requests for our Guide to Cruelty-Free Eating pour in, we're constantly reminded that we're making a difference, and the results keep us motivated to expand our impact.
A Day in the Life of a Vegan Outreach Leafleter
Vegan Outreach has assembled a team of dedicated and passionate activists who leaflet across the United States, Canada, Mexico, Australia, and New Zealand. Many of our leafleters tour nationwide, hitting dozens of schools and reaching tens of thousands of young adults each semester.
Whether touring or not, typical routines for our leafleters are similar. They wake up early and drive to schools to catch students arriving for their first class of the day. Upon arrival, they carry boxes of Vegan Outreach literature across the campus in search of the ideal leafleting spot, many of which are well-known from years past. From there they leaflet throughout the day, stopping every so often to answer questions from curious students. They leaflet through the end of each school day, drive home, answer some emails and submit their daily report, go to sleep, and do it all over again the next day!
They follow the Monday through Friday school week and often leaflet more than one university in a day. Depending on the size of each school, they typically reach between 300 to 5,000 individuals per day.
Just Do It!
By simply eating veg, we personally save dozens of animals each year. But we must look beyond our own vegetarianism in order to accelerate a positive paradigm shift for animals. Leafleting is simple and effective, and anyone can get involved. By dedicating just two hours each month for one year, you can expand your influence to 10, 20, 30, or even 100 new veg eaters.
Give leafleting a shot! If you're confident and want to get started on your own, check out this video of leafleting tips and tricks created by Vegan Outreach's Director of Outreach, Vic Sjodin.
Then see our How to Adopt a College info. You can also contact us to join an experienced leafleter in your area.
Become a Vegan Outreach Member
Last but not least, and especially if you don't have the time to leaflet, a donation to Vegan Outreach can do the leafleting for you. Consider becoming an automatic monthly donor to support the spread of veganism year round!
Join us today!