Sign up for Vegan Outreach's E-Newsletter (in the sidebar) to have feedback and weekly updates delivered to your inbox!
---
A leaflet I got [from VO at a Warped Tour concert in Kansas] was what made me further research veganism. Here I am 2 years into it… Never ever going back!
—Amanda D, 7/25/15
---
[Kristi Blazek, Tinya Duffey, Diane Freed, and I] handed out Compassionate Choices before [Bill Maher's] show started and people were very receptive to the leaflets. A lot of people actually thought we were with Bill Maher; my favorite comment of the night was, "Oh, this is so Bill!"
It was Kristi's very first time doing any kind of activism and she was awesome! And it was Diane's first time leafleting – she was a natural too! Before the doors opened for the show, I saw people sitting down reading the literature. All in all, a very successful night!
—Alison Mercer, 7/17/15
---
Jennifer Pietrzycki [below] and I both work downtown so we met afterwards to leaflet near the cow sculpture in front of the Chicago Cultural Center. A few people stopped with questions including one of the leaders of the Green Party of Quebec who was visiting Chicago. He said they had translated Earthlings into French with a well-known hockey player narrating! One young man initially said no to the leaflet, then said he came back after seeing the cow sculpture.
—Leslie Patterson, 7/6/15
John Jungenberg, Sandi Swiss, and I had an amazing time leafleting the Morrissey concert in Chicago – so many supportive folks and a lot who were interested in the information!
I met one girl who really wants to go vegan, another who was vegan and wants to get involved, and a lady who wants to donate!
John also talked to some interested people and was recognized from one of our bike / leafleting trips.
—Rachel Shippee, 7/9/15
---
This is Daniel [below, left] from Oklahoma City, OK, who we met at yesterday's Warped date. He's been veg for over two months from reading a booklet and loving it!
—Jose Elias, 6/26/15
Below, right are Raina Dye, Chris Guinn, Kassy Ortega, Jose Elias, Stephanie Frankle, Beau Broughton, and Radish at the Oklahoma City stop, where they reached 4,760 concertgoers!
---
Joselyn Aguilar, Gabriela Sánchez, Oscar Ureña, Carlos Contreras, and I handed out 10,800 VO booklets at the Universidad Nacional Autónoma de México, Ciudad Universitaria today!
Many people were interested in changing their habits after reading the booklet, like Verónica, who said she will go vegan. Nayeli [below, left] told us she is eating veg from now on. We talked a lot with Nelly [below, right], who used to eat fish and eggs, but after the talk and the booklet she won't anymore; she also told us that our work was very good.
Arturo and Romina [below, left] are teachers of martial arts in a high school at the UNAM. They used to eat vegetarian but stopped awhile ago, though after reading the booklet they decided to do it again and promote it with their students. They asked for a bunch of booklets and our contact information to organize a talk for their students next semester.
Ramón and his girlfriend are vegans; he was very excited to see us and offered to make a donation right there. I told him to give to VO through our web page instead. Gustavo is giving a try to veg eating thanks to the literature; he told us that his classmates had a booklet that they passed around to each other. A single booklet reached out to a whole class!
In the afternoon, we met Leonel and Zulema who will try veg too. A group of girls and a guy were passing by us and we heard one of them say, "Thanks to that leaflet I'm seriously considering being vegetarian" and another girl celebrated that by raising her arms. After a while, the guy came back and asked for a bunch of booklets to share with friends. His name is Javier [above, right]; he told us that most of his friends are vegetarians and they were very happy because their friend was being serious.
We saw a lot of people shocked by the content of the booklet, even a couple of them crying, and countless were reading. Maybe I wrote too much, but I just couldn't save this to myself!
—Emmanuel Marquez, 5/21/15
---
This is Dennis [from Philadelphia, right] – he received a VO booklet and went vegetarian, and is now vegan! He's looking forward to volunteering soon.
---
It was great to leaflet with Jane Jancys and Nicolas Tomas [below, center] – together we handed out 1,600 booklets at Cal Poly Pomona.
Highlights were speaking with Samira [above, left], who wants to go vegan after getting a booklet. And meeting Lilly [below, left], who went vegan from a booklet. We also met Elliot who had gone vegan from a booklet in the past. Bingo!
---
At right is one of the Shippensburg University students Kassy Ortega reached this semester who is interested in going veg!
---
Jenny Richards' church had a series of three speakers talk about something health and holistic related, so I gave a talk to about 40 women. It was very well received; we couldn't stop the conversation.
Fast forward a few weeks later, and I spoke to a woman who is now going vegetarian (one day wants to be vegan!). I sent her an email that included our Vegan Mentor Program.
---
I ran into a student [right, at Evergreen State] who was handed a Why Vegan? pamphlet in 2004. He has been vegan ever since! He said reading it changed his life and he expressed his appreciation for our work.
—Shura Hammond, 4/15/15
---
Today was a great day at the University of Wisconsin in Milwaukee. John Jungenberg and I handed out 1,644 VO booklets and had so many good interactions, including overhearing one girl tell her friend these "changed her life." We got a lot of new volunteers, too!
---
Awesome day of activism! Rachel Shippee and I handed out 1,612 Vegan Outreach leaflets to students at two high schools and one college [on 5/7/15]! We talked with a bunch of people who are now going veg!
Tonight I handed out my 100,000th VO leaflet at the Rock on the Range festival in Columbus! Over the time that I have handed those out, I have talked to hundreds of people interested in going veg from getting a leaflet – I feel very accomplished knowing that my actions have spared the lives of thousands of farmed animals. You can get that feeling too – get involved with Vegan Outreach so you too can help stop farmed animal suffering!
---
Amazing record-breaking day on our first stop in NY! John Sakars and I were once again joined by Ellie Donohue-Miller, an amazing activist we had on our previous record-breaking days at Guelph, Niagara, and Brock; and a new leafleter named Amy Garside, who works at SUNY Cortland! Amy very much enjoyed her first time leafleting and has plans to continue doing outreach herself!


I was received very well by teachers and students at Tompkins Cortland CC and was quickly informed there was going to be a Cowspiracy screening next week. The take rate was amazing and having the opportunity to inform students about the screening and the school's upcoming Earth Week (partly organized by our amazing, angelic host and professor at Tompkins, Amber Gilewski!) was really great. I had a few nice, long positive interactions with students who had concerns about what to eat and how animals are treated and their impact on the environment, and they were really thankful and attentive.
At SUNY Cortland, John also encountered Audray [shown], who had gone vegetarian after receiving a VO booklet last year and is now vegan! Hooray!
---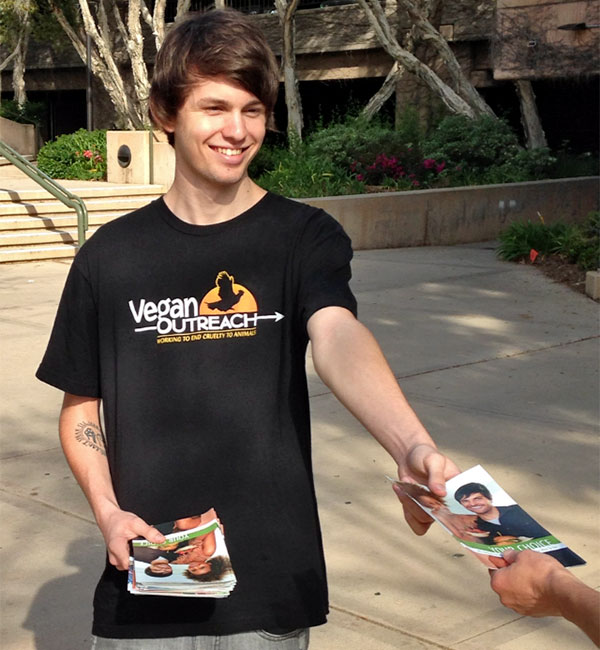 David Zeller and I had a really good day here at the Australian National University – high take rate and receptive students. We more than doubled the previous one-day campus record of 650 booklets.
I had a conversation with a lady who said she ate meat but always felt bad about it and wanted to go vegan but didn't know where to start, so I gave her a Guide to Cruelty-Free Eating and she said she was going to give it a go.
David had plenty more conversations with people who were interested in changing their diet, including a pescetarian who now wants to go vegan.
---
We visited a small but very interesting private school, the Alva Edison University, which promotes vegetarianism and veganism in the halls of the buildings! We were shocked to see posters of famous vegetarians and vegans such as Aristotle, Einstein, Da Vinci, Paul McCartney, Gandhi and many others [below].
The cafeteria is vegetarian and almost completely vegan. These conditions are due to the principal: he is vegetarian and a very nice man that we had the chance to meet. We had the support of a very energetic local group called MEDA; they are helping a lot, guiding us about the universities and introduced us to the principal [below].
Despite the fact that the school promotes these values, not many students eat veg and the principal was so happy to have us there that he granted us the authorization to visit all of the classrooms and give a brief speech. So every leaflet that we handed out today was followed by an explanation of its content, the impact of factory farming and veg eating, with personal examples and local information. A lot of students reacted in a very positive way; an amazing experience.
---
Right: Quinton, a student who is on the football team at Benedict College, received our booklets and is now interested in going veg!
---
Another amazing day leafleting Gainesville with Lynda Cozart! Day two and for a second time a leafleting record goes down. This outreach was orchestrated nearly perfectly, with me and her splitting up and each taking excellent posts on near-opposite ends of the Santa Fe College campus. Doing this we did 400+ on the first two class changes and at least 300 together for the rest. Great results for just the two of us!
Lyn had a faculty member come up to her at one point, thanking us for raising awareness and saying vegetarians were becoming lots more common on campus. I found four vegans and even more vegetarians on my side – more than we met last semester, it felt like. With the meat eaters we talked to, every one of them responded very positively to hearing that changing their diet to help animals wasn't an all-or-nothing proposition. At least three of them promised to do what the Even If You Like Meat asked and cut their meat consumption in half. One omnivore towards the end though did let me know she was so disturbed by the booklet, she was finished then and there eating meat; and even better, said she'd be interested in volunteering next visit! Excellent news there – she was the second of two signed up today to get active in the future for animals.
Super developments again coming out on another big day for us in central Florida!
—Yuri Mitzkewich, 3/10/15
---
Right: Damaris, a Rio Hondo College student who went pescatarian as a result of receiving a VO booklet in the past, now wants to go vegan and help her best friend make the switch!
---
Written to VO's Senior Outreach & Strategy Coordinator, Vic Sjodin:

Once again, I would like to express my gratitude. I was deeply touched by your presentation and Q&A [at Cypress College]. I am excited to start my new diet and journey in life. I am done crying and will focus that energy to spread veganism. I want to be an example to my family and friends. I am excited to continue learning about veganism and to spread that knowledge.…
I read the three leaflets you provided from cover to cover. Shed a few tears for the pictures of Kevin and Emily. I am excited to go to Trader Joe's, Sprouts, Fresh n Easy, and Whole Foods. The Guide to Cruelty-Free Eating is a tremendous help!
—TK, 4/17/15
---
Right: After reading the Your Choice she received at UCLA this semester, Leslie now wants to go vegan!
---
I leafleted for an hour today [at MiraCosta College]. The first person I gave a leaflet to had walked up to me with a plate of pepperoni pizza in his hand and, after receiving an Even If You Like Meat leaflet, said this pizza was the last meat he would ever eat. Another person said she is already a vegetarian but that she wants to reduce how much dairy she eats.… In one exchange, I handed a leaflet to a lady who then requested another to give to her coworker. A student later came up to me and told me that he supports the values of a vegan diet, that he is running for student government and that, if elected, he wants to work with me to propagate vegan philosophy on campus, after which statement he took five leaflets to distribute on his own. And on two separate occasions, students sought guidance as to how to volunteer with Vegan Outreach. I told them that they, too, could leaflet and referred them to our website to learn how to Adopt a College.
—Jason Pache, 4/2/15
---
Right: After hearing Vic speak at Chaffey College, Casey said, "I'm going full vegan!"
---
I ran into Max at the University of Nevada. He credits his veganism to conversations he had with the great Victor Sjodin six years ago at Penn State!
Special thanks to my gracious hosts, who have kept me well-fed and sheltered from the cold drizzle I always seem to bring to Reno with me!
—Steve Erlsten, 3/24/15
---
We had two volunteers today at the Instituto Tecnológico de Aguascalientes: Alondra Sarmiento [right] and Israel Rodriguez.
Alondra had never met another vegan or vegetarian in person before; she also had never done activism at all. She told us she was very happy to meet us and that she felt very good helping animals by leafleting for the first time. She's very shy and at the beginning she was having trouble doing it; but after some tips and jokes, she made it happen. She left with a smile knowing the positive impact she had on farmed animals, and decided to move from vegetarian to vegan.
Israel is not even vegetarian, but he has done activism for other causes before, such as screenings and a little bit of leafleting. He's an energetic young man, he helped a lot and we talked about factory farming while doing it; he is trying veg now.
Besides the positive experiences with the volunteers, we had a lot of good ones with people receiving the leaflets. Three or four people asked for another leaflet to share. Two girls that help dogs and cats engaged in conversations about factory farming that turned out with them trying veg. And finally, a girl stood 20 meters away from us and read the leaflet from cover to cover [shown]. It was an energy-recharging day.
—Emmanuel Marquez, 3/19/15
---
Today was the Ryerson Winter VegFest. I met someone who I remembered talking to during a previous leafleting session at Ryerson University. I was able to find my report from 4/26/13 – this is what I wrote back then:
I had several nice conversations today. One was with a young man who asked me if I was vegan and for how long. When I asked him the same back, he said he had been vegan for a month. I asked him what had prompted the change, and he said getting a Compassionate Choices and watching online videos. He is interested in learning how to eat better so was pleased to get a Guide, and I also gave him a Vegan button and took a photo. He also asked about volunteering, and I told him about Vegan Outreach as well as the Toronto Vegetarian Association.
He is still vegan! The photo [right] is the one from 2013.
I also met a man who initially refused a leaflet, saying that was no good, he needed to put on weight. I said I have the perfect one for you and whipped out The Compassionate Athlete. As he started flipping through it, he asked what it was about, and I said it was plant-based eating for athletes. He said he couldn't go vegan or he would die! I told him I have been vegan for 25 years and I'm not dead yet; he and his friends all laughed with me, and he took the leaflet – win!
I also chatted with the Toronto Vegetarian Association volunteer at the VegFest. She wants to help leaflet and is a Ryerson student, so I took her information. I got to the table later in the day and by then they were all out of leaflets. She said the most popular was The Compassionate Athlete.
—Alex Greenwood, 3/12/15
---
Such a good day! Phoenix College is the most interested and receptive campus I've ever leafleted. Dawn Ratcliffe and I must've had at least 20 productive conversations with students, as well as had a handful of students want to go veg on the spot.
Crystal [right, reading Your Choice] had no idea about factory farming and now wants to go veg. She text-message ordered a Guide to Cruelty-Free Eating and started telling her friends about what she learned!
We got some e-mail addresses and even some staff were interested in learning more. Energizing day.
—Rachel Black, 2/18/15
---
My sister-in-law gave me an extra pair of ski pants, and today they totally saved me in the ~15°F weather! I was super warm but many students were clearly caught off guard by the -15°F windchill, so the take rate was a little lower than usual here at Queens College.
One student stopped after having received a leaflet earlier, and asked, "Is all of that true? Does that stuff really happen?" She was looking for reasons not to believe what was clearly shocking to her, and even pointed out that she didn't see blood on the male chicks on the conveyor belt. I explained that they hadn't gone through the machine yet. She asked a number of questions about the male chicks, about why they would do this, what their bodies are used for afterward, etc. After a long conversation (10 minutes is long in this weather) during a non-rush period, she left saying that she couldn't go completely vegetarian yet, but would at least eat veg every other day.
She also said that she thought the use of attractive people in the leaflet was great marketing, and caught her attention enough to keep reading! She said she liked that the use of people making healthy choices throughout the leaflet seemed to have a more positive spin than how her veg roommate talks about the same issues.
—Eileen Botti, 2/24/15
The Compassionate Athlete booklet has been a total success for my four presentations, especially for the "Healthful Eating" one. I have never had so many students pick up booklets and read them from beginning to end during my Q&A session at the the end of the presentation.
—Lorena Mucke, 3/4/15
---
Great to have John Sakars return to me from Vegas. He recruited one of his internet contacts, Chris Siegel [right], to join today. Chris was lovely and really took to leafleting. Together, we reached more than 2,000 students at Long Beach City College.
I met Denzel [right] – we spoke for a long time; he's all about going vegan after reading the booklet. I also spoke to Gianpiero for over 20 minutes – he said it was a profound experience, talking with me and reading the booklet; he is well on his way and was telling me what he was going to say to his wife, and that he may join the VO mentor program. I had more than a half dozen other conversations – it's so good to be able to speak to people in person – it's one of the things I love most about Vegan Outreach on the pavement.
Another epic thing about this school is the long wait at the crosswalk where there are six lanes of traffic and a little island. I think the light changes every three minutes, so of course many read the booklets while waiting – many times I saw 10, 15, 18 reading. Bonus.
Really fantastic day that made me feel happy to be alive and thankful to be doing outreach. John is a real soldier and loves to leaflet.
—Vic Sjodin, 2/25/15
---
We tabled and leafleted indoors at Southwestern Illinois College today. One student decided to go vegan after visiting at our table. Another student told me that she went vegetarian after interacting with me last semester. I Guided both of them. A couple other students said they had reduced their meat consumption since getting literature from me in the past.
Alex [Astarita, below] had gotten a booklet from me at Saint Louis University in the past and went veg. Today was her outreach debut, and she did great! Big thanks to Alex for taking a three-hour-round-trip, four-train ride to join me for a great day of outreach!
—Rick Hershey, 1/21/15
---
Today's feedback from students at Berkeley City College was invigorating! First I heard from a student who went vegan after receiving a Your Choice booklet last year. Then a student named Mahsa [right] said she went vegan after receiving an Even If You Like Meat booklet last semester. Then another student said he went vegan a year ago because of a Your Choice booklet. And toward the end of the day, a fourth student said she went vegan after getting a booklet from me!
—Steve Erlsten, 2/4/15
---
Truly amazing day at the University of New Orleans! I was joined by friend and vegucator extraordinaire Mark Meunier – it was his second time out here at his alma mater, and together we reached more than 1,500 students! We topped the school record by over 400; and even better, students were coming up left and right telling us how moved they were by the literature. We had about 12 to 15 solid discussions in total, an amazing 5 of these with students promising to start eating veg from now forward!
An extra bonus was meeting Alexis again [below], who last semester said she was giving veganism a go after getting a leaflet that day. She stopped today to let us know she was still going strong and had no plans on going back! Another VO success story!
Devonte [below, left] stopped as he got his leaflet, saying he'd been thinking of trying to stop eating animals. He got the lowdown on where to easily find substitutes locally and said he'd be looking for foods to try beginning today.
Matthew [below, center] got a leaflet and within 5 minutes came back to us saying how disturbed he felt learning the horrors of the intense confinement shown in the Your Choice. He got extra info and after talking with us said he was going veg!
The amazing string of conversations continued with a student named Sean, who said he'd be trying the alternatives on sale at the Winn-Dixie where he worked. Then another named Jenna, who Mark talked up, was likely going to be looking for substitutes and eliminating her animal consumption.
Another great conversation Mark had was with Emily [above, right], a vegetarian who got an Even If You Like Meat and said she was going the whole way from getting the info today.
Amazingly, all this happened before 11 am today! A super start to what was overall a truly unbelievable day.
—Yuri Mitzkewich, 1/20/15
---
Today was my first time leafleting officially as a VO Outreach Coordinator – it was very exciting; I got to UANL very early in the morning and left at night. There were a lot of volunteers and support; and there were thousands of people because it was the first day of school for many and the last day for registering.
People were super receptive for printed material, as usual in Mexico. First a father and son came to me to congratulate us for the work we do and asked for more info of the organization and veg eating; the son is very into it. Then Ana [right], a vegetarian interested in going vegan, offered to help. Later on, Katia Rodriguez met Israel, a 22-year-old guy who after receiving the leaflet decided to go vegetarian and help out in that very moment. A couple asked for substitute foods, two guys asked us to go out to eat so they can know veg restaurants, and a bunch of people asked what they could do for animals to help more. An amazing day.
—Emmanuel Marquez, 1/19/15
---
Jason Oliver and I reached 1,625 students at the City College of San Francisco today. It was Jason's first college leafleting, but he is an old pro at activism and having persuasive conversations.
I gave a Guide to Cruelty-Free Eating to one student who said my "homeboy up the hill" had convinced him, and he is making the switch!
—Steve Erlsten, 12/8/14
---
Chris Dietrich, Gunita Singh, Chris Guinn, and I leafleted an Attila concert at the Baltimore Soundstage – they're a Warped Tour band and we had Warped Tour leaflets! Amazing demographic of course, and 99% take rate. Incredible. During the rush, Chris Guinn heard a girl say: "I'm vegetarian because I got one of these at Warped Tour." Whoah!!
—Kassy Ortega, 12/11/14
---
Long day in cataclysmic traffic but my favorite campus outreach of the semester maybe!!! I spoke to two students at Norco College for about 10 minutes, and they want to try veg eating together – they are so adorable [below, right].
I saw an insane amount of people reading because many of the booklets went to students waiting for class. I overhead several conversations start; and walking back to the car, I saw a cover-to-cover reader – I had run out of Guides by then but pointed out the number on the back to get one and she was stoked.
Wonderful students at Moreno Valley College. I spoke to a group of three [above, left] for a long time and it was awesome – all three were interested in veg eating and were full of kindness and positive energy. It was a real high to meet so many receptive people and have so many conversations today. Schmoozapalooza!
Andy MacKenzie was a rock as usual and has been dressing more conservatively lately to fit in – what a guy!
—Vic Sjodin, 12/4/14
---
The take rate at Vanderbilt University was a bit tough, but Rob Gilbride and I met several students who were interested in making changes, and one [right] who was given a VO leaflet two years ago and went vegetarian! Go, AAC!
We also met someone who happened to be giving a talk on the Blue Zone diet (plant based) and was super excited to see us there. One man said Compassionate Choices was "eye opening," and many thanked us for doing this work.
—Eleni Vlachos, 10/29/14
---
Anna Durrett and I reached 1,000 students at Southern Illinois University. Anna got a booklet from us in 2008 when she was a student at Mizzou; she looked at the front and back cover only, and then recycled it. Still, after graduating she went vegan, moved to Carbondale, and took over the vegetarian Thanksgiving dinner at SIUC, now the vegan Thanksgiving dinner. This was my fourth time cooking for this event; I made the garlic mashed potatoes and mushroom gravy yesterday after driving in from Cape Girardeau, MO. After the dinner, Anna decided to leaflet the first two class changes with me today before going to work. She did great, and even managed a bike pass and a skateboard pass! Big thanks to Anna for leafleting before work today in the windy 20°F weather!
—Rick Hershey, 11/21/14
---
Kassy Ortega met the woman at right at the Charlottesville Vegetarian Festival. She told Kassy, "Vegan Outreach is the reason I became vegan 10 years ago. After I read a pamphlet, it didn't happen right away, but if it wasn't for VO, I wouldn't be vegan today."
---
I had a great day at Highline College. I ran into a girl who has been a vegetarian for more than two years now after receiving a VO leaflet on campus. So great!
I also met a guy who has been a pescatarian for a few months. We talked about the egg industry for a while, and he told me he wants to make a gradual shift toward veganism. I had quite a few other nice interactions. I always get so involved in answering people's questions and am just so thrilled that they are interested in learning more, that I forget to give them a Guide to Cruelty-Free Eating! I did remember with one girl who came up to me after seeing people with leaflets around campus. She said she's been thinking about going vegan for a while but needed that final push to actually do it. She seemed really excited, and I am hopeful that the leaflets will serve as that last push toward going vegan.
—Shura Hammond, 11/5/14
---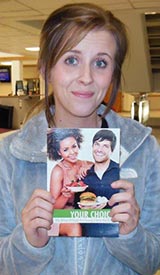 I tabled and leafleted indoors at Mineral Area College today. I had conversations with around 60 students; two of them decided to go vegan after visiting at my table. A photo of one of the new vegans is [at right]. One professor came by to let me know I had him convinced that being vegetarian was more ethical.
One student came by my table and after visiting decided to reduce her consumption of animal products to one day per week; she was extremely grateful for me being there raising consciousness. She approached me a second time in the parking lot when I was leaving to again thank me for being there spreading the word.
—Rick Hershey, 10/29/14
---
I went on a road trip to San Francisco State University; fun as always, with the Don. We handed out 1,800 Your Choice booklets and had several nice conversations. One of note: a woman took a leaflet, came back later and thanked me for being there. She said it was a leaflet similar to that one that made her go vegan 7 years ago.
And to everyone who self-identified as a vegan, I said VO is always looking for leafleters!
—Tammy Lee, 10/28/14
---
After leafleting Elgin Community College on Monday, John Jungenberg also reports: "I talked to two students [right] who want to reduce their meat consumption after reading the booklets – I gave them encouragement and Guides!"
---
Killed it at the College of Lake County today!! We broke the record by over 500!! We had some fantastic conversations, too – Paul had a couple people tell him they would try going veg!
I also got the email address of someone who wants to get involved. It was a great day all around! Thanks to Paul Picklesimer, Araceli Rodriguez, and Alex Corrigan for joining me!
—John Jungenberg, 10/14/14
---
Cobie deLespinasse and I have a tradition of leafleting on my birthday since it is World Vegetarian Day. It was a fitting day for me to set a personal 1-day record. We ran out of booklets early. Had we had more, I could have given out another hundred or two hundred. It was a great day at the University of Oregon, perfect weather.
Thank you to Hannah Dilday, a UO student who leafleted with us this past spring and this fall. She did a great job and was very excited to be leafleting.
I met a guy who wants to go vegan and had a long conversation. And Cobie met a man who went vegetarian 3 years ago after receiving a booklet.
—Nettie Schwager, 10/2/14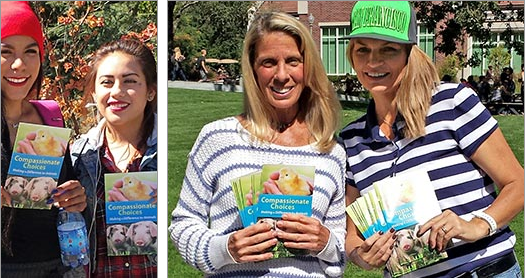 ---
Record day at the University of Maryland in College Park on Monday! Jessica Silva and I started at 8:30 am, and were later joined around 10 am by Aaron Ross, Kate St. John, and Jaime Hecht! Together we reached 5,600 students. It was insane!!!! Team effort to the extreme.
Today we set another campus record: Chloe Falkenheim, Dave Mosick, Stewart Jester, and I [above] reached 4,320 students at Virginia Commonwealth University!
Crazy-tiring day. I picked up Chloe at 6:30 am, we drove to Richmond, banged out over 4,000 booklets with amazing people, and then drove to the College of William & Mary in Williamsburg to speak to their veg club. Exhausting, but oh-so-productive. The club is active and was very receptive, so hopefully I'll have some help for when I come to this school!
On a roll with records thanks to everyone who volunteers to come out and leaflet! I love VCU – there are so many students and so many vegetarians. Chloe met so many students who wanted to start a veg club!
—Kassy Ortega, 10/1/14
---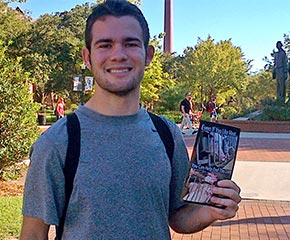 We reached 2,100 students at Florida State University today! Kudos to Jay Quigley from the FSU student organization Ethical Food Association – even though he wasn't able to be there, he coordinated with volunteers Kyle Sumner, Jenn Egen, and Corey Rowland for the outreach today, and set up lunch and dinner for me to meet EFA folks and other area vegans.
Lots of vegans and vegetarians kept reporting in all day long, including Chris [above], who was one of the last I leafleted for the day. He said that he and his girlfriend were veg and that she wanted to get more active for animals, too. Taking a Guide to Cruelty-Free Eating for her, he then told me it was an Even If You Like Meat he'd gotten 6 months back that started the whole thing for them in the first place! No better way could this day have ended for us than with wonderful news like that.
—Yuri Mitzkewich, 10/16/14
---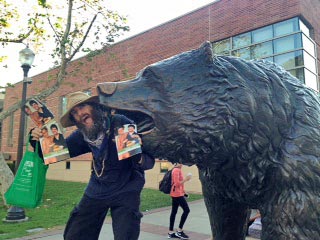 I handed out 200 Your Choice booklets at UCLA's Bruin Walk. [Above] is a pic proving positively "I was there," because it's the Bruin Bear statue come to life – maybe trying to bite or chew off one of my leafleting arms?!Also, the captain of the Bruins for Animals campus club saw me and spoke with me about teamwork. I suggested she contact VO to have them send a speaker, for one example.
It was a fun day, and I am glad I discovered the Bruin Walk area where leafleting outreach is best, with thick streaming crowds of pedestrians. I look forward to future pamphleteering there.
—Star Sevadar, 10/9/14
---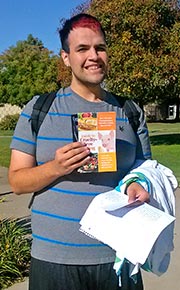 We set a new record at Yuba College yesterday! Aneesa Shah and John were solid leafleters, and I had one of those "this is why I do this" conversations with Giovanni, who went vegetarian last year after I handed him a booklet! I gave him a Guide to Cruelty-Free Eating this time!
I left Yuba a few minutes late, so I missed the first half of the 1:15 pm–1:30 pm rush at Chico State, but first-time leafleter Frank Panetta helped me make up for it at the 1:50 pm–2:00 pm rush.
Frank joined me again today at Chico State, and along with Jeannie Trizzino, Nicole, and Marco, we handed out 2,700 Even If You Like Meat booklets! This was the fifth record in five days, and the second big school this week where we hit 20% of the student population. Frank and Jeannie put in long days to put us over the top!
I had a great conversation with Joel, an ag major who put some honest thought into what I was saying. I also heard from quite a few vegetarians and aspiring vegetarians. Jeannie said the percentage of vegans and vegetarians seemed higher than it was a couple of years ago when she leafleted here. The revolution is gaining momentum!
—Steve Erlsten, 10/3/14
---
It as a cold day at the University of North Dakota in Grand Forks, but I reached 1,142 students and met a girl named Alex, who had taken a leaflet from me in the morning and then came back to talk to me during the afternoon. She wants to go vegetarian and get involved – not a bad day to wrap up the month!
—Jose Elias, 9/30/14
---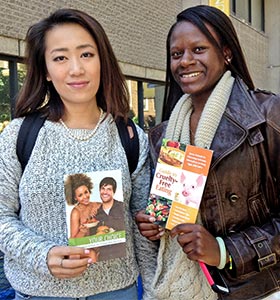 John Sakars and I reached 2,500 students at Ryerson University on Tuesday. I had a lovely chat with Cindy and Rakel [above]. Both had lots of questions: Rakel is studying food hygiene, and asked about protein, what a typical day's meals would be, and if I had enough energy; Cindy had heard about Freelee the Banana Girl and wanted to know if it costs a lot to eat vegan (I explained that staying with the basics of beans, grains, fruit, veggies, nuts and seeds is probably the cheapest and healthiest way to eat; and that more expensive products exist as for any cuisine, but are optional). Although they don't plan on going vegan, they clearly got interested. We also talked about avoiding chicken and fish as the way to help the most animals.
I also talked with a student who had questions about local farms, humane options, and free range. We talked about how most meat, eggs, and dairy come from factory farms, how there are still problems with small farms, and how cutting back on eating small animals would do more good and be easier than trying to find "humane" options.
I met 5 vegetarians and 8 vegans, and John handed someone a leaflet who said, "This is exactly what I need." There were also a couple of people there from a student veg group doing some leafleting of their own.
Yesterday at York University, Patti Nyman, Ali Pester, John, and I [below] reached 3,300 students. And today, John and I handed out another 2,058 booklets at the University of Toronto, where a student told John she already had a leaflet and that is the reason she went vegetarian.
—Alex Greenwood, 9/25/14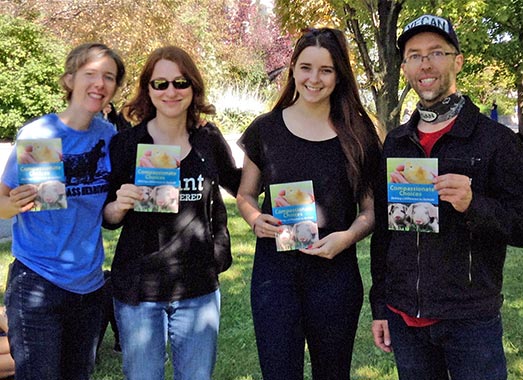 ---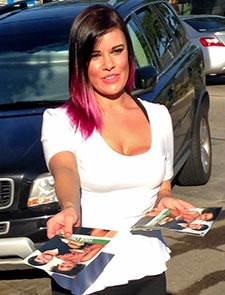 It was a blast to be with Richard Wheeler, Berenice Weber, and Krystin Elize at San Diego Mesa College and the University of San Diego. Richard is a marine officer who served in Nam, now soldiering for the animals with gusto. Berenice took half a vacation day, and Krystin sacrificed serious sleep to get up at 5:30 am and has work from 2 pm to 11 pm each day; truly amazing Joe Espinosa–like dedication.
Huge congratulations to Joe on reaching half a million students while working a full-time job – a number that truly inspires, and shows what one person with dedication, heart, fire, consistency, and Coca-Cola can do.
I'm sure many went veg today. Some highlights: We saw numerous readers, and several students came back for more booklets after class. I had a 15-minute conversation with a devout Christian baseball player who was fascinated by the many hidden vegan insights, and was genuinely moved to give not eating others a go. I said, "If you are the kind of person who would consider going through minor inconvenience to stop the incredible suffering of another, then you are likely the kind of person who would go vegan," and we left good friends.
—Vic Sjodin, 9/24/14
---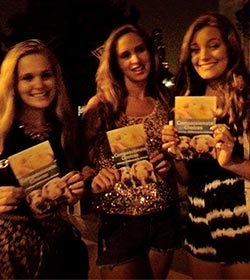 Another record broken at William Paterson! Mara Collopy and I got to the university at about 7 am to make sure we got parking spots. Caroline Bogart joined us at 12 pm; this was her first time leafleting and she did fantastic – super outgoing, sweet, and smiley. She jumped right in and could have handed out a lot more, but at that point we had already handed out 1,850 booklets and most people said they already got one.
—Rachel Black, 9/18/14
---
It was Constitution Day at Wright College, with programs including the ACLU talking about free speech. Ironically, a staff person challenged our right to be there but then never returned after saying he was going to security. Guess security told him what day it was!
Jovan Jimenez and I were able to reach 1,200 students. A teacher took 25 booklets to distribute to his class, and another teacher invited us to come back and table for Earth Day.
One student told me she got the leaflet last semester and has since stopped eating meat!
—Leslie Patterson, 9/17/14
---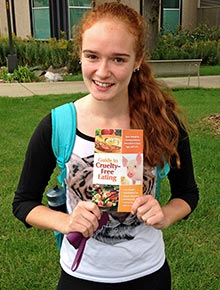 Great take rate at the University of Wisconsin Whitewater. I met Emily Kraemer, who has been a vegetarian for seven years and is making the move towards veganism! Upon seeing me leaflet, she instantly asked me how to get involved – looks like an activist in the making if you ask me.
—Jose Elias, 9/5/14
---
I spent the day at the University of Winnipeg, a small school right in downtown Winnipeg. I got lucky and stumbled upon some start-of-the-year festivities, so there was a lot of foot traffic for the first couple hours of my day. I managed to hand out 750 booklets on my own in the first two hours, and then Nikki Cha joined me for the afternoon and we handed out another 1,000 for a total of 1,750.
Students were curious and receptive! We met Danae and Alankrita, who actually tracked us down after seeing friends with our leaflets and have decided to cut out nearly all the meat in their diets! We also met Prem, who currently only eats small amounts of meat but wants to eliminate it completely! Finally, at the very end of the day I met Alexa, who had received a VO booklet in the past and is re-inspired to eliminate the cruelty in her food choices.
—Kristin Lamy, 9/3/14
---
Reached 1,800 students at the University of Southern Mississippi. Awesome college campus this one. Didn't think it could get any better after yesterday's reception across the state line in Alabama, but boy was I wrong. Students were in excellent form all day long here, good vibe on campus happening, like a take rate in the 90%+ range. Conversations came out steadily throughout the afternoon, talking everything from vegan relatives, to protein, nutrition and product substitutes, and naturally even to NFL's David Carter.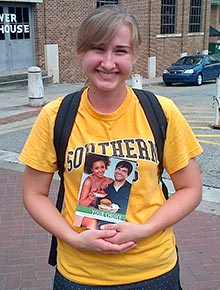 Highlight for me though had to be this student named Shannon [above]. She came back after a Your Choice got her interest, wanting to know all about our group and our wonderful mission. Though not a full veg but pescatarian for many years, she got all the goods (a Guide to Cruelty-Free Eating, veg shopping guide, etc.) and was so enthused she got an AML too before getting back on her way to class. This one I have no doubt will be following up, hopefully getting the word out further at this awesome school of hers.
—Yuri Mitzkewich, 9/3/14
---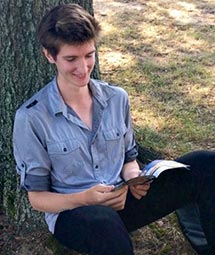 Today I handed out 1,250 Your Choice booklets at Rowan University. Students were very receptive, and one girl told me she went vegetarian after receiving a leaflet the previous year!
—Rachel Black, 9/2/14
---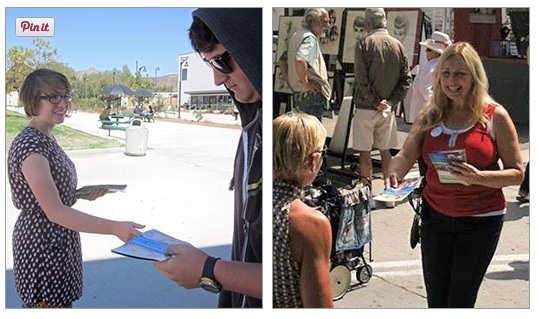 It felt so great to be back on campus with students seeming more receptive than ever to our message. The icing on the cake was that Rosie ([above] whom I met last year and who goes to a high school adjacent to the campus) joined me for her first-time-ever leafleting experience. She loved it and promised to come back for more! She also plans to start an AR group at her high school this year.
Met a couple of vegans and a bunch of students who want to head in that direction. A teaching assistant asked me for a few extra to hand out to students in her class. One guy came back after checking out the Compassionate Choices and inquired about the free Guide to Cruelty-Free Eating offer at the back of the pamphlet. He said he's changed his diet a lot since last year and is eating "grass-fed beef," etc. I told him it was his lucky day because I just happened to have a Guide for him and also gave him a Tribe of Heart Humane Myth pamphlet. He was so grateful; it was really sweet to see.
Since this is a 2-year college, we hit a lot of new students and only heard from a few that they had gotten the info last year.
Happy new school year, everyone!
—Barbara Bear, 8/21/14
---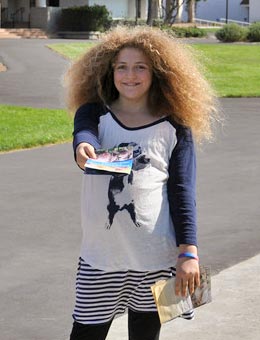 Fall classes started this week at Cuesta College. This was the only opportunity for my 12-year-old daughter to do some college leafleting with me, since her school starts on Monday. Having completed YEA Camp earlier this month, Brooke was ready to do some activism! We brought along her friend Zoe, who had never leafleted before. Both girls did GREAT! Lois , who is 84 years old, did amazing as always. Lois always beats my numbers, and this time my numbers were especially low because I spent time parking the car and retrieving our free-speech permit at the student activities office, while the others jumped into action for the class change. My other excuse is that I spent time taking pictures, with the goal of getting some really great photos to use on our local activist group's Facebook page.
Speaking of the free-speech permit, for the past three years I have been filling out a permit request form in advance of my leafleting, as required by the school. Today those efforts finally paid off! A student saw the leaflets around campus after we had left and asked the school about our group. She is a vegan and wants to do activism. The school office actually emailed me her information, using the email address I provided on the permit request!
Another really great thing that happened today is a gentleman handed Lois $20 to donate to our group! Wow! That is a first for us! We will pass that donation along to VO when we order more leaflets.
—Johanna Andris, 8/21/14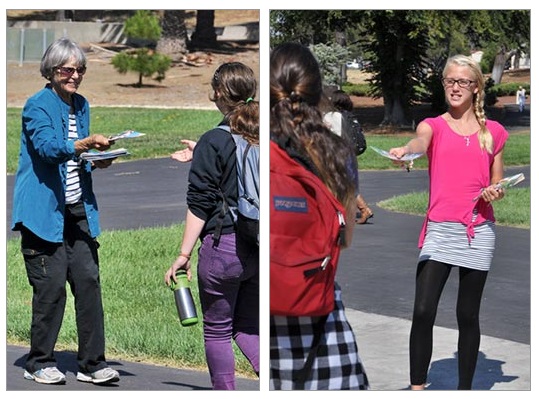 ---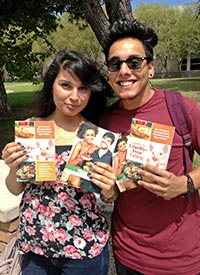 Absolute monster day: 8,760 students reached with a case for veganism at Cal State Northridge – a new all-time VO school record.
Huge thanks to Mu, Dane, David, and Leron [below, left] for coming out early and being so wonderful, and for grinding it out and trusting my orchestrations.
We saw lots of readers, and spoke with several interested folks, including two friends committed to going veg [below, right], and a woman who was inspired to volunteer with VO.
Great sense of teamwork, trust, and selflessness. Feels good to reach so many!
—Vic Sjodin, 8/25/14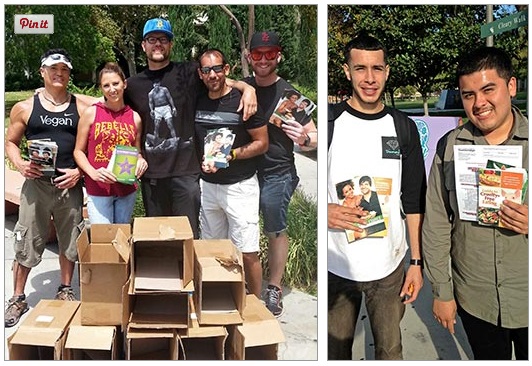 ---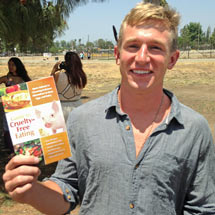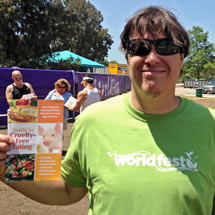 Wow. Number 1 local volunteer Mu Jin Han suggested leafleting the WorldFest. I was pretty skeptical because at a vegfest, isn't everyone veg already? Au contraire! Maybe 40 percent veg folk to my best estimation, and lots of semi-veg, veg curious, and progressive folks. It got kind of crazy.
First Mu spoke to 3 people for over 10 minutes; then he and I spoke to a young Greenpeace volunteer [Thomas, above], who said, "I really need to go vegan" and was into it. Then we spoke to a family [below, left] for over 20 minutes; their daughter was veg and both parents said they too now wanted to go vegan and had great questions about how to substitute certain things and where to get certain items, etc. Later on I spoke to a WorldFest volunteer [Dave, above], who had given up beef but ate more turkey and chicken as a result. We had a very long conversation during the slow trickle, and I believe he is well on his way.
Several of the people who had gotten Guide to Cruelty-Free Eating booklets while in line came up to us later with questions. Perhaps the best interaction was a Swedish man [Sven, below, right], who spoke to Mu for about 15 minutes; then brought his friend over and they spoke for another half hour solid. Unreal, he said he is on board. Special day.
We ran into Your Choice cover model Hayley; she was great and also discussed future summer leafleting with several newbies, and interacted with numerous local activists and supporters in 9 hours straight of nonstop schmoozing and talking. I also did some recordings on video for two different projects. Fantastic day that blew me away – I highly recommend leafleting local vegfests and specifically offering Guides to any interested parties as they enter. We leafleted very conservatively today, which was a change but fit the tactical situation.
—Vic Sjodin, 5/18/14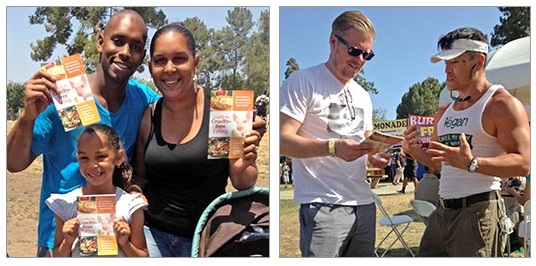 ---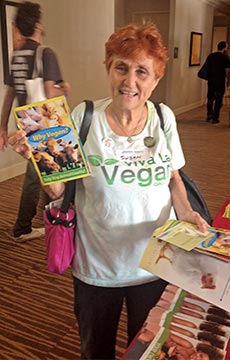 This was the best visit to Dartmouth yet! The reception here has improved tremendously over the years. It's such a good feeling because this used to be one of the toughest schools to leaflet! Today's number (616 booklets) is a record here.
One young woman said she grew up in a small farming town with its own slaughterhouse and went vegetarian because of it. One faculty member said she's veg and thanked me for being there. There were a few high school tours coming through, and some students from each group took leaflets.
At lunchtime, there was a free BBQ set up outside the student center. A sign said, "Movement Against Violence BBQ." Wow…products of violence (dismembered body parts of beings who didn't want to die) were being fried and eaten as a way to be against violence!? Well, someday more people will make the connection. I'm glad I was there to give a voice to those victims of violence. And, along with the piles of various meats, at least there was an option of veggie burgers. And inside the dining hall, I have noticed an increase in veggie options such as vegan cutlets, vegan ground beef marinara, vegan cookies, tofu scrambles, etc.
In the evening, the Dartmouth Animal Welfare Group screened Speciesism: The Movie. The director, Mark Devries, was there for Q&A afterward. It was very nice to meet him.
—Lana Smithson, 5/12/14
---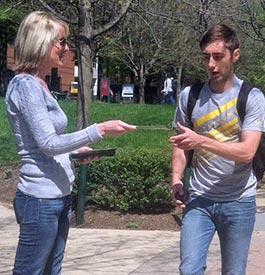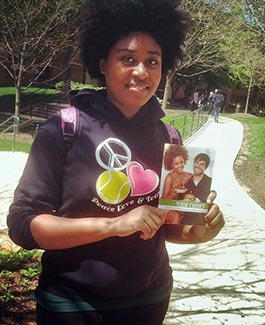 YAY! Best last day of the semester ever! I was joined by amazing volunteers, and had two first-time leafleters today! Jennifer [Richards, above] found me through the VO Facebook page. She reached out to thank me for my leafleting work. I thanked her for her kind words and encouraged her to come out and try it sometime with me since she lives in my area! She agreed, and she loved it! I met Lucy [Whisler] at the Baltimore VegFest. I encouraged her to come out leafleting sometime! She told me she was a student at GMU, and I told her I was leafleting there this week. So she joined in for the last class change as well! She was so excited, and plans on helping me with more leafleting events in the DC area! Yay!
We heard from so many vegetarians and vegans on this campus as usual. One student [Jennifer, above] came up to us and said she went vegetarian for a couple weeks after getting a booklet from us in the past, but she wants to eventually go vegan! I told her about how we don't believe in the all-or-nothing approach to veganism, and that baby steps are okay to reaching her goals! I told her about chicken and fish, and how she could do the most right now by no longer eating them. She was so excited for the info, and the Guide to Cruelty-Free Eating! She told me she was going to do this, and that she was definitely going to go veg!
—Kassy Ortega, 5/6/14
---
Great night in Tinley Park/Chicago with help from awesome local activists! Together we reached just shy of 13,000 Warped Tour attendees!
The highlight of my night was meeting Danay, who went vegan for the animals after getting a booklet from us at Warped last year! She asked me to tag her photo on Twitter and we had a little exchange online after the show – awesome! She tweets about animals a lot, and we follow each other now!
I also met vegetarian Jessica and pescatarian Montserrat [below], who made big changes after getting booklets last year, too. I told Montserrat she has to try Gardein fishless filets!
It's always great to have these reminders that we are changing the world for animals in a big way out here on the Warped Tour!
—Chris Guinn, 7/19/14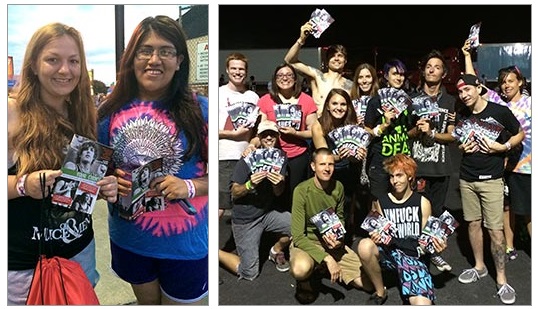 ---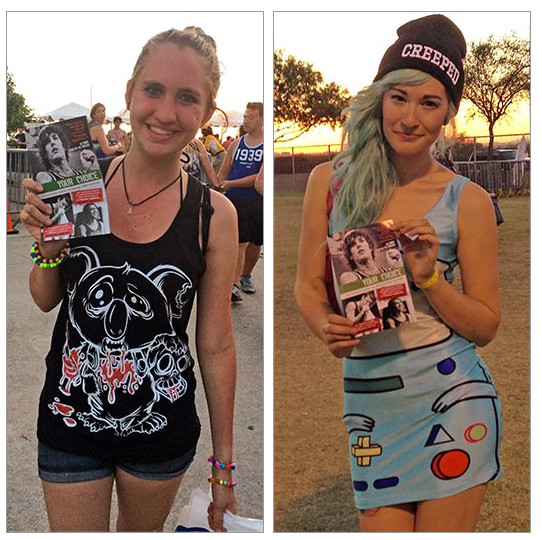 We kicked off Warped Tour with a bang down in Houston, reaching more than 10,000 attendees. The highlight of my day was meeting Bailey [above, left], who loudly exclaimed that she went fully vegan after getting a VO leaflet last year at Warped – so awesome! Here's to a whirlwind summer of awesome outreach!
—Chris Guinn, 6/13/14
---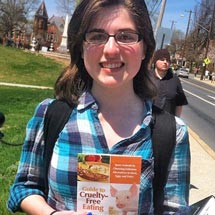 I thought it was going to be a slow day leafleting Millersville University the day after Easter, but surprisingly it picked up pretty quickly! I met Jessica, a student who went veg after reading a booklet her brother received from us in the past! YAY! You never know who is reading!
Today I reached 300 students at Lehigh Carbon Community College, which had never been leafleted before. There were so many great moments for such a tiny school! First off, campus police walked over so I thought I was going to get the boot. Turns out, he really liked the booklet! We talked about the transport trucks on the highway, and he compared them to the Holocaust rail cars. Incredible. A student came up to me, told me she read the booklet, cried and is now vowing to never eat meat ever again! Guided. I also heard from a vegetarian! This is definitely an ag area, and there were so many receptive students. Quality, not quantity here.
—Kassy Ortega, 4/28/14
---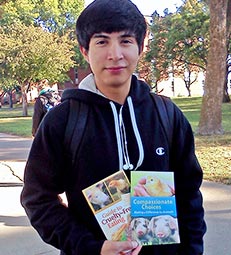 The highlight at the University of South Dakota was running into Avid, who I met last fall. He came by to say hi, and let me know he's been vegetarian for 3 months now. He didn't go veg right away, because he was worried about protein; but after doing more research, he's a confident and healthy veggie. He's also started powerlifting.
I also heard from several other vegetarians – much more than last semester. Great day!!
—Rachel Shippee, 3/31/14
---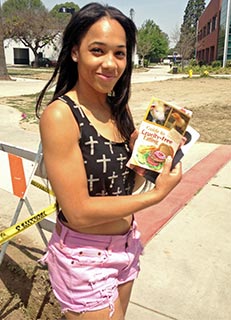 Whoa! I love the students at the gritty El Camino College Compton Center. Outstanding day of small school outreach. I saw so many people sitting outside or in the library foyer reading – it was spectacular to see.
I met Anna [above], who was reading a booklet and walking. She said, "This is really interesting" and we ended up having a long conversation. She volunteered that she had thought about going veg sometimes, and this is exactly the knowledge and info she needed. It was such a nice conversation.
Walking around, I came upon a student tabling. She was busy discussing these issues with another student tabling with her. She asked for more literature, and we had a long talk on cruelty and nutrition – had to channel that inner Jack Norris. That conversation was fantastic. Lastly, near the end of the day, I approached 6 women on the lawn, which led to another long conversation and was the perfect way to end the day.
Hard to articulate, but just a day of outreach that uplifted the soul!
—Vic Sjodin, 4/30/14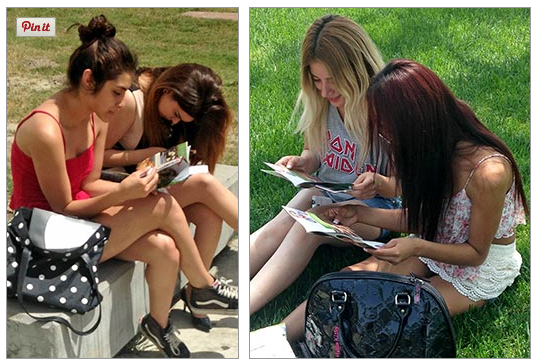 ---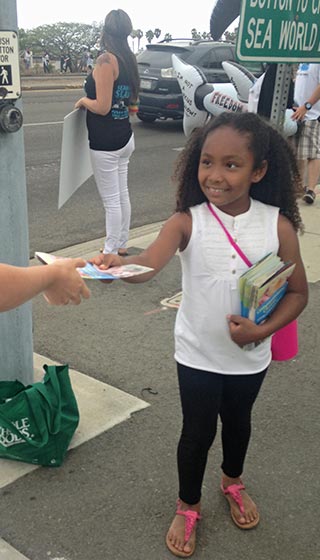 How awesome is this!!! [Genesis, above] went vegan at 5 but she is now 7. She had such a great experience leafleting for the first time, and everyone was very receptive to her. She asked if she could do this every day! We now have a stack of leaflets in the car, and she has been passing them out wherever she goes. Thank you so much, Victor Sjodin and Mu Jin Han, for inspiring her and showing her the ropes. She has found her passion and it's Vegan Outreach!
—Genelle P., 5/26/14
---
I must relate this one story her mom told me: Genesis came home crying one day, and her mom asked why; the kids were waving hot dogs and ham in her face at lunch. Her mom asks, "Are you crying because they are making fun of you?" "Oh no, I'm upset because they don't get it, they don't understand they are hurting animals." Wow.
—Vic Sjodin, 5/26/14
---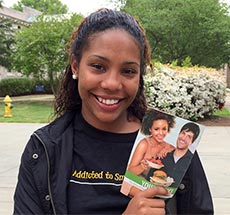 Fabulous day of outreach with Yuri Mitzkewich, leafleting the Florida Atlantic University campuses in Boca Raton and Davie. At the main campus, we were happy to have smashed the old record by over 700. We heard from folks who had gone vegetarian from getting a Compassionate Choices or Even If You Like Meat in the past, and had conversations that we both confidently feel will end up in new veg*ns. So happy that Yuri could get the day off, because he is such an amazing leafleter!
—Dawn Ratcliffe, 2/6/14
---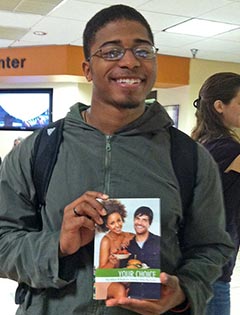 Today was arguably my best day of leafleting with Vegan Outreach so far (I feel like I've said that a few times now, guess it just keeps getting better out here – can't complain)! I had help from a group of students from Wittenberg University's WALI veg club who were first-time leafleters – always exciting! Our outreach today was their first organized event and it turned out to be a big success!
We reached almost 400 students – great for a school this small – and our new Your Choice leaflet was really well received! We distributed a good number of Guide to Cruelty-Free Eating booklets and had a number of quality conversations with students interested in making some compassionate changes with their eating.
The highlight of my day was meeting DGlove [above]; we chatted for several minutes about veg nutrition, what to eat, and how to go about making realistic behavioral change. DGlove was super cool and great to talk to, and I can say with confidence that he'll be making some big changes after our conversation – so awesome!
All in all, a great day of outreach – I'm sure there'll be several new vegetarians the next time Vegan Outreach visits this campus!
—Chris Guinn, 2/4/14
---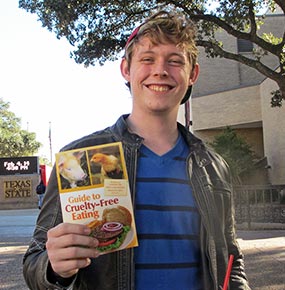 Outstanding day of outreach in San Marcos today – got 2,490 booklets into the hands of students at Texas State! Heard from a girl who is trying to go vegetarian but wasn't sure how to get started; she got a Guide to Cruelty-Free Eating and is feeling more confident that she can do it! The highlight was meeting Travis [above], who used to be a vegetarian, and the leaflet reminded him of why he wants to get back into it. He was happy to get a Guide with the tools he needs to get started again.
—Rachel Shippee, 2/4/14
---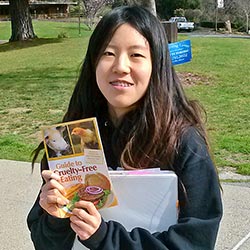 Today at West Valley College, I talked to one enthusiastic student who is recently vegan and looking forward to using her new Guide to Cruelty-Free Eating to help her parents and siblings go vegan. I also met Lisa, who recently went vegan after meeting our volunteer Belle at a local farmers' market! The best conversation of the day was with Melinda [above], who thinks it's cruel to eat animals, and is going to use her Guide to cut out all animal products!
—Steve Erlsten, 2/18/14
---
It was a really cold and rainy morning at Royal Melbourne Institute of Technology. I was really excited that first-time leafleters Tonja, Richard, and Frazer joined Rachael and me. After getting them set up in our usual spot, Rachael and I went exploring and found a 10-story building that was going crazy! It was like a blur of bodies and leaflets. All of a sudden all the booklets were gone! Despite being a little nervous, they had a wonderful time and I think they'll be leafleting again soon! All together we set an all-time record for any school in Australia – 3,000 VO booklets!
—Chelsea Collins, 3/24/14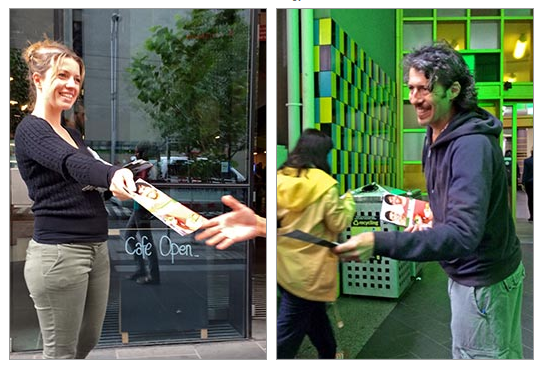 ---
I just leafleted for the first time!!! It went really well – people [at Edith Cowan University in Perth] were very receptive and kind.
—Lou Burnes, 3/28/14
---
I was a bit nervous when I began leafleting for the first time. But I had a great time and I'll definitely be leafleting for Vegan Outreach again!
—Tonja Wright, 3/24/14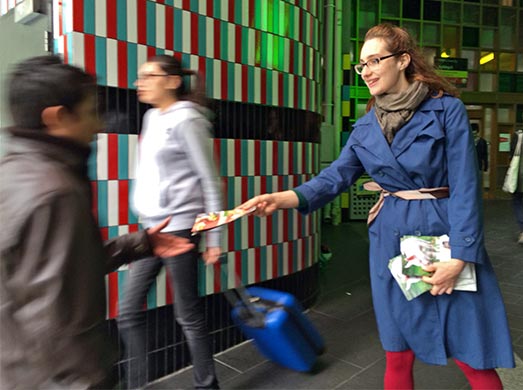 ---
I believe that the EIYLM booklet is one of the most complete and easy ways to raise awareness in the importance of adopting a vegan lifestyle. We hope to do more leafleting with this amazing document.
—Sameer Muldeen, President of the MVA, 3/23/14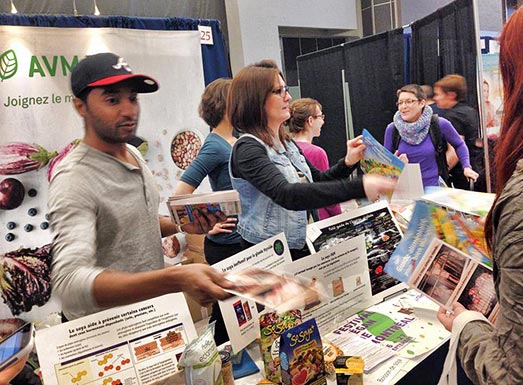 ---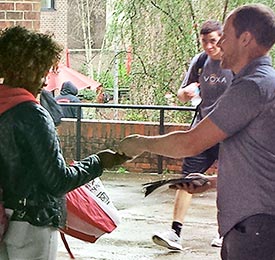 Ten years ago, I took the full-time plunge into the work of Vegan Outreach leafleting. I found it – and still find it – to be such a simple and effective way to make real advances for those whose heartbreaking plight is so often overlooked in our society – farmed animals.
Last Friday at the University of Georgia, I gave out my millionth booklet and a celebratory piece of chocolate cake to the recipient of this booklet. If you think this is a milestone worth celebrating, know that it's been a team effort. If you've ever welcomed me into your home with a place to stay, leafleted with me, sent an encouraging word my way, or sent your hard-earned dollars to Vegan Outreach, this millionth booklet has come about because of you.
I'm profoundly honored to play my humble part in this movement alongside all of you – my kind, smart, and selfless friends. We're on the right side of history, and one day, genuine concern for all sentient individuals, regardless of what species they belong to, will be the norm. Thanks for bringing this about. Two million or bust!
—Jon Camp, 3/31/14
---
Very excited that the man who got me leafleting is so close to his goal of a million booklets, astounding.
Jon Bockman [below, right], Rachel Curit, Steven Litrov, and I employed a new strategy at San Diego State and reached 3,060 students, beating the previous record by over 650 booklets. Saw numerous readers. Highlight of day was meeting Autumn [below, left], who came back later in the day; she was so moved by the lit and wants to go vegan. She had lots of questions and we had a long conversation, wonderful.
—Vic Sjodin, 3/19/14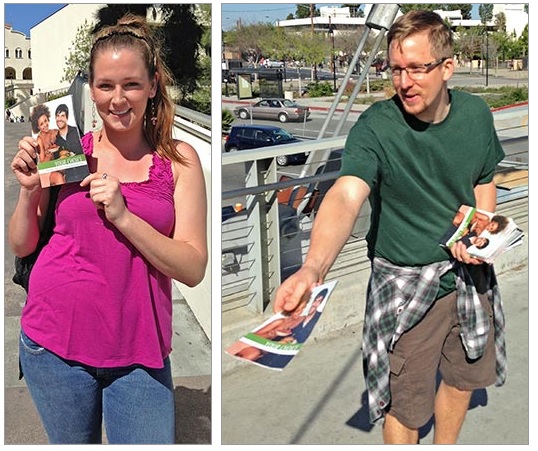 ---
Mississippi State was fantastic leafleting. With the steady flow throughout the day, I was able to reach 1,800 students.
I met Paris Prince, a professor whose style is as cool as his name. He teaches a class on social responsibility, and he discusses food issues in it. He regretted that he wasn't discussing it today, as he would have liked for me to have talked with his students. Still, he appeared to discuss the issue in class, as a vegan came up to me afterwards, telling me she heard about me from Paris.
One guy let me know that he went vegan after picking up a booklet many years ago in Seattle. We rock!
—Jon Camp, 3/18/14
---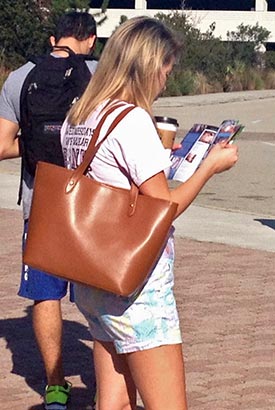 Another gorgeous day in southwest Florida and a chance to leaflet with Jon Camp, an amazing animal advocate and good friend. I am in awe that he has done this work semester in and semester out for ten years and find him to be a truly inspirational person with a heart of gold.
As for outreach, it was a stellar day at Florida Gulf Coast University. We handed out 1,290 VO booklets, including 34 copies of the Guide to Cruelty-Free Eating, and had some brief but good conversations. Talked to the two vegan students who leafleted with me last semester in December, and they told us that a student came up to them to join their group because they went veg after getting one of the booklets. Also gave a professor 50 Compassionate Choices so she can have her students write papers centered around reasoning and critical thought. Super day!
—Dawn Ratcliffe, 1/28/14
---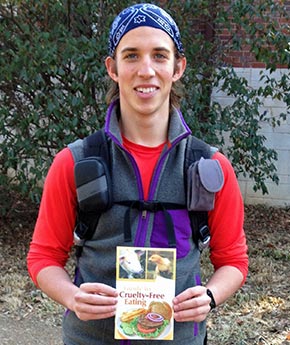 Vanderbilt was great. I had the help of five VIVA members throughout the day. A young woman said, "I already got one – with Ryan Gosling and Kevin the sad chick. It was like oh my God," in a manner that indicated she was really moved by the booklet. This is the second time this week in which someone mentioned one of the animals in Your Choice by name.
One of the leafleters today was Alex [above]. In October of 2012, I leafleted him. He let me know he was veg. I gave him a Guide to Cruelty-Free Eating, and we briefly chatted. Turns out he went vegan as a result.
—Jon Camp, 2/28/14