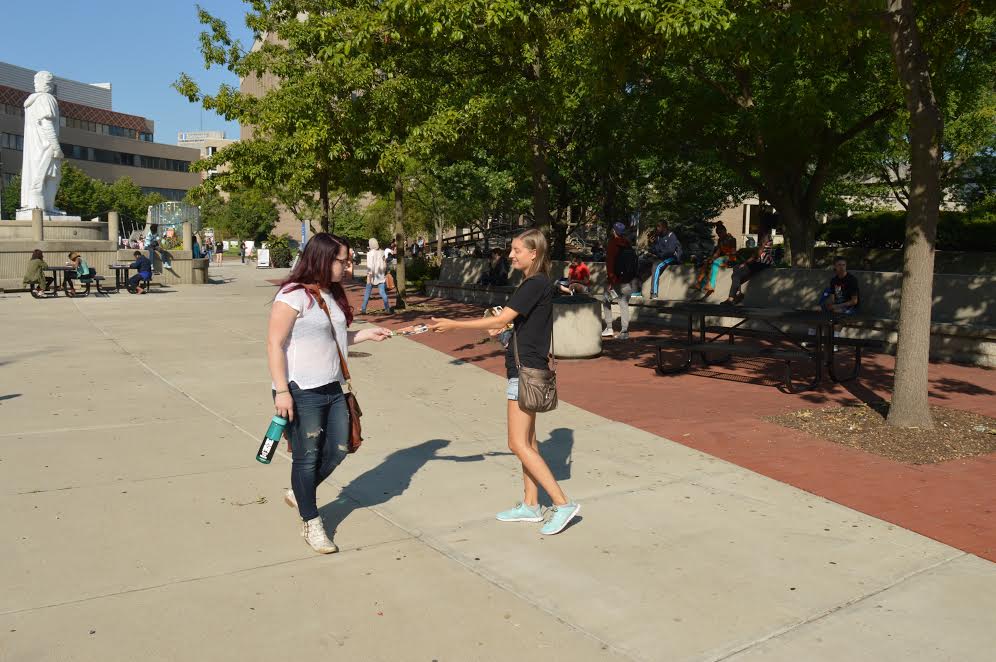 The semester has only just begun, but Vegan Outreach's employees and volunteers are working furiously to reach more people than ever before.
Continuing our series of activist profiles, today we talk to Stephanie Sopczak, who interned with Greater Ohio Outreach Coordinator, Sean Hennessy. Stephanie is busily making a difference in her home state, and has already handed out 2,401 booklets at three different schools.
Where are you from and where do you live now?
I'm from and currently live in Columbus, OH.
What got you interested in animal rights and veganism?
I got interested in veganism after watching Forks Over Knives, and I went vegan almost immediately after. I started to learn about animal rights shortly after that, which led me to get interested in activism.
How did you get involved with Vegan Outreach and with leafleting?
I got interested in leafleting when Mercy For Animals leafleted at my college campus in Columbus—Ohio State University—and I have been involved with leafleting ever since. I recently learned about an internship opportunity with Vegan Outreach here in Columbus and was really excited to get involved because you can never leaflet too much!
Do you have a favorite leafleting moment to share?
One of my favorite moments leafleting happened this year on my college campus. After I handed a girl a leaflet, she came over to me and said she was already vegan and that she would love to take a stack of leaflets to her class to pass out.
What do you do for fun when you're not leafleting?
When I'm not leafleting, I'm either spending time with my friends and family or I'm planning the inaugural Ohio VegFest for 2017 with fellow animal protection activists in Columbus.
Do you have anything else you'd like to add about leafleting?
I was a little hesitant the first time I went leafleting because I had no idea what to expect, but I am so glad I did. Leafleting is actually easy and fun, and a great way to make a difference!