Por Jack Norris, Nutriólogo Certificado
Seguro has escuchado la controversia acerca del consumo de la soya y tienes algunas dudas, aquí te compartimos información al respecto.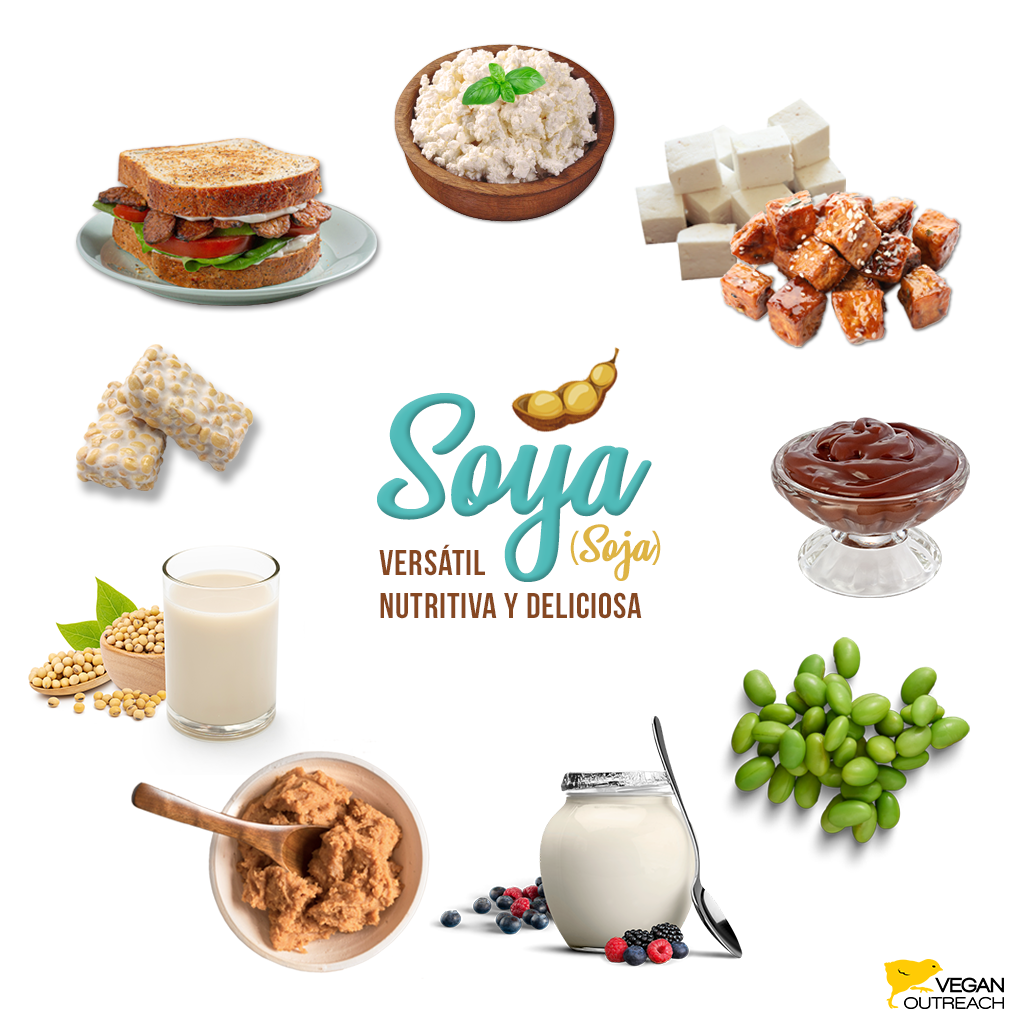 Cáncer de mama
La soya contiene isoflavonas con la capacidad de unirse a los receptores de estrógeno. Hay aproximadamente 25 mg de isoflavonas en una porción de soya.
Los estudios de casos y controles sobre la soya y el cáncer de mama han sido generalmente alentadores para las personas que la consumen, ya que aproximadamente la mitad de dichos estudios la asocia con un menor riesgo de padecer este tipo de cáncer y la otra mitad no muestra efectos.
Los estudios prospectivos, que generalmente tienen un nivel de evidencia más alto que los estudios de casos y controles, también han sido muy positivos. De los seis estudios realizados en poblaciones con ingestas de soya más altas (alrededor de una a dos porciones por día es la cantidad de ingesta superior típica), el Estudio de Salud de China en Singapu(1), el Estudio de Mujeres de Shangha(2,3) y el Centro de Salud Pública de Japón(4) encontraron que una mayor ingesta de soya se asocia con un riesgo reducido. El Estudio de Cohorte Colaborativo de Japón(5) y el Estudio de Vida Útil de Japón(6) no encontraron ninguna asociación.
La Investigación Prospectiva Europea sobre el cáncer en Oxford(7) (que incluía a una gran cantidad de personas vegetarianas), tampoco encontró ninguna asociación. Con respecto a la falta de asociación en el estudio europeo, se ha especulado que para recibir los beneficios de la soya, la exposición a esta debe ocurrir durante la adolescencia cuando se están desarrollando los senos, mientras que las personas vegetarianas de occidente a menudo incluyen la soya en sus dietas en la adultez.
En cuanto a las mujeres con cáncer de mama, incluidas aquellas con tumores que crecen en respuesta al contacto con el estrógeno (conocido como receptor de estrógeno positivo), las autoras y autores del reciente estudio publicado Women's Healthy Eating and Living Study(8) escriben lo siguiente:
"Este es nuestro tercer estudio epidemiológico que no muestra efectos adversos de los alimentos de soya en el pronóstico del cáncer de mama. Estos estudios, tomados en conjunto, varían en la composición étnica (dos de los EE.UU. y uno de China) y en el nivel y tipo de consumo de soya, proporcionan la evidencia epidemiológica necesaria para que las y los médicos ya no dejen de promover el consumo de soya en mujeres diagnosticadas con cáncer de mama".
También te recomendamos revisar "The Bottom Line on Soy and Breast Cancer Risk" por Marji McCullough, ScD, RD de American Cancer Society.
Demencia
El estudio de envejecimiento Honolulu-Asia del 2000 relacionó a la soya con una función cognitiva más baja y contracción cerebral. Aquí hay una revisión más completa de la investigación sobre la soya y la cognición mental.
Se han realizado doce ensayos clínicos a corto plazo que duran de una semana a un año. Nueve muestran que la soya es útil(9,10,11,12,13,14,15,16,17), mientras que tres han demostrado que la soya es neutral(18,19,20).
Los estudios epidemiológicos (a diferencia de los ensayos clínicos) examinan los patrones de consumo de soya y la cognición en poblaciones específicas. Un estudio de este tipo encontró que el tempeh (un alimento de soya fermentado) se asocia con una mejor cognición(21). Tres informes de estudios epidemiológicos han asociado al tofu con una disminución de la cognición en algunos grupos(21,22,23), pero un aumento de la cognición en otro de los grupos(24) y neutral en otros(23,24). Los hallazgos perjudiciales para el tofu en los estudios epidemiológicos se deben probablemente a la confusión causada por el hecho de que las personas de estatus económico más bajo tradicionalmente han comido más tofu en las culturas asiáticas, así como el hecho de que se ha preparado algo de tofu de Indonesia utilizando formaldehído.
La investigación en su conjunto no es motivo de preocupación.
Fórmulas infantiles
La preocupación por la fórmula infantil es comprensible, ya que las y los bebés consumen soya en una gran parte de su dieta. La Academia Americana de Pediatría y el Programa Nacional de Toxicología consideran que la fórmula de soya es segura.
En el estudio más importante hasta la fecha, donde se le da seguimiento a personas adultas que fueron alimentados con fórmula de soya cuando eran bebés, proporciona la seguridad de que no hay razón para preocuparse por la función tiroidea o reproductiva(25).
El Estudio Beginnings  examina los efectos de la fórmula en el desarrollo infantil(26). Está en sus primeras etapas con los hallazgos en infantes de solo un año de edad, pero hasta la fecha no se han encontrado efectos negativos de la soya en el crecimiento, los órganos sexuales o el desarrollo neurológico en comparación con las y los niños que ingieren fórmula que incluye leche de vacas.
Algunas investigaciones muestran que es mejor elegir una fórmula de soya con ácido docosahexaenoico (DHA sus siglas en inglés), y es importante tener en cuenta que la fórmula de soya no está diseñada para bebés con nacimiento prematuro.
Características feminizantes
Respecto a la preocupación de que la soya podría causar características feminizantes en los hombres, se han realizado dos estudios de caso. En uno, un hombre que comía doce porciones al día de leche de soya desarrolló tejido mamario sensible y agrandado(27). En otro, un hombre con diabetes tipo 1 comía catorce porciones por día de alimentos de soya, en su mayoría procesados, ​​durante un año y desarrolló disfunción eréctil(28), que se normalizó al dejar la soya. Si bien no recomendaría comer tanta soya, un estudio utilizó cantidades mucho más altas de isoflavonas y no encontró problemas para la mayoría de los hombres(29).
En cuanto a la cantidad y calidad de los espermatozoides, mientras que un estudio epidemiológico expresó una menor preocupación sobre la cantidad de soya y espermatozoides(30), dos estudios clínicos no han mostrado los efectos de la soya(31,32).
Tiroides
Las isoflavonas pueden afectar los niveles de la hormona tiroidea, especialmente si alguien tiene deficiencia de yodo. Un ensayo clínico del 2011 encontró que 16 mg/día de isoflavonas en personas con hipotiroidismo leve parecía causar un aumento en la tasa de avance hacia el hipotiroidismo manifiesto(33).
Otros nueve ensayos clínicos no mostraron ningún efecto de la soya en la tiroides en comparación con el placebo en personas con tiroides supuestamente sanas(34,35,36,37,38,39,40,41,42), mientras que los cinco estudios restantes encontraron pequeños cambios, todos sin significación fisiológica(43,44,45,46,47).
Las personas sin hipotiroidismo no deberían tener problemas con la soya mientras obtengan suficiente yodo, pero hasta que sepamos más, las personas con hipotiroidismo leve deberían evitar la soya sólo por precaución.
Beneficios de la soya

Además de reducir el riesgo de cáncer de mama como se mencionó anteriormente, la soya también brinda beneficios para prevenir el cáncer de próstata, reducir el colesterol LDL y mejorar los síntomas de la menopausia.
Cuando se suma toda la investigación sobre la soya, no hay razón para pensar que dos porciones al día son perjudiciales para la mayoría de las personas, y una buena razón para pensar que la soya proporciona beneficios para la salud.
Referencias