Congratulations on your decision to go vegan! Eating vegan on campus may seem daunting, but it's much easier than you probably think! Where there's a will there's a way.
Go online and look at your dining services website to see which vegan options are readily available. If you don't see what you're looking for then don't be afraid to make requests of the dining hall staff!
While on campus for outreach, our staff had lunch at dining halls and food courts across the U.S. and Canada to document and promote their vegan options. We're using this information to help people eat vegan while at school.
We found all sorts of vegan goodies such as mac and cheese, salads with Daiya dressing, and brownies! We also found that most dining halls have a long list of vegan staples such as salads and veggies, beans, peas, rice, nuts, seeds, fruits and berries, oatmeal and other grains, plant-based milks, bagels and breads, peanut butter and jelly, and hummus.
We hope that this guide makes it easier to be vegan while at school. Let's start with breakfast!
Breakfast
Yes! You can get a filling, energizing vegan breakfast at your school. What is for breakfast? Try some hashbrowns with some fresh fruits and berries. English muffins and bagels can be covered with PB and J, hummus, or vegan cream cheese.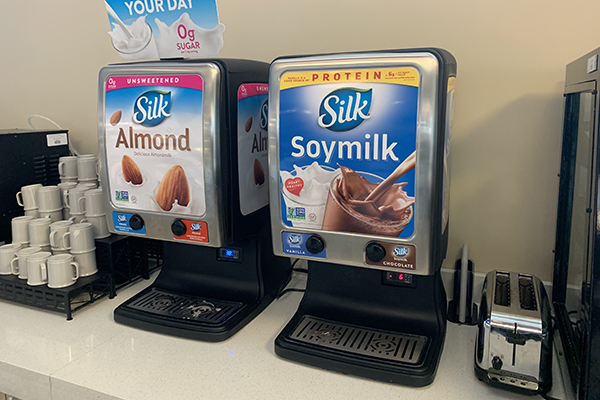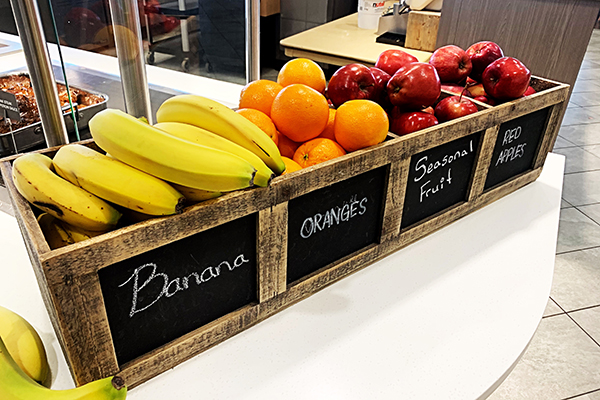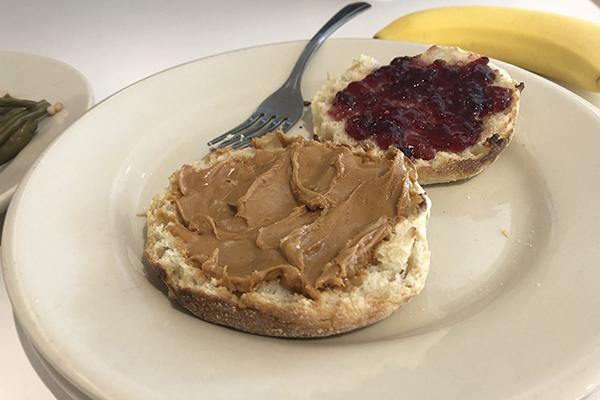 Many dining halls now have plant-based milk dispensers, so you can have almond or soymilk in your coffee, with oatmeal, or with your favorite cereal. Check the menu at your school for other common breakfast items such as cooked veggies, tofu scramble, and vegan cookies!
Lunch/Dinner
Any food can be made vegan. You may just need to swap one or two ingredients. For example, if you enjoy tacos then swap the beef for beans. If you enjoy burgers then try a veggie burger or grilled portabella burger.
We found that most dining halls had clearly labeled their vegan options, but if they didn't we found that we could easily create our own complete meals with creative combinations of side dishes. We found everything from salads with Daiya dressing, vegan cookies, and potato logs to quinoa, fried veggies, avocado rolls, sautéed mushrooms, tofu stir-fries, and much more.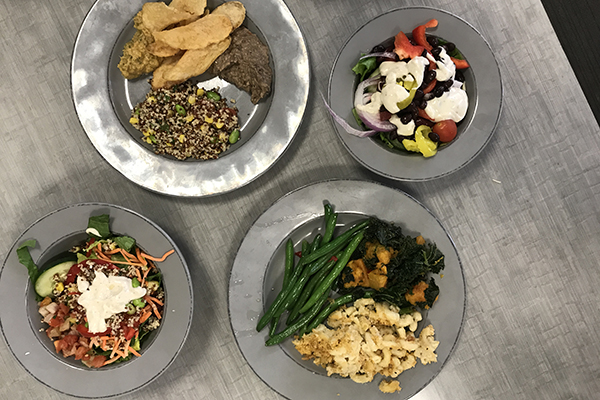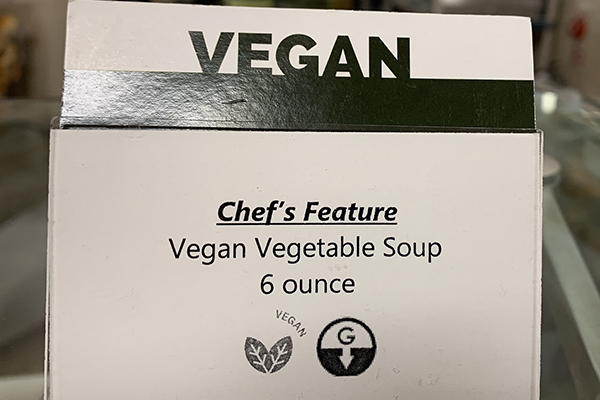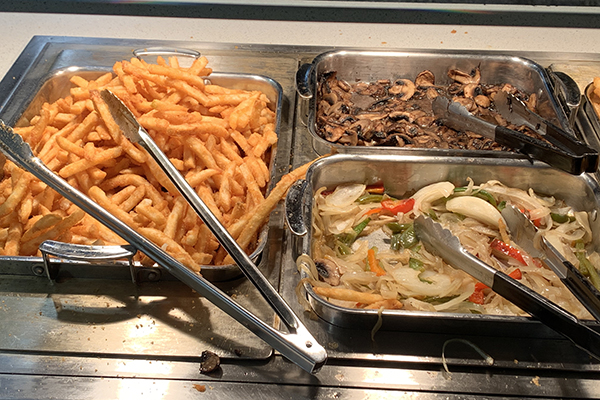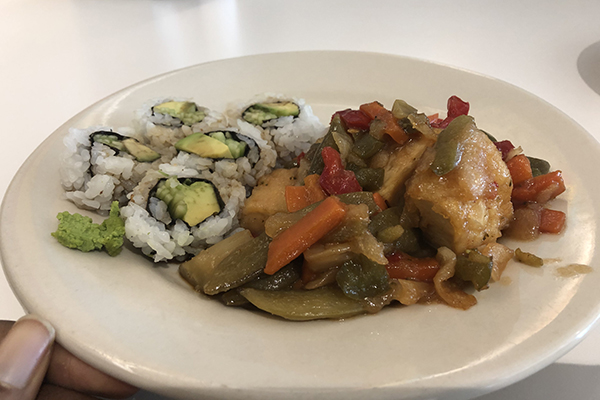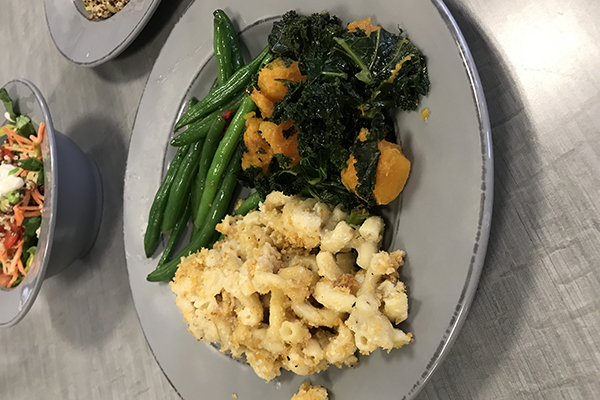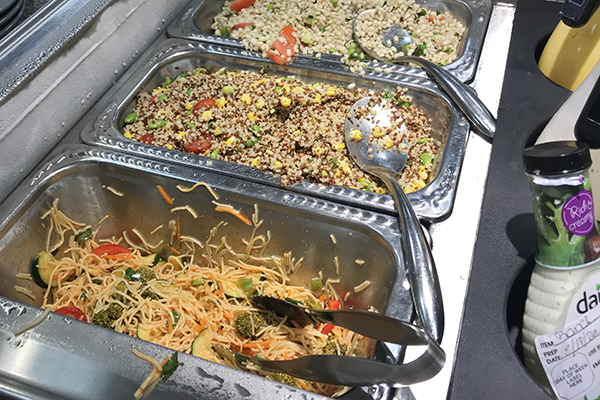 Going vegan doesn't mean you have to deprive yourself of anything when you sit down to have lunch. Quite the contrary. For every animal ingredient that you remove from a meal, there are a dozen ways to replace it with something else. For example, you can swap the meat in your meals for healthier animal-free proteins such as beans, lentils, peas, vegan meats, peanut butter, seeds, etc.
Does your dining hall have hummus? If so then you've got a delicious, high-protein addition to almost anything! Hummus is a spread that is made with blended chickpeas and sesame seeds and goes great with…
Salads
Sandwiches and wraps
Chips, crackers, and pita breads
Raw or cooked veggies
Bagels
…and much more!
You'd be surprised at all the vegan options that may already be available in your school's dining hall or cafeteria. We found vegan versions of all our favorite foods! We assure you that we are well-fed while on campus. From cookies and chocolate soymilk to chili and mashed potatoes, we had everything we needed and then some.
Below are some more examples of what we ate while doing activism on campus. Be on the lookout for options like these at your school!
Vegan Malibu burger
Fried tofu and vegetable curry
Vegan brownies
BBQ lentil tacos
Vegan hot dogs
Israeli couscous
Vegan Foods Are on the Menu
We found beautiful salad bars, chocolate soymilk, vegan cookies, brownies and other desserts, stir-fries, curries, veggie burgers, and much more! If you don't see what you are looking for then just ask questions and make requests to the dining hall staff. They are usually very accommodating!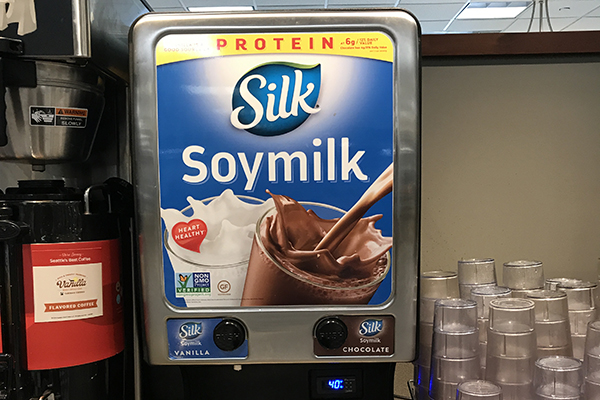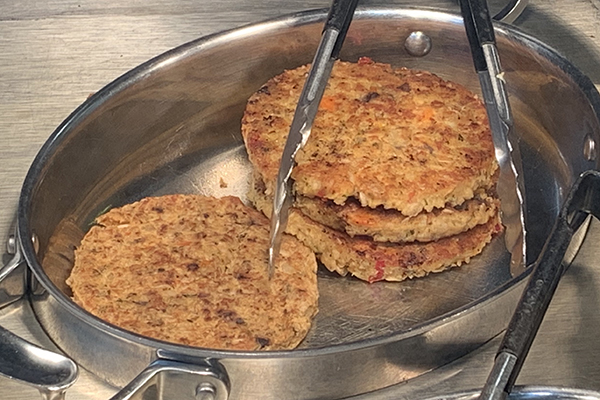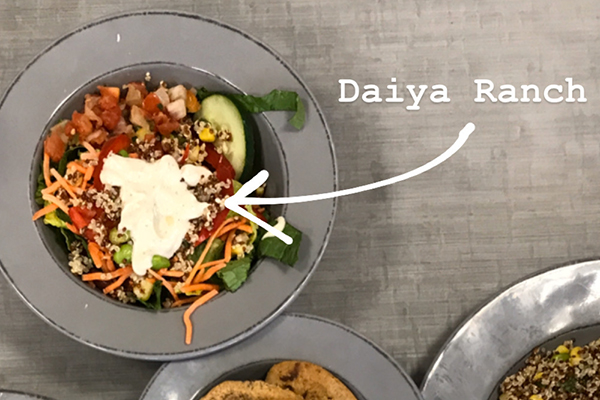 Most dining halls have staples like:
Plant-based milks, cereals, and oatmeal
Fresh fruits, berries, juices, and smoothies
Potatoes, fries, and hashbrowns
Breads, bagels, and rice
Salads, veggies, and mushrooms
Protein-rich foods such as beans, lentils, peas, tofu, veggie burgers, peanut butter, nuts, seeds, and quinoa
Vegan on the Go: Chain Restaurants
Can you get a great-tasting meatless burger at Burger King? You betcha! Most chain restaurants offer vegan options.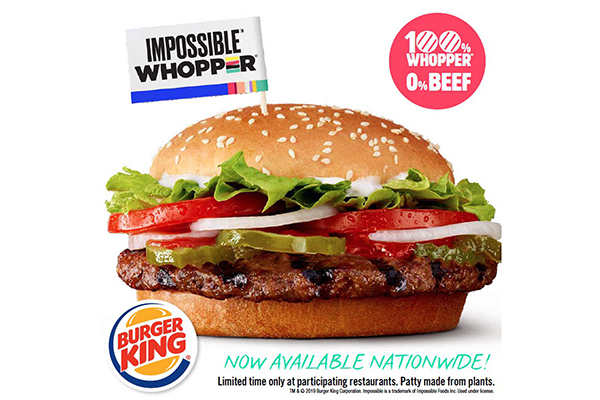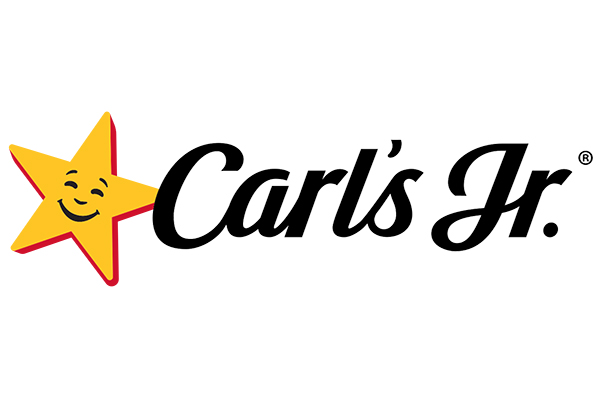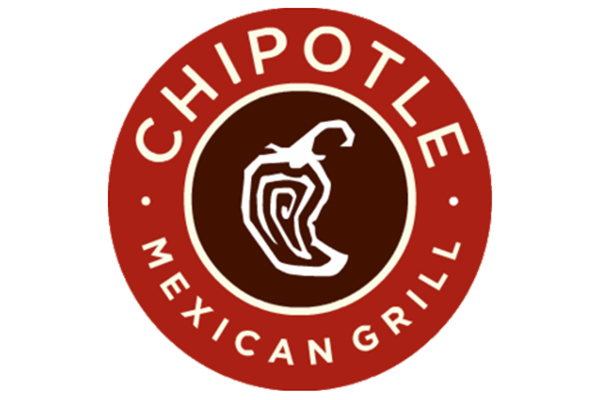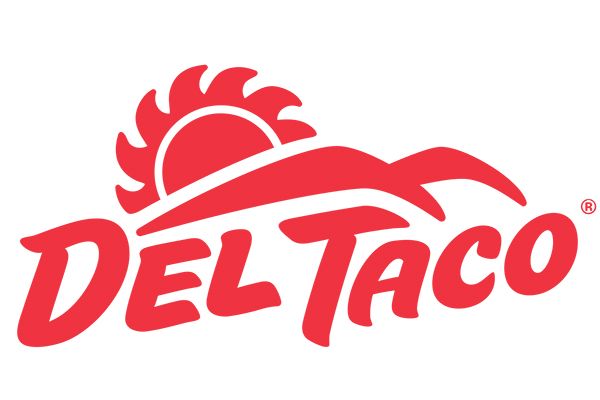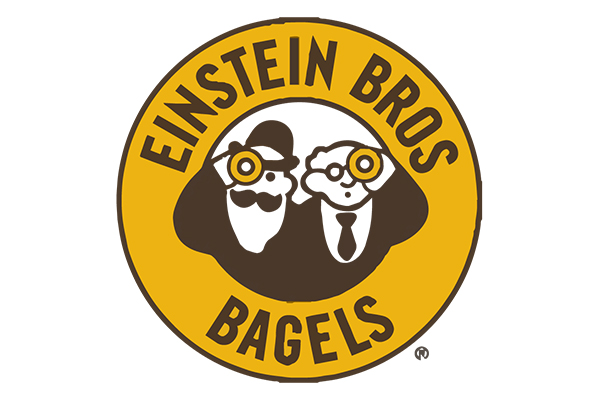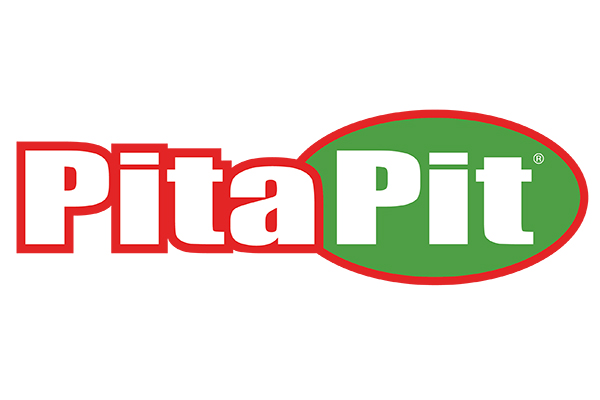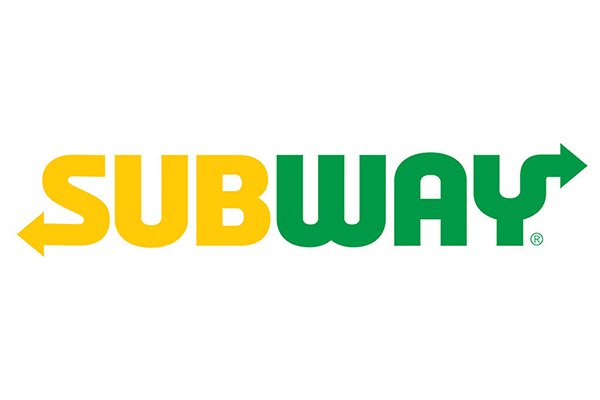 We found these chain restaurants inside or nearby almost all of the schools that we visited. Below are some of our suggestions:
Burger King: Try the Impossible Whopper! Order without cheese or mayo. Other vegan items on the menu include their french toast sticks, hash browns, fries, oatmeal (order without milk), garden salad (order without cheese), apple pie, and PB&J Jamwich.
Carl's Jr.: Try the Beyond Famous Star without cheese or mayo, or the Beyond BBQ Cheeseburger without cheese or onion rings (they contain egg product), or the Beyond Sausage Egg and Cheese Biscuit (ask to have no egg, no cheese, and have it served in a flour tortilla since the biscuit contains dairy), or the Beyond Sausage Burrito (ask for no egg or cheese).
Chipotle: Their tortillas, vegetables, rice, beans, sofritas (braised tofu with peppers), salsas, chips, and guacamole are all vegan. Order without cheese, sour cream, or chipotle-honey vinaigrette.
Del Taco: Has vegan Beyond Meat at all locations! Swap beef for either beans or Beyond Beef. Order without cheese or sour cream.
Einstein Bros.: Most of their bagels are vegan. The few exceptions would be their cheese bagels, their Cinnamon Sugar Bagel, and The Honey Wheat Bagel. Top your bagel with hummus, PB and J, guacamole, or veggies of your choice. Some locations may also have vegan cream cheese! Their Cinnamon Twist Poppers and various breads such as potato bread, multigrain bread, and tortillas are also vegan.
Jamba Juice: Most of their various smoothies are vegan or can easily be made vegan. The following menu items can't be made vegan: Matcha Green Tea Blast, Cold Brew Coffee Blends, Chocolate Protein Smoothie, Chocolate Moo'd Smoothie, and Peanut Butter Moo'd Smoothie.
Panera Bread: Try their Mediterranean Veggie Sandwich: Order without feta.
Pita Pit: Their white, wheat, and gluten-free wraps are all vegan. Fill with falafel, black bean patty, avocado, hummus, and veggies of your choice
Starbucks: Have a bagel and almond, coconut, or soymilk with your beverage.
Subway: Some locations have the Beyond Meat Meatball Marinara Sub. At all locations, you can order the Veggie Delite as a salad or sandwich.
Taco Bell: Swap beans for beef in any menu item. Ask for no cheese or sour cream.
Want to Improve Vegan Options at Your School? Take Action!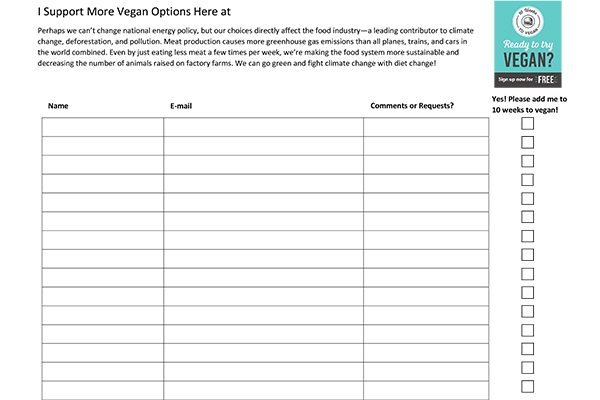 It's much easier than you may think to get your favorite vegan foods on the menu at your school. Sometimes just asking is enough. Ask to talk to the head of dining services. You can drop by their office or send them an e-mail.
Often it's helpful to have your friends and classmates sign a petition so that you can show dining services there's a demand for vegan food. To make it easy for you we have prepared this fillable pdf that you can download or share online with your friends and classmates. We included a box that people can check if they'd like to receive 10 Weeks to Vegan, our guided challenge.
When you are done with the form be sure to send us a copy so we can add them to the program!