Vegan Food Aid
Thanks to funding from a wonderful foundation, Vegan Outreach has been able to buy and deliver vegan meals and groceries to people in need during the COVID-19 crisis.  Since April, we've fed 170,000 vegan meals—that means 170,000 meals containing animal products NOT served!
This work truly stretches community-wide as we've been able to partner with other social justice organizations to serve communities in need. Not only has providing support to vulnerable populations allowed us to additionally support local restaurants, grocers, and organizations, but it has also kept our outreach team employed as public outreach has come to a halt.
Here are some highlights from the past few months:
Delivered 36,000 meals and groceries to food-insecure families in Redwood City, East Palo Alto, and San Mateo, California.
Delivered 34,000 meals and groceries to the Navajo Nation in Arizona.
In partnership with the League of United Latin American Citizens Iowa, we've delivered 33,000 meals to those in cities dealing with ICE raids and that were sites of some of the worst COVID-19 factory farm outbreaks in Iowa.
Delivered over 32,000 grocery meals, meals from local restaurants, and desserts directly to the homes of farmworker families in Dixon, California and food-insecure families in Stockton, California.
Partnered with the nonprofits Black Women for Wellness and Black Lives Matter to provide 30,000 hot meals and groceries to families.
Partnered with the Center for Farmworker Families to provide over 2,500 hot meals and groceries to farmworkers in Watsonville, California.
Partnered with several nonprofits serving trans, migrant, and indigenous communities in Mexico to serve vegan groceries to more than 700 individuals.
Delivered 280 hot meals to forest fire evacuees in Santa Cruz County shelters.
"I am satisfied and grateful. I really find all the support provided incredible. When I open my door in the morning and see the boxes with the food, it takes a great burden off me and makes me feel safe to have food for my family. The quality of the products is excellent. It is abundant and varied. I just have to say thank you very much!"
—Vegan Food Aid recipient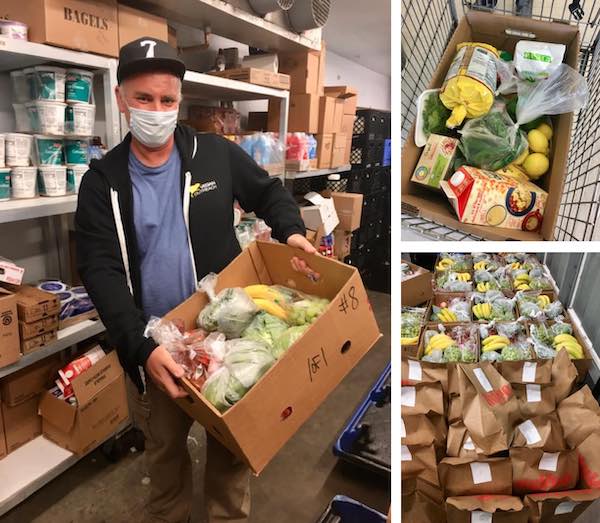 "We recently extended our Vegan Food Aid support to families in Iowa affected by the COVID-19 crisis. The events have been a big success thanks to the great partnership we've developed with LULAC Iowa (League of United Latin American Citizens). So far, we've visited families in cities that were sites of some of the worst COVID-19 factory outbreaks involving JBS and Tyson Foods; plus another town similarly hit by the pandemic, along with the added catastrophe of recent ICE raids taking away members of their families.

"Volunteers from LULAC have done amazing work turning out the help to organize the grocery box distribution. All told, these events have gotten vital food support to many food-insecure families, some of whose other food support had ended just weeks before.

"After one event, LULAC organizer, Maria, really brought a powerful message of this project home for me. She said how strongly she was struck by our kindness and genuineness in coming to help the families in her community. Many people from media organizations and others with means to help had come to this part of Iowa to interview her and learn about their struggle, but nobody had come offering anything in the way of any real support for them, until us. It really brought home the amazing work this project is accomplishing for so many out there desperately needing help and support in these difficult times."
—Yuri Mitzkewich
Vegan Food Aid Manager
June 2020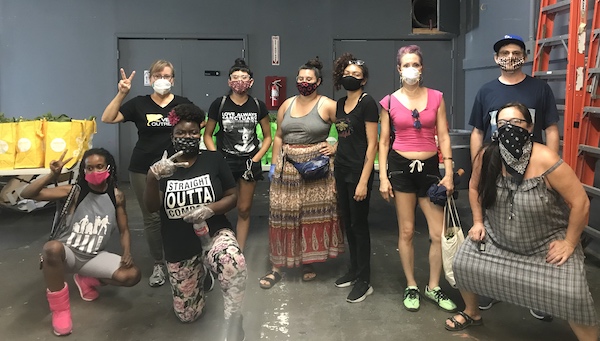 "The BLM-LA family cannot thank you all enough for the way in which you have responded and showed up in this movement. As organizers, we often forget just how important it is to feed our temples and nurture our bodies in the ways that we need to.

I've never seen any movement like this before in my lifetime and it's the grand gestures such as yours that help to further usher us into freedom! BLM is so appreciative of your work!"
—Megan Castillo
Black Lives Matter Los Angeles Organizer
July 2020