Summer is around the corner, and VO's Outreach Coordinators are wrapping up their Spring leafleting tours!
We'd like to acknowledge the following eleven individuals who went above and beyond for the animals this semester.
1. Steve Erlsten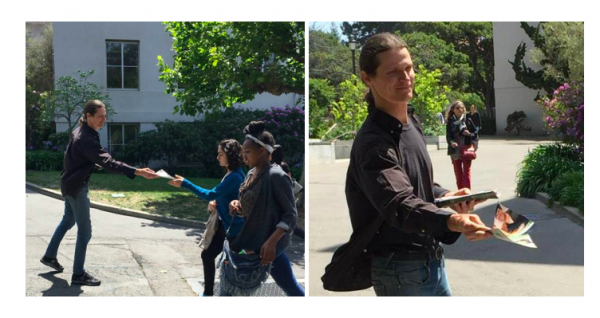 Steve is VO's Senior Outreach Coordinator. He's handed leaflets to 98,289 individuals at 151 schools so far this semester.
"Traffic at schools is getting lighter as the semester comes to a close, but I'm still meeting great students everyday! Last month, I met a student at Contra Costa College who said she'd been trying to go vegan and talking to her mother about all the benefits. She was excited to put a Guide to Animal-Free Eating to use!"
2. Perla Anerol
Perla Anerol, VO's Mexico Outreach Coordinator, has given out 54,009 leaflets at 56 schools in the Spring semester.
"I spoke with four groups of friends, about 25 students altogether. Several of them said they were willing to reduce their consumption of animal products.
"One student said she is willing to eliminate animal foods. Another student said he'd already tried to eliminate animal foods, but the doctor discouraged him from doing so. Now he wants more information to try again."
3. Sarah Weldon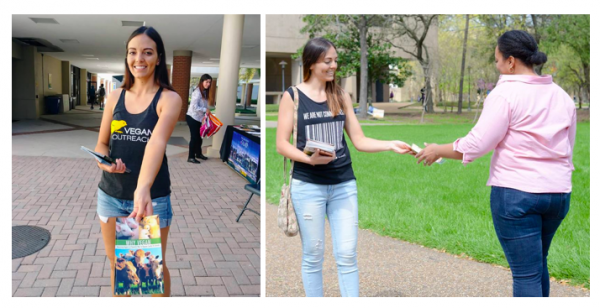 Outreach Coordinator Sarah Weldon gave out 30,365 leaflets this semester at 54 schools.
"One of the coolest things happened at Tarrant County College-Northwest Campus in Fort Worth! I met two men who are former military members—like me—and both were interested in veganism!
"They both came back to talk with me after receiving a leaflet. The three of us talked for 15 minutes about all things vegan. They didn't even know each other before this!"
4. Miguel Marrón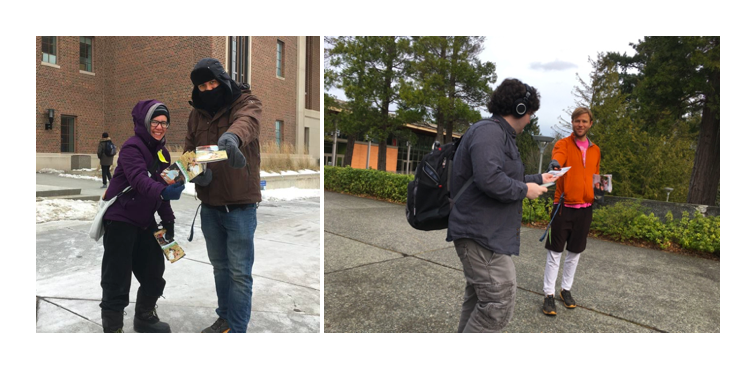 Outreach Coordinator Miguel Marron has handed leaflets to 55,638 students at 75 schools this semester.
"It was cold today, but I was able to spend some time leafleting inside. I heard from a couple jokers, but I wasn't discouraged. The vast majority of students were receptive. One student told me he'd received a booklet last term and that he's been eating less meat ever since.
"Another student approached me later in the day, after receiving a booklet from me in the morning, and said she read the booklet and 'had no idea' this cruelty was happening to animals. Now she's planning to go vegan!"
5. Sam Tucker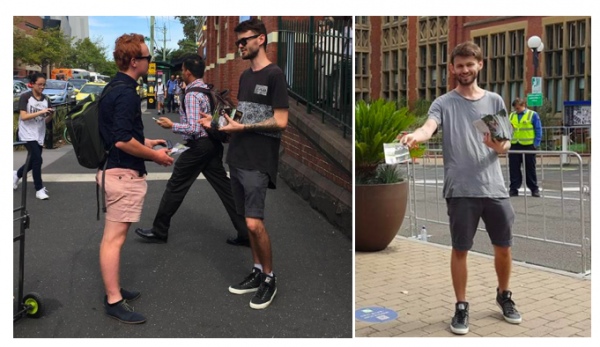 Sam Tucker, VO's Australia and New Zealand Outreach Coordinator, has handed vegan leaflets to 40,955 people at 40 schools—and he showed iAnimal virtual reality videos to 467 people, too!
"One of my favorite days of outreach was the day of combined iAnimal virtual veality (VR) outreach and leafleting at Macquarie University in Sydney.
"A few volunteers and I handed out 2,600 leaflets, mostly our brand new Australian What is Speciesism? leaflet, which has been hugely successful. We showed 46 students VR footage of factory farms and slaughterhouses in exchange for a free vegan cupcake, brownie, or other vegan treat."
6. Jevranne Martel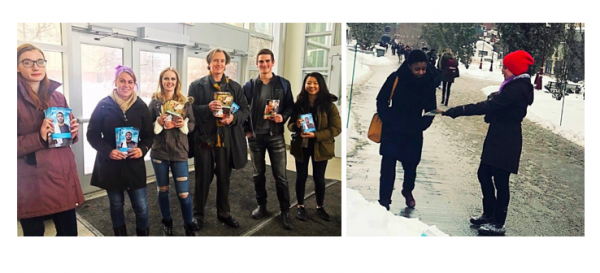 VO's Canada Outreach Coordinator, Jevranne Martel, handed leaflets to 33,720 people at 72 schools.
"Overall, this semester has been absolutely amazing. The interest is truly going up everywhere. I have met so many incredible students around Canada who are interested in going vegan. I am always very grateful for the time they give me and their receptiveness."
7. Brian Chavez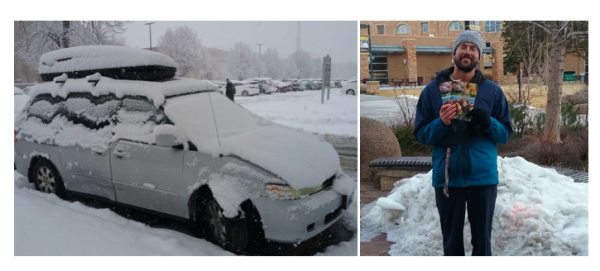 Outreach Coordinator Brian Chavez gave out 33,915 leaflets to students at 37 schools.
"At the University of Wisconsin-La Crosse, I came back to my car after handing out 1,400 leaflets and this is what I found. That was on the 18th of April!
"At the University of Wisconsin-Milwaukee, I met a student who'd been vegetarian, but found it hard to deal with social pressure when going out to eat. She thanked me for the information and is going to try again. I've handed out 33,448 leaflets this spring. Traveling and leafleting in the Midwest has been great!"
8. Emmanuel Márquez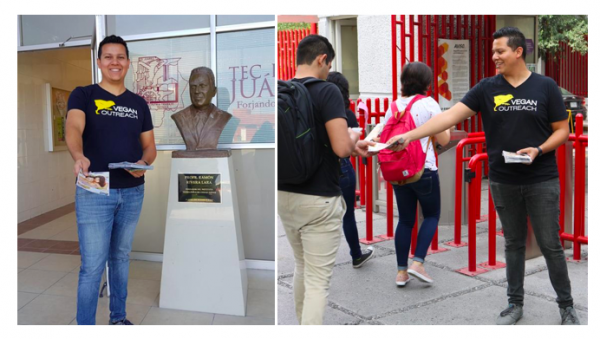 Mexico Outreach Manager, Emmanuel Marquez, gave leaflets to 30,579 students at 80 schools. He also showed iAnimal virtual reality footage to 1,863 people!
"One of my favorite days of outreach this semester was at Ciudad Juárez Tech Institute. We presented two Humane Education presentations—46 students total, showed iAnimal virtual reality videos to 81 students, and handed out 1,300 leaflets.
"We had amazing interactions and responses. We met a vegan student who signed up to volunteer. At least five people were moved to tears, four vegetarians decided to stop eating dairy, and one decided to go vegan after seeing the VR footage."
9. Kimberly Moffatt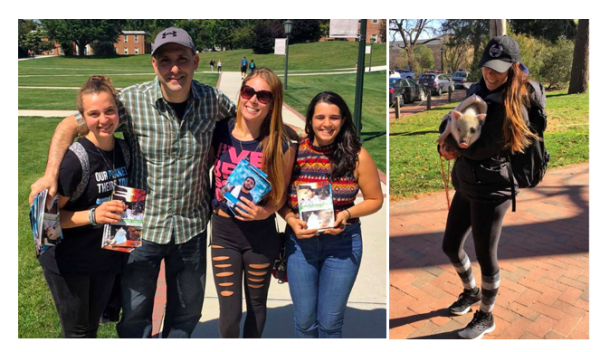 Outreach Coordinator Kimberly Moffatt handed leaflets to 28,348 students at 59 schools this semester.
"I have to say my favorite day of outreach was at University of Maryland. Students, members of the local Save chapter, and a passionate group of activists from Frederick braved the cold to advocate for animals. Many were first time leafleters. We met other students who were interested in making more compassionate food choices.
"It was a fun, long day getting to know everyone better. Everyone enjoyed themselves and they want to get involved with leafleting and Vegan Outreach in the future."
10 and 11. Yuri Mitzkewich and Carlos Yanez

On VO's first-ever virtual reality tour, Southeast Outreach Coordinator Yuri Mitzkewich showed iAnimal virtual reality videos to 1,943 students! He also gave out 2,031 leaflets, covering 45 schools.
VO's intern Carlos Yanez accompanied Yuri on the tour. He showed iAnimal to 1,923 students and handed leaflets to 2,012!
"During week 12 of our VR tour, we visited Harvard and MIT in Cambridge, MA. I'm happy to report we got some of our best results at these two schools! At MIT, we showed 56 students VR footage, and at Harvard we showed VR to 90 students. We returned to Harvard the next day and set a tour record—123 VR views!
"There was a group of students who were particularly moved by the footage and pledged to never eat meat again. It's so inspiring to see what caring and open minded students will do when simply given the opportunity to learn and take action to be living and doing better." — Yuri