By Toni Okamoto
Vegan Outreach is excited to wish the wonderful people at Tofurky a happy 20th anniversary! For 20 years, they have been helping vegans and vegetarians feel included during holiday festivities by providing a cruelty-free alternative to the traditional turkey centerpiece. It was my great pleasure to chat with Tofurky founder, Seth Tibbott, about the early days of manufacturing and marketing a product that would completely change the veg world.
During the interview I felt a great respect for several things not elaborated in the interview below:
First, Tofurky is a family-owned company and despite having multiple offers from investors, have remained the way they originally intended. This is important because they are the visionaries of the brand based on mission and ethics rather than money; and speaking of money, being self-owned means they can continue generously giving to organizations that are helping animals. Check out a Tofurky Trot near you!
Most importantly, not only does Tofurky taste delicious, but they also do their innovative work because they care about animals. Hearing Seth talk about the importance of working towards more cruelty-free products was inspiring, and studies have shown that their hard work is helping turkeys! In the last ten years, Tofurky sales have gone up 123%, while turkey sales have gone down 9.6%. I can't wait to see what tasty products they come up with next!
Here's my interview with Seth:
Tofurky is a clever name, were there ever any other possibilities?
First off, "Tofurkey" is a name that dates back to the 1970's and refers most of the time to a Thanksgiving dish made by mashing tofu with seasonings, lining a colander with cheese cloth, punching a cavity in the tofu with your fist and filling the cavity with stuffing. The "curd" is then flipped onto an oiled baking sheet and baked with a baste. The first Tofurky Roasts we made in 1980 were using this recipe. The first two years, my friends Hans and Rhonda Wrobel of the Higher Taste made the tofu and gravy for the Tofurky Roasts and we made the Tempeh Drummettes and handled the distribution and marketing of the product. There was some discussion about calling it a "Stuffed Holiday Roast" or "Celebration Roast" (which now is a yummy Field Roast product) but I thought the name "Tofurky" was more fun so we ran with that.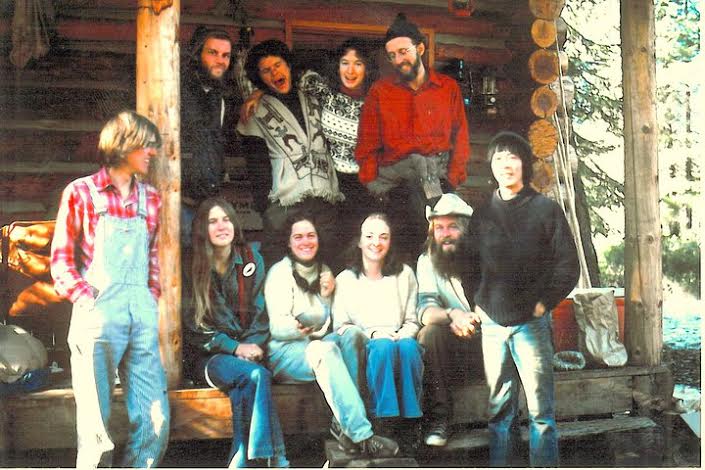 What inspired you to create Tofurky?
Tofurky was inspired by years of unsatisfactory Thanksgiving experiments, many of which took place with my naturalist friends at Bill Mckinney's cabin in the Cascades near Ashland, Oregon (see photo above). I became a vegetarian in 1972 and would either nibble on side dishes or actually backslide into eating turkey. Two of the epic vegan failures were a Stuffed Pumpkin that contained rice and veggies and lacked a protein rich savory component and a Gluten roast that took all day to prepare but was virtually impossible to cut, let alone digest. I was looking for a Thanksgiving roast that was "bombproof" to make, delicious and easy to prepare.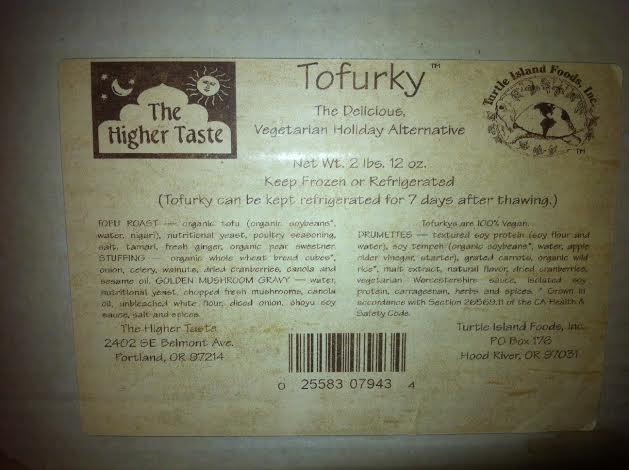 How did people respond when you first began this project?
The first year, 1995, inside the first 500 Tofurky Roasts, we included a self addressed, stamped postcard requesting feedback from our customers. With no internet, this was the primary means of communication back then.
We got great feedback. I remember one in particular that said "I have been waiting 20 years for this product. Finally I am not a second class citizen at Thanksgiving anymore!" That year we also received some great press from NPR and the NBC Today show.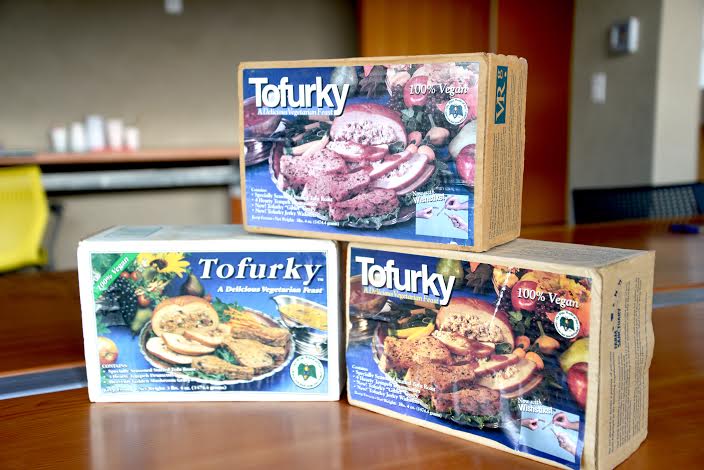 In the early days, how did you convince retailers to carry your product?
Some retailers saw the potential right away and others were very skeptical, mostly due to the high price of the Tofurky (served 8/cost $34.95). The prevailing retail wisdom at the time was no product would ever sell in the freezer price above $3.99 so there was some sticker shock with the Tofurky. Two early adopters of the product were Food Front in Portland and PCC (Puget Consumers Market in Seattle). They both brought in substantial amounts of Tofurkys that year and PCC even had to add a "Tofurky Hotline" where customers could order them. Other stores were not so sure. When I presented to one large Portland chain, they weren't sure if they could sell any but reluctantly ordered one Tofurky. The next day they called and said they had sold that one and could I bring them 2 more? This exponential growth went on right up to Thanksgiving and was a lot of fun to watch.
How many people purchase Tofurky roasts these days?
Today we sell between 350,000 and 400,000 Tofurky roasts per year. Along with our other Tofurky products like sausages and deli slices we produce about 10 million pounds of Tofurky each year.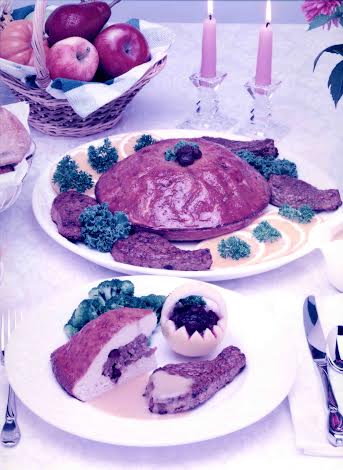 How has the world – and the market for veg options – changed over the last 20 years?
Well first off, I started Turtle Island Foods in 1980 as a tempeh only company. Back then there was no tofu, tempeh or meat alternatives available and barely any granola. My diet consisted of pressure cooked soybeans and tortillas and soy grit burgers, so tempeh was a huge step forward for me. When I first brought my commercial tempeh cakes to stores, the response was "Awesome! Do you have any more products? We are trying to fill up our shelves with products and are having a hard time finding enough!" By 1995, when Tofurky came on the scene, there were plenty of frozen burgers, led by the Gardenburgers and Boca Burgers, and also refrigerated tofu hot dogs but not alot of other good options. The variety and quality of vegan meat alternatives and cheeses available now is nothing short of amazing.
Did Tofurky ever experience the kind of corporate pushback that newer vegan brands are currently facing (e.g. Just Mayo vs Unilever)?
We have never been harassed by larger corporate entities though several have offered to buy us, something we have never been tempted to do. My stepson, Jaime Athos has worked here for going on 10 years now and is now our President and CEO. He is very sharp.
Knowing what you know today, what would you have done differently in the first few years of establishing your brand?
No regrets though I wish there was Kickstarter around as an option for raising money! As it was, I gave my brother 27% of Turtle Island Foods for a $17,000 investment in 1990. Oops! We are still on good terms and he was happy with his investment.
Did you ever think Tofurky would be as popular as it has become?
Before you launch a product you never know really how it will turn out. But after reading all the feedback cards the first year, there was a deep sense that we had struck marketing gold. It was such a great "kairos" moment when we for the first time could finally see our way through. The world just opened up in a whole new way and changed our company forever. We were lucky enough to introduce deli slices and sausages of high quality in the coming years, using the same basic recipe which expanded the company's opportunities beyond the holiday realm.
Are there any plans for new products?
Always. We will never stop innovating. It's the lifeblood of the company and is in our mission to bring great tasting products out at a price that is as affordable as possible. We think the next 20 years will see great advancements in plant based proteins and in 100 years, they will be the dominant paradigm. A great deal of our hope rests on the outstanding work of organizations like Vegan Outreach who are exposing uncomfortable truths about the current meat based paradigm.