Activist Profile: November 5, 2014
Where are you from and where do you live now?
I was born in Wyoming and lived there until I was 13 years old. I then started moving and traveling around the West. I now live in Sacramento, California.
What got you interested in veganism and animal advocacy?
I met my now fiancé, who was vegan since the time he was 17. He just made it look so effortless, so I thought I'd try it. I was a vegetarian at the time, but I wasn't very strict about it, and I couldn't really explain why I was a vegetarian except to say that I knew that I didn't need meat to survive. Because we had just met, I didn't even tell him that I had decided to go vegan because I didn't want him to think I was doing it to impress him! I think I told him after a month.
I've always deeply loved animals and was looking for ways to become more involved in activism to supplement my lifestyle. Through a series of events, I ended up being introduced to Jack Norris and getting hired to work at Vegan Outreach. It's been an amazing experience; the more I am inspired by the people I work with and around, the more active I want to be!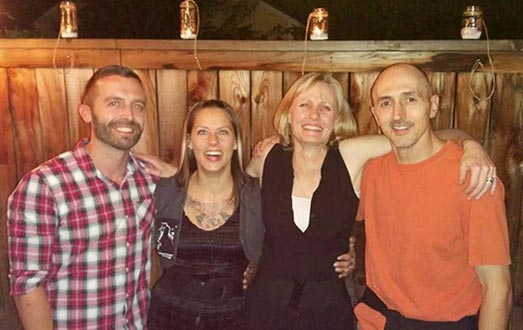 Who has been a major influence in your life?
I'd definitely have to say my aunt, De. She has style, humor, grit, and grace. She's a hard worker and supportive of so many people in my family. She has traveled to watch me play roller derby and to stay involved in my life. She is the person I most aspire to be like in this world. Her lifelong focus on health and fitness is one of the reasons that I'm a vegan athlete today!
When not working for VO, you're very involved in roller derby. What's your worst injury so far?
My bruised ego.
While you're the office manager, you've still leafleted a number of times. Do you have any suggestions for those hesitant about leafleting?
If someone told me this before I had ever leafleted, I'd have thought that they were crazy. But leafleting is fun! It doesn't take a lot of effort and it's arguably THE most effective form of activism. Every once in a while someone says something rude or insensitive, but most times people will either take it, thank you, or politely say no. On the occasions that people are rude, I just remember why I am there and the greater purpose. It's been said that for every two leaflets handed out, one animal has been saved, and I think about that a LOT while I'm leafleting.
Also, it's really fun to people watch. I am constantly observing people's interactions, the role technology (smartphones) plays in how people act. I love looking at what people are wearing and getting ideas for my own wardrobe. I also really like when people ask me questions, because it helps me take the temperature of what the average person's thoughts or preconceived notions of veganism / factory farming are. Because I'm surrounded by vegans at work and in my own home, some of the questions people ask have never even occurred to me.
Finally, what's great about leafleting too is that you don't have to make a huge commitment to do it. If you only have 15 minutes, you can do it in 15 minutes. If you have four hours, you can do it for four hours. All you need is a location and leaflets, and you're set!