Andy MacKenzie is one of the Adopt a College program's most dedicated volunteers. He's leafleted 22 different campuses this semester, directly handing Vegan Outreach booklets to more than 17,000 students!
Below is Andy with Hector, a Mt. San Antonio College student who now wants to go vegan!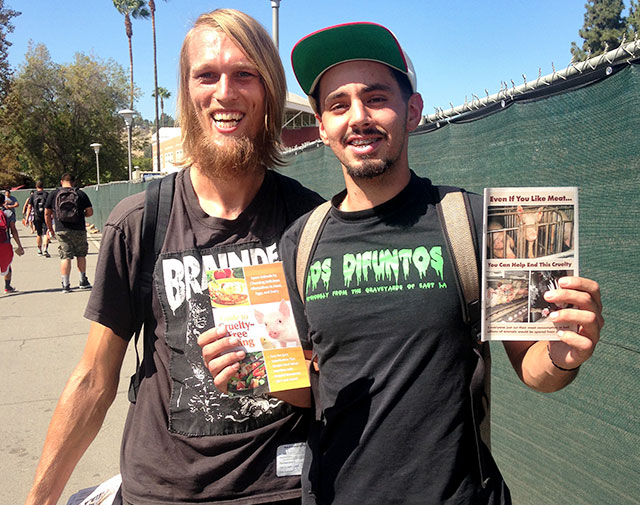 Absolutely phenomenal day at Fullerton College. I would do it for free. I gave two fairly long impromptu speeches to a group of nine at first, and then another five. They were really special interactions, and made my month. The first group was just beyond great. I loved these kids.

Andy was great as usual. He saved a woman who was getting beaten last night, and today was a rock. Also he's constantly picking up trash; and after volunteering, he bikes to cook for Food Not Bombs, four days a week.

One student came back to Andy and asked for 10 booklets to show friends and family. Another came back to ask for literature to show classmates. Andy gave a Guide to Cruelty-Free Eating to a man with protein questions.

We saw a good amount of readers and met really great kids today. I feel we had an impact on many, and hopefully many more that we never got to speak with.

—Vic Sjodin, 11/11/14
Make a special, year-end contribution for the animals by December 31 and receive dollar-for-dollar matching! All donations to Vegan Outreach are fully tax-deductible.