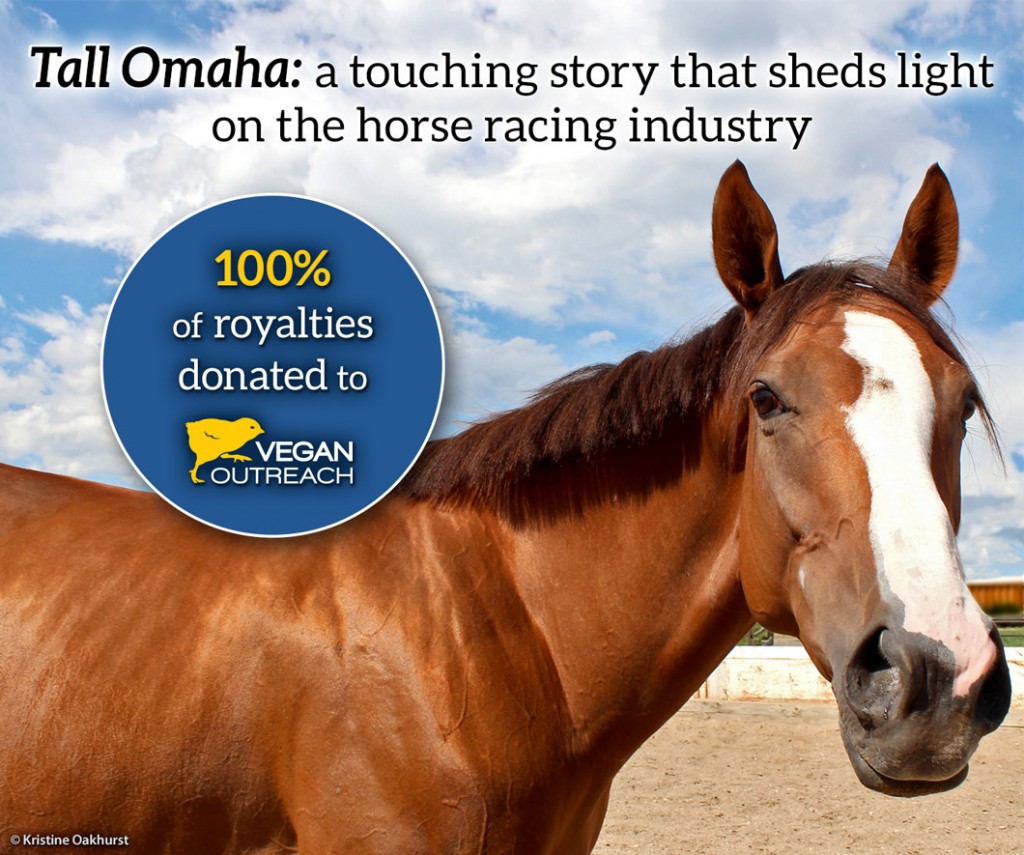 By Lisa Rimmert, Donor Relations Manager
When we think about the meat industry, some of the animals that usually come to mind are cows, pigs, and chickens. But there's another species, one we don't often think of, whose members end up in slaughterhouses by the hundreds of thousands every year.
Each year, about 200,000 American horses – some discarded from the horse racing industry – are made into food. From now until the end of horse racing's Triple Crown – June 6 – Vegan Outreach is partnering with vegan author Kristine Oakhurst to spread awareness of the suffering involved in the racing and horse meat industries.
Here's how you can help: purchase the book Tall Omaha, and until June 6, 100% of the royalties will be donated to Vegan Outreach to support our mission to end animal suffering.
Tall Omaha is the first book in a trilogy from author Kristine Oakhurst, who herself is vegan, and is actually a former animal cruelty investigator. It tells a story of a young, abandoned filly and her journey from the racetrack to the arms of a similarly discarded 16-year-old girl. Now—and this isn't exactly a spoiler—but Tall Omaha (the filly's nickname is also the book title) and the girl, Max, don't even meet in the first book, but their parallel journeys are both inspiring and heartbreaking, and at times, the abuses suffered by one are almost a direct stand-in for the horrors suffered by the other. The chapters bounce back and forth between horse and girl, but with a few detail changes. It's like we could be reading about the same person or animal, all in unison.
Of the hundreds of thousands of unwanted horses sent to slaughter in Canada or Mexico and exported to Europe and Asia, around 20% raced at least once in the U.S. That's a staggering 109 American racehorses per day turned into food for human consumption.
While the last American horse slaughterhouse closed in 2006 due to pressure on Congress from animal activists, the plight of American horses is far from over. Not only have groups in New Mexico been trying to open a new one since 2012, but because there are no active slaughterhouses in the U.S, there are only two USDA inspectors looking out for the welfare of horses headed to slaughter in other countries.
With all this in mind, I am proud that Vegan Outreach is bringing you a great opportunity to learn about the racing industry while contributing to our mission to reduce animal suffering. Tall Omaha is a great book featuring both an animal and a vegan main character, written by a vegan author, and further supporting empathy for both human and non-human animals.
Support Vegan Outreach. Buy Tall Omaha on Kindle or Paperback, and 100% of the proceeds will go to prevent animal suffering by inspiring more people to go vegan – for the cows, pigs, chickens, horses, and all animals.