By Kacy Franzen, Outreach Coordinator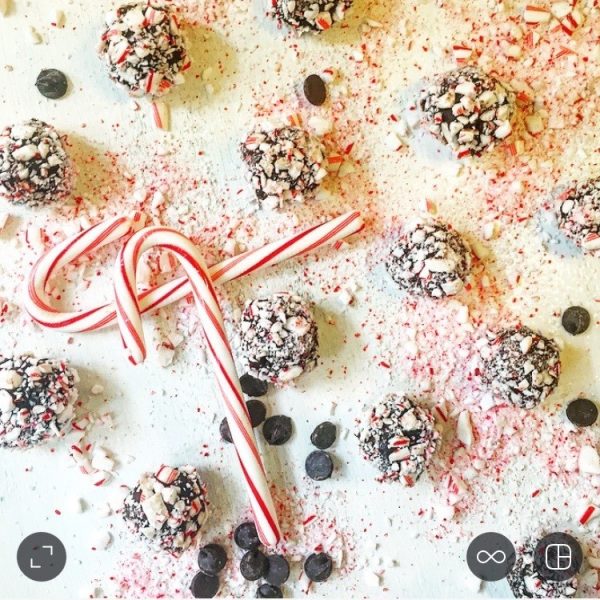 The author of the recipe, Kacy Franzen, is a dedicated animal activist, certified health coach, and lover of food. If you're a fan of this recipe, check her website and Instagram.
Isn't holiday baking great? Unless you're lazy. Then you know what's better than holiday baking? Not baking!
For example, melting a couple of ingredients together and turning them into chocolate truffles with a festive candy cane coating—easy as that! So turn on some Christmas music, pour yourself a little vegan nog, and whip up these delightful little treats that your friends and family are going to love!
Candy Cane Truffles
Yields 12-16 truffles.
Ingredients
10 Peppermint Candy Canes
1 ½ Cups vegan chocolate chips
½ cup coconut cream
½ teaspoon peppermint extract
Directions
Place the vegan chocolate chips in a mixing bowl and set aside. In a small saucepan, heat the coconut cream over medium heat for a few minutes until it begins to simmer. Pour the hot coconut cream over the chocolate chips and cover. Let the mixture sit for five minutes.
Add the peppermint extract and gently mix everything together until melted and well combined. Refrigerate until firm, about 3 hours.
While the chocolate is chilling, place the candy canes in a plastic bag. Use something heavy to smash them into little pieces (I used a rolling pin). You can also crush them up in a food processor.
When the chocolate is chilled and firm, use a teaspoon to scoop out chocolate and form into little balls. Then roll the balls in the crushed candy canes to coat.
Place the truffles on parchment paper and put them into the refrigerator to chill until you're ready to share—or enjoy all to yourself!
Happy Holiday Baking and Non-Baking!
This Candy Cane Truffles recipe was loosely adapted from the Minimalist Baker's 2-Ingredient Dark Chocolate Truffles recipe.