Reviewed by Toni Okamoto
Complete with familiar and easy-to-follow recipes, Mistress Ginger brings fun into the kitchen with her hilarious book, Mistress Ginger Cooks!. Her lighthearted approach to vegan cooking is welcoming and approachable, which makes attempting a new style of cooking less daunting.
My favorite thing about the book (besides her personality) is that Mistress Ginger doesn't assume the reader knows basic cooking skills. Although, some of the recipes are more complex, she walks you through them step by step and in detail. She also caters to both health conscious groups, as well as those seeking comfort foods, with tasty recipes including: French-Kissed Toast, Blueberry Stud Muffins, Tofu Gone Wild, Miso Sexy Soup, and many others with equally creative names.
I chose to review Tie-The-Knot Chocolate-Peanut Butter Pie and Presto Pesto. Both were extremely delicious and copied straight from her book, you can see my notes below: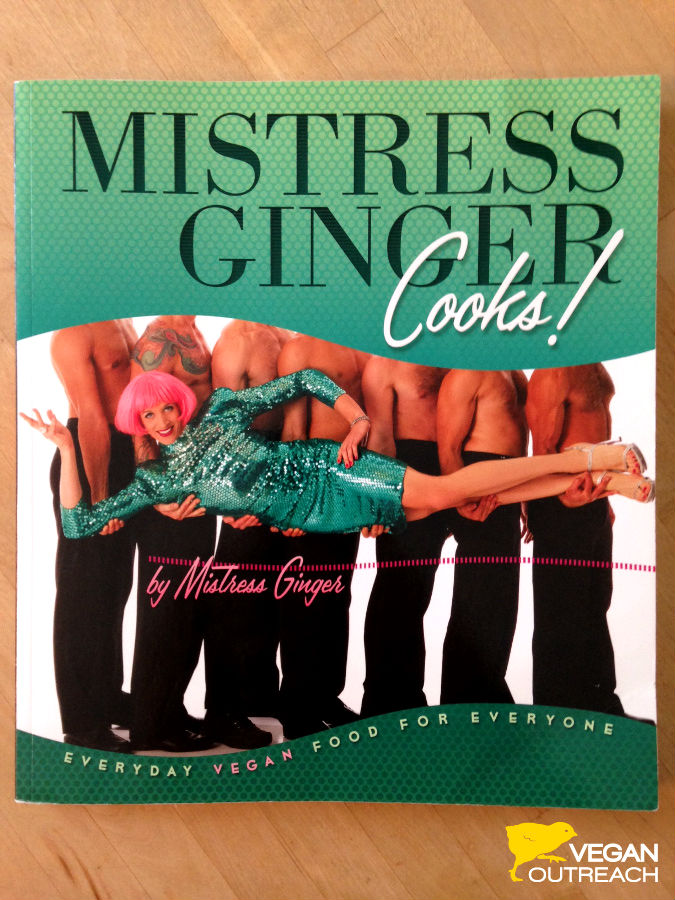 Unfortunately I couldn't get a good enough photo of this pie, but it was seriously amazing! I recommend following the recipe as written, but if you're impatient like me, you can have the pie "chill" in the freezer to expedite the process. Also, I only used 2/3 cup of sugar instead of the 1 cup of sugar and it was still sweet enough.
Another note: the second time I made the pie, I made it gluten free by lining a pie dish with gluten free ginger snap cookies instead of using a prepared graham cracker crust. It was delicious!
Tie-The-Knot Chocolate-Peanut Butter Pie
1 cup nondairy cream cheese, softened
1 cup unsalted smooth peanut butter
1 cup sugar
1 teaspoon vanilla extract
1 can full fat coconut milk, chilled for 6-8 hours
1 prepared vegan graham cracker crust
1/3 cup nondairy milk
2/3 nondairy semisweet chocolate chips
2 tablespoons vegan buttery spread, softened
Dearly beloved, we have gathered here to make a pie. Using an electric mixer, blend the nondairy cream cheese, peanut butter, sugar and vanilla extract in a large bowl until well combined. Rinse and dry the beaters.
Remove the coconut milk from the fridge, but do not shake the can. (When chilled, the cream from coconut milk rises to the top.) Gently turn the can upside down and carefully remove the lid. Pour the watery liquid into a storage container and reserve for other purposes. Scoop the coconut cream from the can and put it in a large bowl. Using the electric mixer, beat the coconut cream on high until fluffy, about 5 minutes.
Fold 1 cup of the coconut cream into the peanut butter mixture. Using the electric mixer, blend on low speed until smooth. Scoop the mixture into the pie crust, smooth the top with a rubber spatula, and chill for at least 2 hours.
Heat the nondairy milk in a small saucepan over medium heat just until it begins to steam and bubble. Remove from the heat and stir in the chocolate chips until melted. Add the vegan buttery spread and heat over low heat, stirring until smooth. (This chocolate sauce is not only delicious on peanut butter pie. Try spreading it on you lover … but wait until it cools).
Pour the chocolate sauce evenly over the peanut butter filling. Smooth the top with a rubber spatula and chill for at least  hours so the chocolate topping becomes firm.
Store loosely covered with plastic wrap in the refrigerator and use within 1 week.
Consider extending marriage rights to other foods in your pantry. Why should peanut butter and chocolate be the only ones allowed to wed? Lets spread the love, broaden the spectrum of flavorful pairings, and brighten our plates with glittering diversity. Amen, sister friend!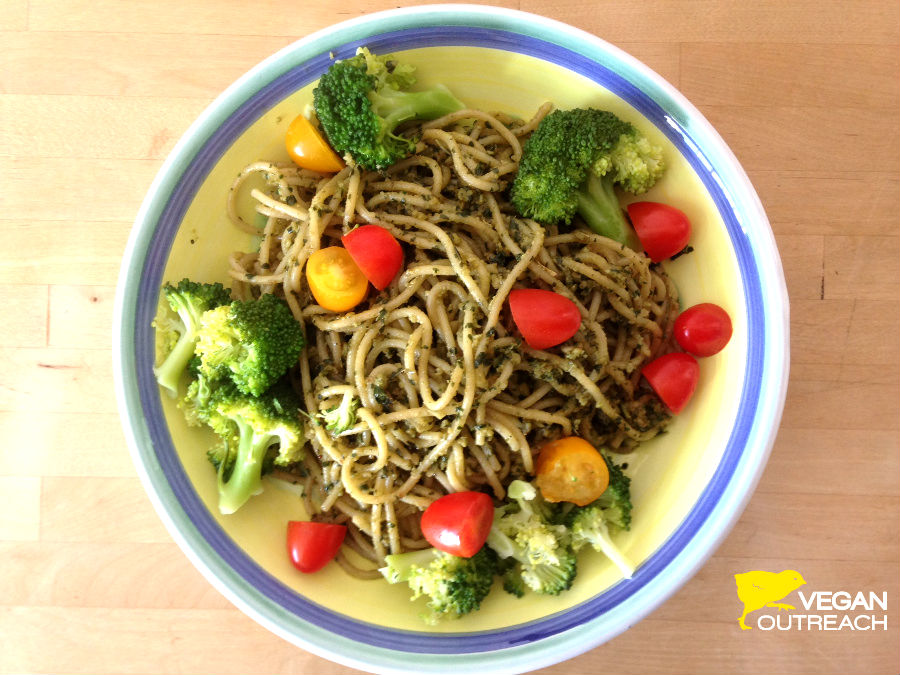 As you can see from the photo below, the Vegan Outreach staff LOVED this dish! Josie and Jack ended up thumb wrestling for the last serving, and you can see from the picture who won the battle. Josie loved it so much that she couldn't even wait to serve the pasta in a bowl — she ate it straight out of the giant pot.
The only thing I changed about the recipe was adding nutritional yeast. It's totally a personal preference, but I enjoy a little cheesy-tasting kick to my pesto. I added 1/8 cup and it was perfect!
Presto Pesto
2 cups stemmed fresh basil, firmly packed
1/2 cups walnuts
2 teaspoons minced garlic
1 teaspoon freshly squeezed lemon juice, plus more as needed
1/2 teaspoon salt, plus more as needed
1/4 teaspoon dried thyme
1/3 cup extra virgin olive oil
Freshly ground black pepper
Combine the basil, walnuts, garlic, lemon juice. salt, and thyme in a food processor. Pulse until just mixed and still chunky. Stop as needed to scrape down the work bowl with rubber spatula.
Process the mixture while adding the oil in a steady stream. Stop processing as needed to scrape down work bowl. Continue processing until completely mixed but still a little chunky. Pesto should be mostly smooth with just the right amount of stubbly texture, like my men.
Season with additional lemon juice, salt, and pepper to taste. The flavor of the pesto by itself should be very bold, also like my men. Wow, I never realized how much my men and pesto have in common. That must explain why I cannot get enough of either.