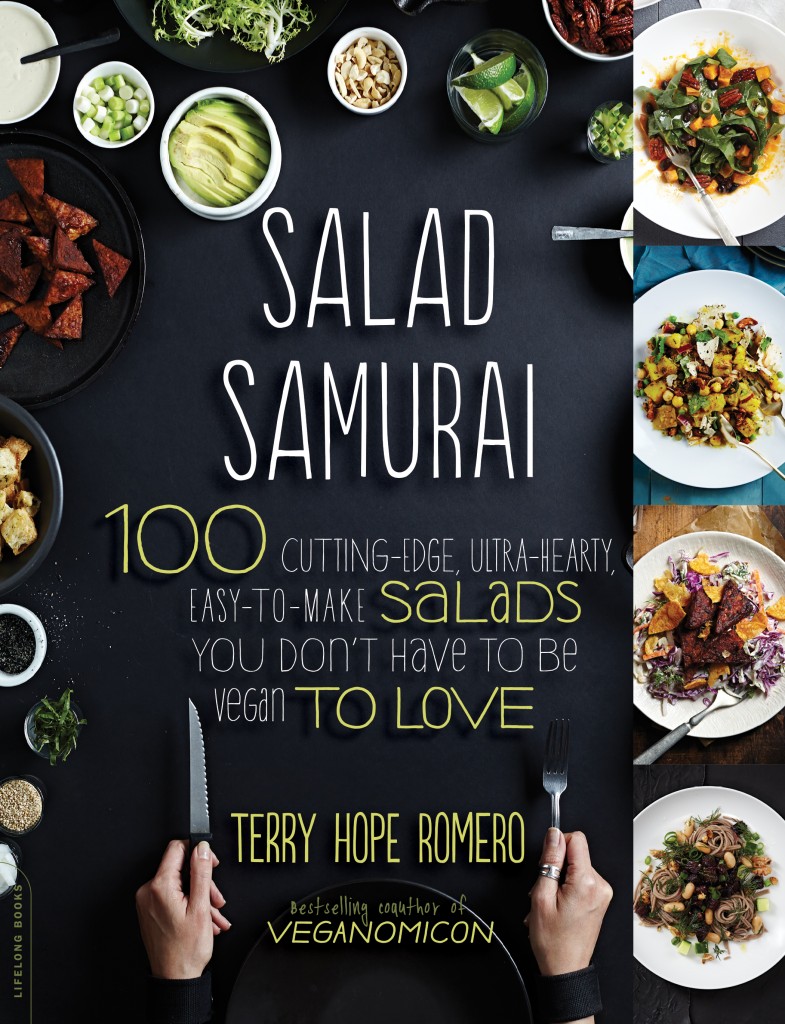 Reviewed by Toni Okamoto
If you're like me, you are very skeptical about any cookbook with "salad" in the title. Although I enjoy vegetables, I have a really hard time being satisfied with a typical salad for a meal, and I like to challenge the idea that vegans only eat salad by avoiding them altogether. However, given that this book was authored by the fabulous award-winning Terry Hope Romero, I figured that it would likely be mind-blowing and absolutely worth trying.
Haven't heard of Terry Hope Romero? Check her out right now! She's written some really wonderful cookbooks, such as: Viva Vegan, Vegan Eats World, and she co-authored Veganomicon, Vegan Cookies Invade Your Cookie Jar, Vegan Cupcakes Take Over the World, and more. She also has an awesome blog at VeganLatina.com.
As I suspected, this book was exceptional. I really appreciate cookbooks that include many photos, and the photographer, Vanessa K. Rees, did a beautiful job. The backgrounds of most photos are black or white, which makes the food colors look really vibrant. It was hard to narrow down two recipes to review, but with the help of the Vegan Outreach office, I chose the Tempeh Taco Salad and Sesame Noodles in the Dojo.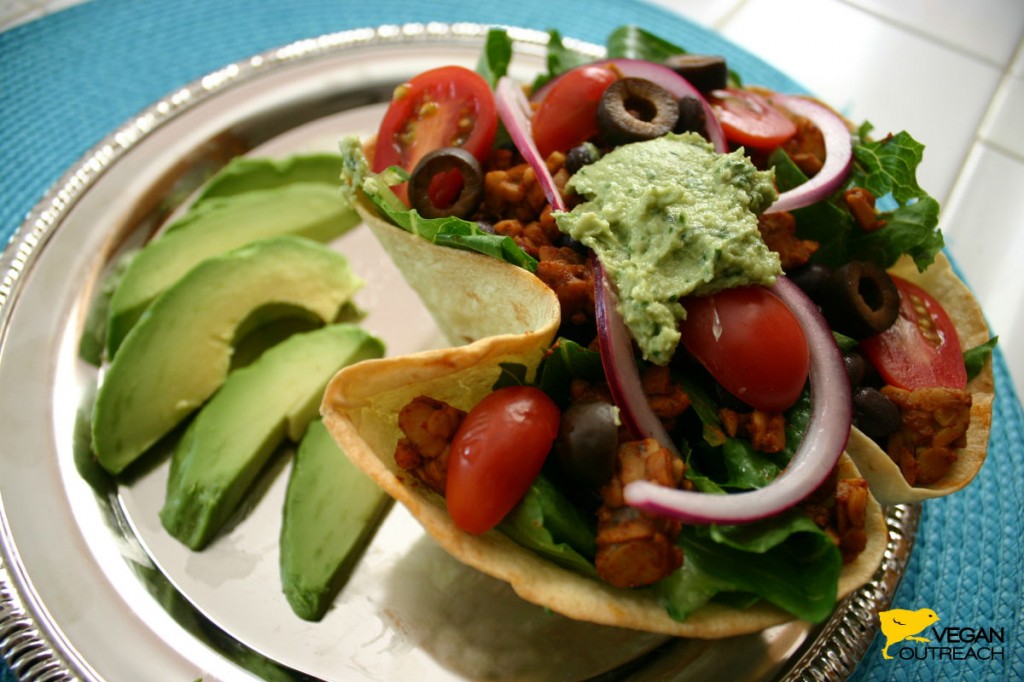 These taco bowls are very easy and make your presentation so fancy. I made them for the VO office, and everyone thought I was a culinary genius. I'm sure it all tastes just as good made as nachos, but I highly recommend making these bowls to impress friends.
The Avocado Ranch Dressing was the second biggest hit. I'd even recommend doubling the recipe in case your party loved it as much as mine. Our office manager Josie was found scraping the bowl for every last drop.
Tempeh Taco Salad Bowl
Serves: 4
Time: 1 hour
Avocado Ranch Dressing:
1 large ripe avocado
½ cup lightly packed fresh cilantro
½ cup unroasted cashews
¾ cup hot water
2 tablespoons lemon juice
1 tablespoon olive oil
1 clove garlic, peeled
2 teaspoons white (shiro) miso
2 teaspoons dijon mustard
1 teaspoon garlic powder
1 teaspoon onion powder
3 tablespoons chopped herbs, such as dill, basil, or tarragon
Tempeh Asada:
8 ounces tempeh
1 tablespoon olive oil
1 cup vegetable broth
1 tablespoon powder, plus more for garnish
1 teaspoon smoked paprika
1 tablespoon freshly squeezed lime juice
1 teaspoon ground cumin
½ teaspoon salt
Salad:
4 baked tortilla bowls (in recipe), or 1 cup tortilla chips per serving
6 cups shredded romaine lettuce
1 pint grape tomatoes, sliced in half
1 cup cooked black beans
1 cup thinly sliced red onions
1 cup pitted sliced black olives
lime wedges for garnish
Directions: 
Avocado Ranch Dressing: Soak the cashews in the hot water for 30 minutes.  Then pour into a blender (including the soaking water) and blend until smooth. Add remaining ingredients and pulse until silky smooth. Taste and season with a little more salt if desired. Chill dressing until ready to use.
Prepare the tempeh! Dice the tempeh into rough chunks. Preheat a skillet over medium heat and then saute the tempeh and olive oil for 3 to 4 minutes, until golden brown. Add the broth, chili powder, paprika, lime juice, cumin and salt. Simmer 1 minute, reduce the heat to low, and cook for 4-6 minute, or until almost all of the liquid has been absorbed but the tempeh is still slightly juicy. Turn off the heat and cover the pan to keep warm.
Bake the tortilla bowls. Preheat oven to 400°F. Arrange 4 ovenproof bowls on a baking sheet. Warm the tortillas (either in the microwave or directly over the gas burning stove top). Press the tortillas into the bowls, crimping the sides to press into a bowl shape. Spray the insides with a touch of cooking spray (preferably olive oil). Bake the bowls for 8-10 minutes, until crisp and golden; watch carefully so they don't burn. Remove from oven and use them warm for the best flavor and texture.
When you're ready to assemble the taco salad bowls, first arrange the warm tortilla shells on serving dishes. Drizzle a little avocado dressing on the bottom of each bowl, then heap in lettuce, tomatoes, beans, onions, and olives and top with tempeh. Drizzle on more dressing, sprinkle with a little chili powder if you like, and serve. Pass around the dressing and a few lime wedges, too.
I shopped for this recipe at a local natural grocery store and could only find organic nori seaweed for $10. Instead of paying that expensive price, I bought a small individual snack package of seaweed for .99 cents. It was a little crispier than nori seaweed, but it tasted just fine.
The peanut sauce was tasty and packed with flavor! The rice vinegar made it more of a dressing than the regular Thai peanut sauce, and its lightness complimented both the noodles and the lettuce.
My opinion is totally biased because of my profound love of noodles, but of the two dishes I preferred this one. Sesame Noodles in the Dojo was filling, quick to make and definitely not your typical salad. I'm looking forward to making it again!
Sesame Noodles in the Dojo
Serves: 2
Time: 30 minutes
Sesame Peanut Sauce:
½ cup tahini
½ cup warm water
2 tablespoons rice vinegar
1 tablespoon smooth, unsalted natural peanut butter
1 tablespoon soy sauce
1 tablespoon dark agave nectar
2 teaspoons grated fresh ginger
2 teaspoons toasted sesame oil
Noodles and Salad:
4 ounces uncooked soba or udon noodles
1 sheet nori seaweed
1 teaspoon toasted sesame oil
3 cups shredded romaine lettuce
1 seedless cucumber, peeled and sliced into thin strips
1 large, red ripe tomato, seeded and diced
3 scallions, green part only, thinly sliced
2 tablespoons toasted sesame seeds
 Directions:
Pour all of the sesame sauce ingredients into a food processor and pulse until smooth. Taste the sauce and adjust the seasoning by adding a little more soy sauce, vinegar, or agave if desired.
Prepare the noodles according to package directions but slightly undercooking them to al dente. While the noodles cook, use kitchen scissors to cut the nori sheet into long, thin matchsticks. Drain the noodles and rinse with plenty of cold water, then toss with the toasted sesame oil.
Fill serving bowls with shredded lettuce. Toss the noodles with the sesame sauce and mound on top of the lettuce. Top with cucumber, tomato, scallions, and nori strips. Sprinkle with sesame seeds and serve right now!