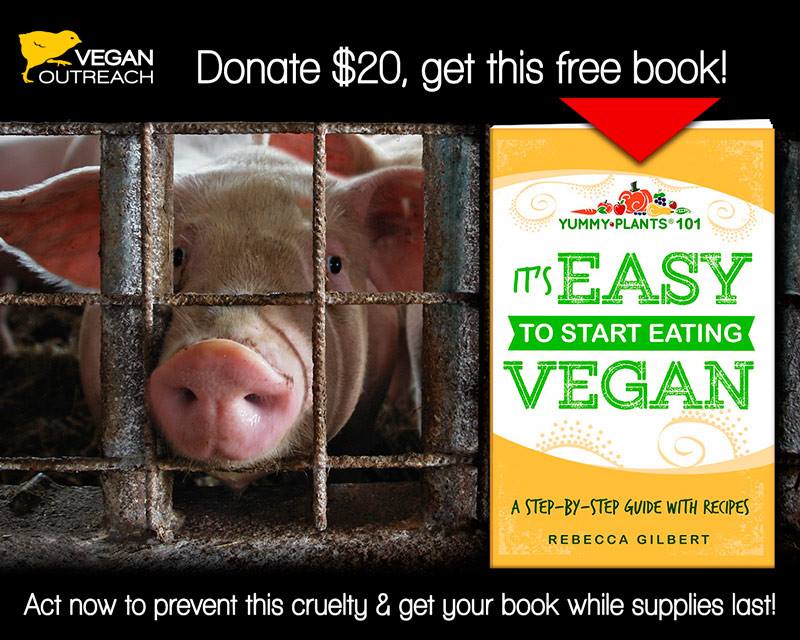 By Lisa Rimmert, Donor Relations Manager, Vegan Outreach
As Rebecca Gilbert's book title says, "It's Easy to Start Eating Vegan!" And you know what else is easy? Donating $20 to Vegan Outreach today and receiving a complimentary copy of the book!
Donate at least $20 today or tomorrow, and with your book, you'll get practical tips from Gilbert, like:
• Easy egg and dairy substitutions
• Ideas to stock your vegan pantry
• Plant-based protein sources
• Sample meal plans and tasty, easy-to-make basic recipes
• Tips for navigating social situations
The book is a terrific resource for your transition to a plant-based diet, and your donation to Vegan Outreach is a terrific way to help spread the vegan lifestyle to many others!
What could be better? Well, since you asked… Your donation will be matched dollar-for-dollar, so your $20 will become $40! A gift today will double your impact for farmed animals, and get you a copy of "It's Easy to Start Eating Vegan!" to get you started on your journey to a plant-based diet!
Promotion ends Tuesday, Dec. 2 at midnight Pacific Time. Dollar-for-dollar matching on all donations ends December 31st.