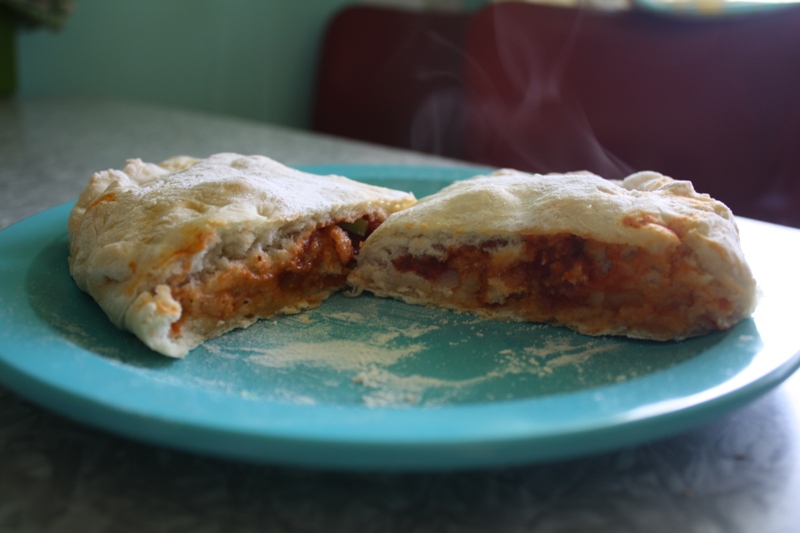 By Toni Okamoto
This recipe was inspired by my awesome friend Amy. She often makes several batches and freezes calzones individually for her husband to take to work. You can mix and match your pizza filling using whatever veggies you have in your fridge. They are delicious!
Ingredients
Pizza Dough:
1/4 oz packet of yeast
1 teaspoon sugar
1 cup warm water
2 tablespoons olive oil
2 1/2 cups flour – I use all-purpose but you can also use whole wheat
1 teaspoon salt
Filling:
pasta sauce – I used marinara sauce, but you can also use BBQ
any other pizza fillings you like (I used diced red onions, diced bell pepper, sliced olives, Gardein Chick'n Tenders and Daiya cheese)
Directions:
Preheat oven to 425 degrees. Pizza dough: In a large bowl, dissolve yeast and sugar in warm water. Let it sit for about 10 minutes or until it turns foamy.
Add remaining ingredients and mix well. Remove dough and knead it with flour (enough so it doesn't stick). Let sit for about 10 minutes.
Divide dough into 3 or 4 (depending on size you'd like) balls. On a well-floured surface (I used two baking sheets), take each ball and roll it out into a circle.
Place pasta sauce on the middle of the dough leaving a one inch space from the edge. Place your pizza fillings over the pasta sauce, fold the dough in half and fold the edges over and pinch them together.
Bake for 15-20 minutes. Enjoy!
If you have leftover calzones, they freeze fabulously!