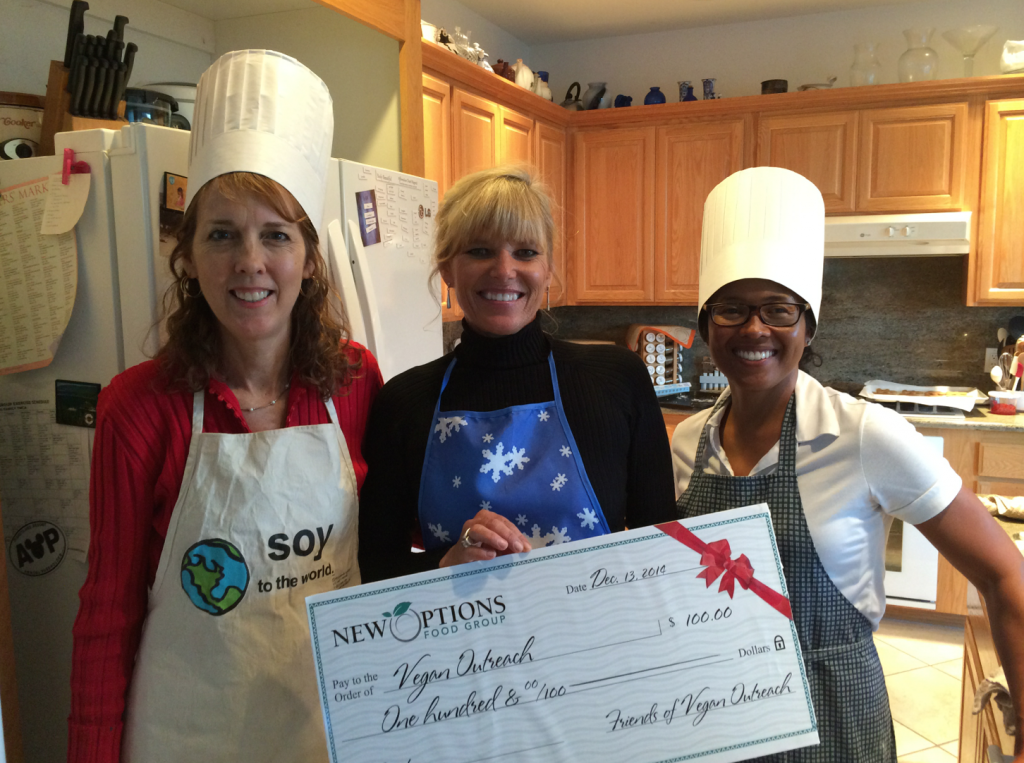 Guest Post by Liz Gary
Liz Gary knows how to roll up her sleeves and bake some cookies! Three years ago Liz decided to dedicate the second Saturday of December each year to gathering friends together to bake, decorate, and gift wrap vegan holiday cookie packages to share with family, friends, neighbors, and co-workers. Her special cookie gifts come complete with vegan recipe gift cards that are meant to create "food for thought" and inspire the lucky recipients to consider a vegan diet. Most people don't think about cookies as a way to help people start making the connection between diet, the environment, and animal welfare but Liz found that using a little sweetness can go a long way! Gather your friends together and bake cookies for a cause! Here's how she did it.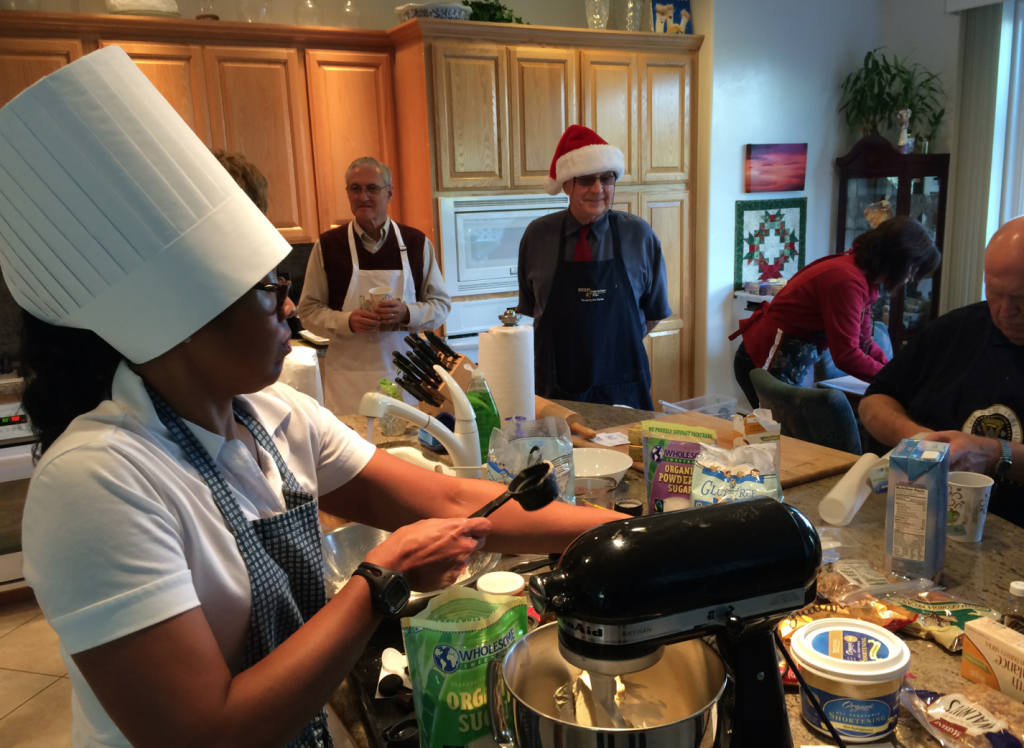 Chef Gina Sample, founder of the Vegan Lab demonstrates how to make vegan and gluten-free holiday cookie dough in the gourmet kitchen of vegan bloggers David and Donna Kater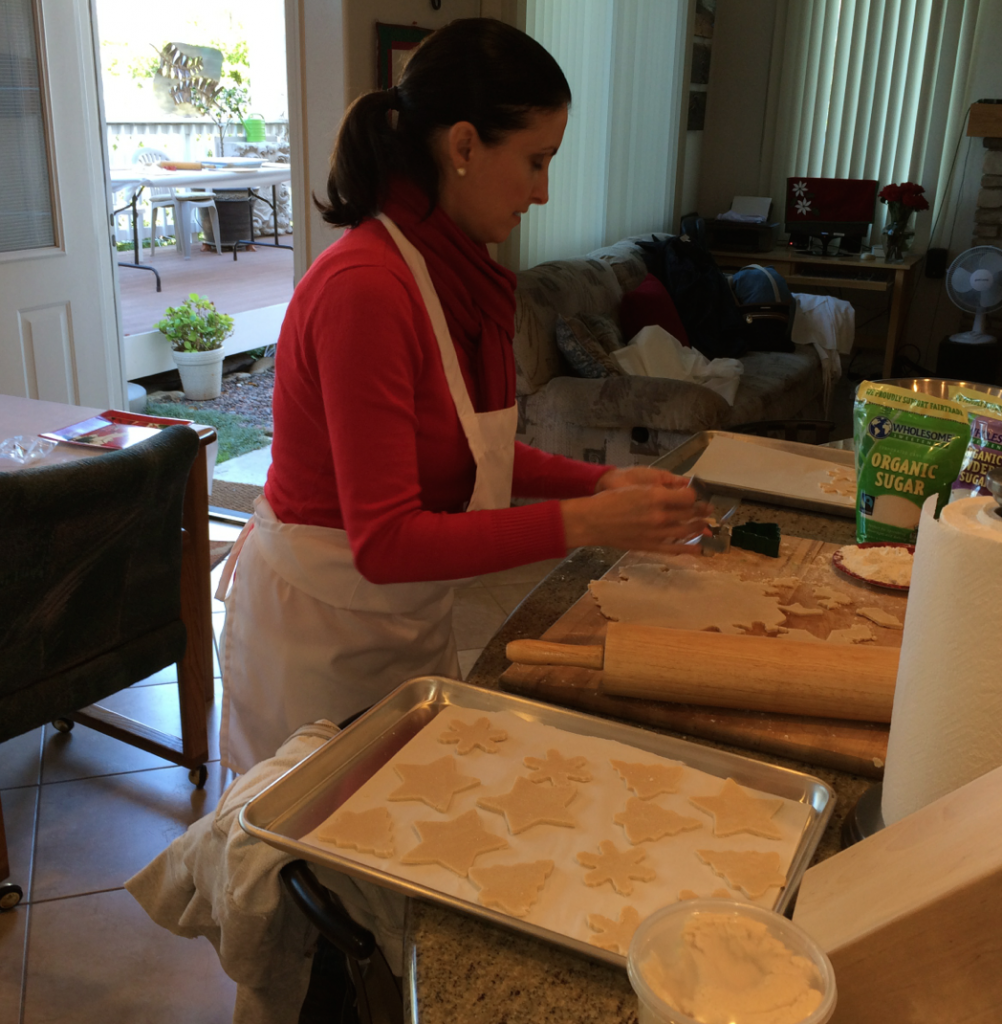 Interior Designer Susan Matanguihan came to learn more about vegan and gluten-free baking and help out with creative ideas for gift wrapping and packaging the cookie gifts.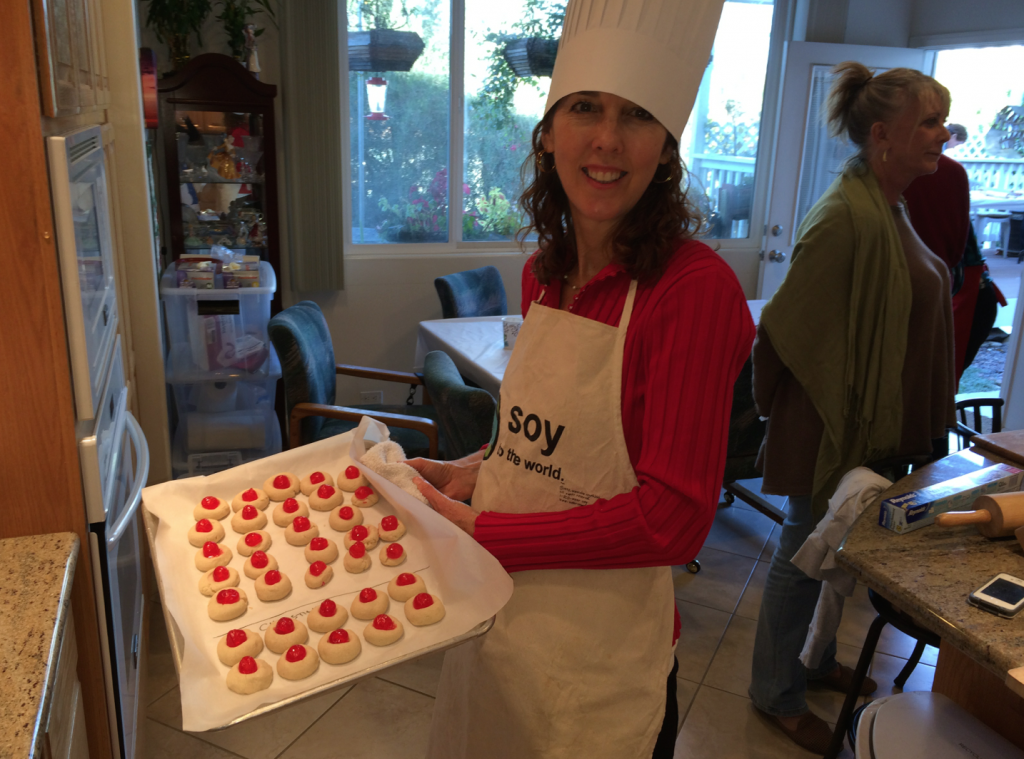 Soy to the World! Vegan Cooking Instructor and Founder of Veg Appeal Tracy Childs monitored the ovens and helped distribute a variety of cookies including vegan and gluten-free cherry thumbprints, vegan gingerbread men, roll-out cane sugar cookies, pecan snowballs, and chocolate chip walnut cookies.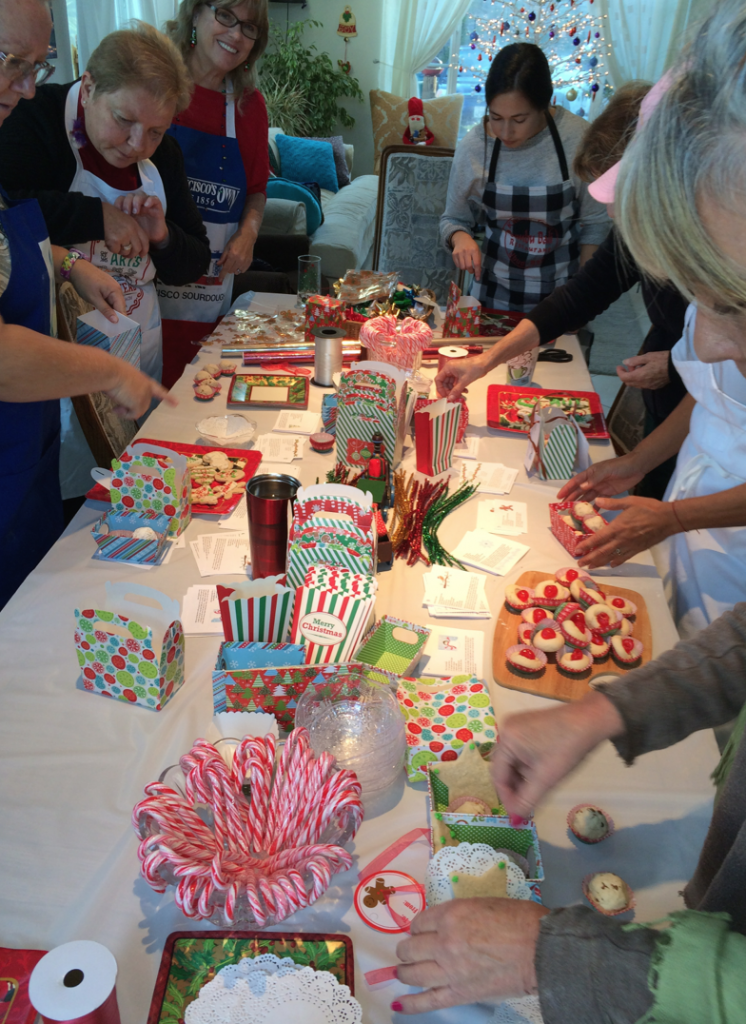 Holiday bakers assembled cookie gift packages at a wrapping station that included recipe gift cards that help raise awareness to the fact that cookies can still be delicious (and even better!) when you leave out the traditional eggs and dairy.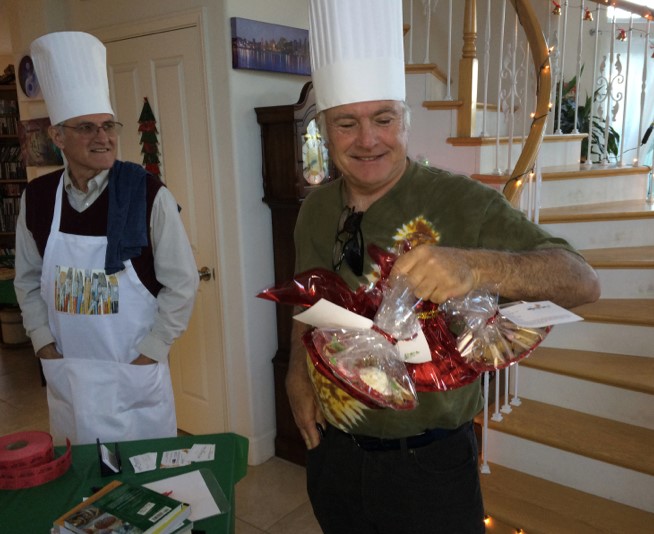 Each participant was invited to make up to six cookie gift packages, host David Kater (left) looks on while Paul Yancey proudly displays his cookie creations.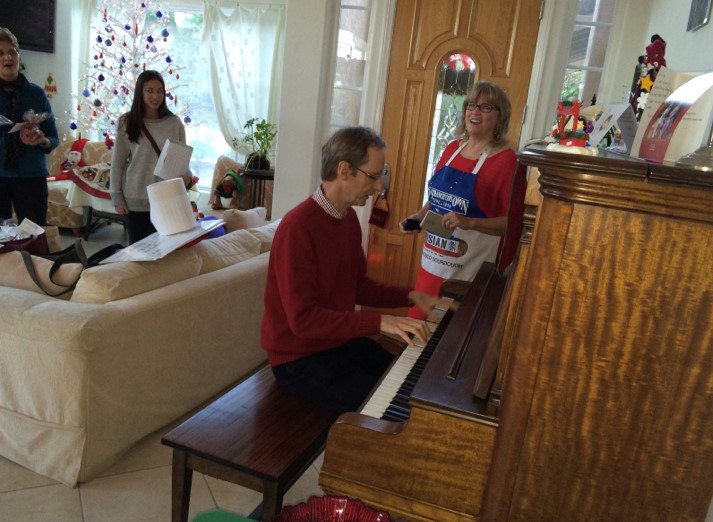 Holiday joy was abundant with caroling and drawings for special gifts including an online Vegan Fusion course donated by author Mark Reinfeld, a Vegan in Volume Cookbook donated by the Humane Society of the United States, and Earth Balance t-shirts donated by Boulder Brands.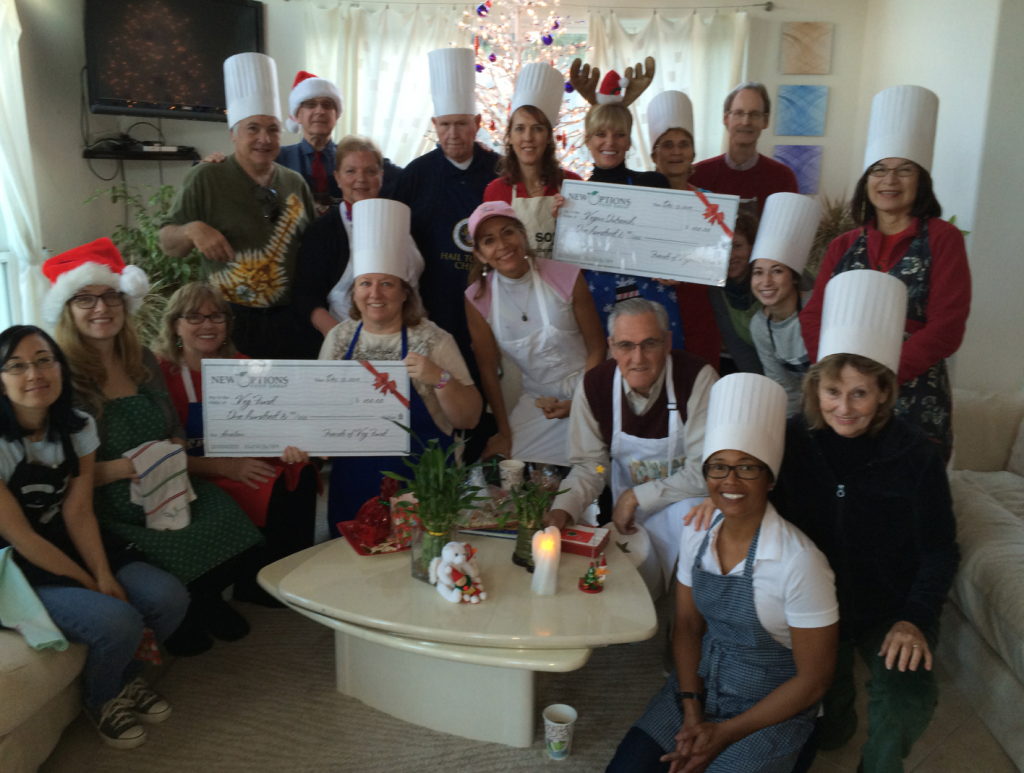 Liz Gary's event this year raised funds for both Vegan Outreach and the Veg Fund. Both donations were matched dollar for dollar increasing her total contribution to $400.00 for vegan outreach projects in 2015. Liz develops and coordinates a variety of vegan outreach events throughout the year including free Vegan Food Fairs and Meatless Monday Family Cooking Classes held through the San Diego Public Library System. She leads plant based culinary tours, consults to the foodservice industry and plans to host her first Vegan Fashion Show and Food Fair in 2015. For more information and tips on hosting a vegan fundraiser contact Liz by email at [email protected].