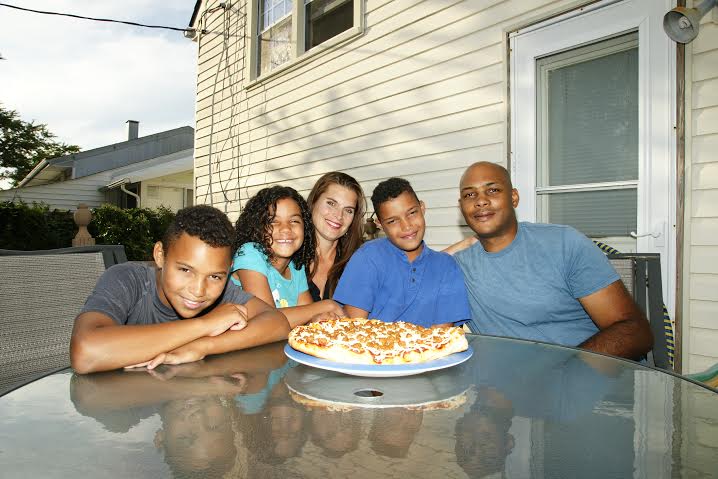 By Josie Moody, Office Manager
In November 2014, Vegan Outreach launched its Vegan Mentor Program, a program that connects vegans with people who want to eat less meat, become vegetarian or become vegan. Vegan Mentors provide guidance to mentees on all things vegan, from what to eat to how to participate in social gatherings. As we've continued to develop the program, we've realized that we want to provide more resources to people in various stages in their lives, and in various living situations.
As a result, we've decided to create the blog series "How Do YOU Vegan?," hearing directly from real vegans about how they incorporate veganism in their lives, complete with meal ideas. In our inaugural post, we are pleased to have activist and mother Lesley Parker-Rollins share her experiences raising and feeding a vegan family.
About Lesley and her Family:
We live in Lutherville, Maryland, a suburb 15 minutes north of Baltimore and an hour outside of DC. Baltimore suburbs are not nearly as veg friendly as DC. That said, the grocery stores in the area have exploded with vegan fare so that is fantastic!
I became vegan in 1998, married Ray (who was not vegan or vegetarian)in 2000, and by February of 2001 he became vegan. We had Tyler in December of 2001, Will in April of 2003 and Maya in October of 2007 and they were all healthy vegan pregnancies. Tyler is now 13 1/2, Will is 12 and Maya is 7 1/2.
Since we are ethical vegans first and foremost and we also don't have a lot of money, we don't own a Vitamix but still should try to incorporate more fresh and whole foods into our diet! Everyone has a different way of doing things but eating without contributing to animal cruelty and overall eating healthily is a way of life for us and works for all five of us just fine.
It's definitely fair to say that we eat a lot of typical American meals simply veganized. Other than MOM's Organic Market and Whole Foods Market we mainly shop at Wegman's, Giant and Safeway to save money. We are big fans of Indian, Thai, and Italian and Mexican as well and incorporate at least two or three of these types of cuisines into our weekly dinner. Here is an example of what each of us eats in a typical week:
Breakfast Monday-Friday
Lesley: Nature's Path Pumpkin Flax Granola with almond milk, orange juice and coffee with almond milk and sugar.
Ray: Cinnamon Raison Bagel with Earth Balance, grapefruit juice and coffee with soy milk and sugar
Tyler: Raisin Bran with soy milk, banana and apple juice
Will: Bagel with Earth Balance, cantaloupe, yogurt and apple juice
Maya: Whole grain Bagel with peanut butter, yogurt, banana and apple juice
We all take a vegan multivitamin, calcium, DHA and B12 supplements.
Weekend Breakfast for Ray and kids (I'm boring and eat the same thing for breakfast everyday!)
Pancakes or waffles with Earth Balance, tofu scramble, sausage crumbles or links and juice
Lunch
Lesley & Ray: Whole grain bread, Veganaise (or Just Mayo!) Tofurky slices, lettuce and avocado. Sometimes I add a slice of vegan cheese and love the new Follow Your Heart Provolone slices.
Tyler, Will & Maya: Gardein Chiken Sliders and a generally a couple of the following sides: strawberries, carrot sticks, Nutter Butters, granola bars, Oreos, cantaloupe/melon
Other lunches on Weekends
Tofu salad sandwich, mock tuna or mock chicken sandwich, grilled cheese, soups, veggie burgers, Tofu Pups, salads, Sloppy Joe's, couscous and veggies with almonds, three bean salad, potato chips and fried onion rings.
Kids Snacks:
Clif Bar Builder Bar, pretzels, Wheat Thins, fresh fruit, cashews, trail mix, celery with peanut butter, peanut butter crackers
Dinner (We all eat the same dinner every night)
1. Tofu Stir Fry with Vegetables over brown rice
2. Coconut curried chickpeas, onion and petite green peas over brown rice
3. Eggplant Parmesan with salad
4. Spaghetti and vegan meatballs with salad or coleslaw, or fresh carrot, celery and green/red pepper sticks
5. 11 Bean Soup and whole grain bread
6. Gardein Chiken Tenders, Tater Tots and petite green peas
7. Lasagna with ground "beef" crumbles and raw veggies
8. Chiken/Beef/Veggie Quesadillas
9. Pizza – Maya and Will like plain and Ray, Tyler and Les like it topped with mock sausage and vegetables like spinach and black olives or green pepper and onion. Usually served with fresh raw vegetables or salad.
10. Thai Curry Chiken stir-fry
11. Gardein Fish Filets with spinach, and baked potato.
12. Pasta with field roast sausage, red sauce and green pepper
13. Macaroni and cheese with broccoli
14. Black bean burgers with house salad, chips and guacamole.
15. Lentil loaf or Field Roast Celebration Roast with mashed potatoes and garlic zucchini and onion
Desserts
I always keep a freezer full of vegan cupcakes/desserts for the continuous slue of birthday parties so I don't have to make cupcakes at 7am to send into school with the kids if a birthday is being celebrated that day. The teachers are happy to have a shelf in the classroom with the kids' names on it stocked with vegan snacks for them for any occasion.
Vegan sweets we enjoy include ice cream, ice cream sundaes, brownies, cookies, cake, cupcakes, Sour Patch Kids, lollipops, chocolate covered pretzels, popsicles, Jolly Ranchers and more.
Dining Out:
We don't have a ton of money to go out but , we like most people, love going out for pizza. We love Homeslyce Pizza in the city and the kids will have lemonades and Ray and I will have a couple of beers. Homeslyce isn't a vegan restaurant but they have great vegan options for pizza. (Most pizza crusts are naturally vegan, and if you can start with a marinara sauce and start building your pizza from there).
We love Great Sage's all-vegan restaurant for brunch, lunch, dinner and dessert. www.greatsage.com My favorite lunch there is the Tempeh Rueben and our favorite dessert there without a doubt is their Chocolate Lava Cake. The kids love their Mac n Cheese and Ray loves their Barbecue Southwest West Wrap.
Our family loves Thai food and will often pick up the Kung Pao Vegan Tofu from Whole Foods and have that over rice with veggies when we can't go out to Thai Arroy for dinner.
Mock Tuna (or Chiken) Salad
2 cans rinsed and drained chick peas*
1/4 red onion diced
2 stalks celery diced
3 Tbsp. Veganaise or Just Mayo
1/2 Tablespoon Pickled relish
Salt and pepper to taste
*For a mock chicken I substitute "Wegman's Meatless Chicken Style Strips" after sautéing with onion and garlic.
The sandwiches taste great on Whole grain bread with green leaf lettuce! Yum!
We substitute Ener-G Egg Replacer for eggs and soy milk for dairy milk. You can add whatever fruit you like (we like blueberries) and sometimes add flax seeds, maple syrup and Earth Balance margarine (available at most grocery stores).