by Lauren Sprang, Vegan Outreach Board Member
On a weekend in late March, about 100 attendees gathered for the inaugural Intersectional Justice Conference on idyllic Whidbey Island, WA–a conference for which Vegan Outreach was a key sponsor.
Vegan Outreach's Organizational Development Consultant, Alex Bury, drove up from California to my home in Oregon and together we set off to Washington. Before reaching the conference, we had an important mission: to pick up Paige Carter and David Carter at the Seattle airport.
I'd been hearing about David and Paige for months and was excited to meet them. They're as impressive as you might imagine—focused and insightful activists, while also easygoing and funny.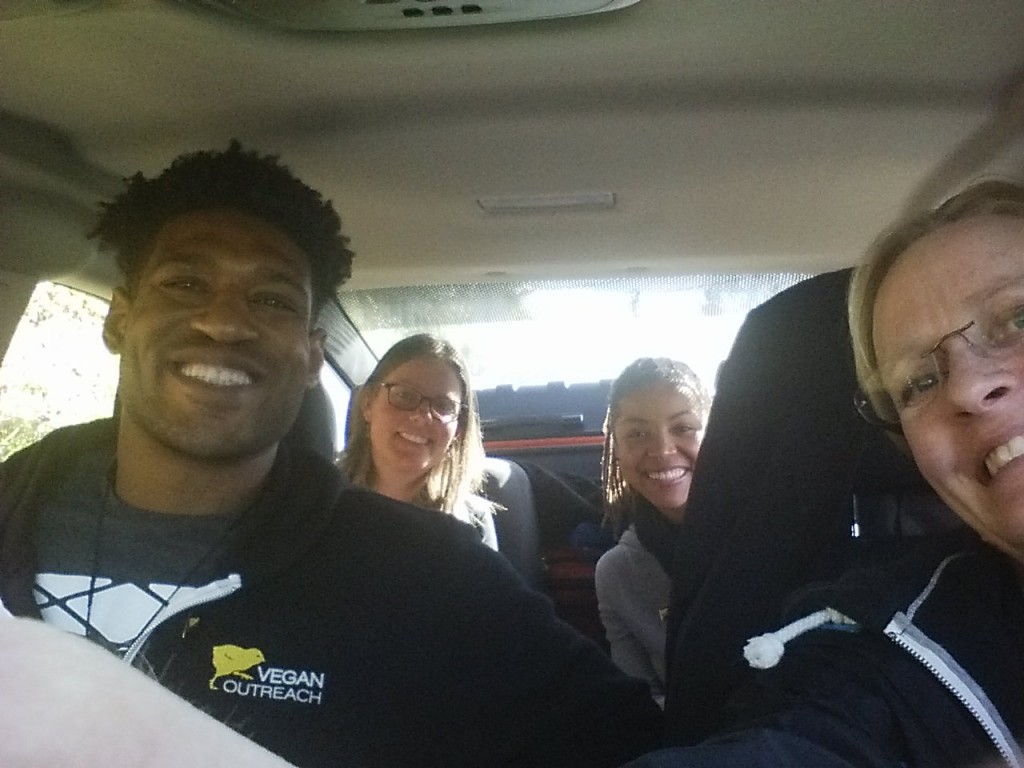 As we rode the ferry to Whidbey island, I didn't know what was in store for us that weekend, or that I would leave more inspired than I have been since I went vegan nearly 17 years ago.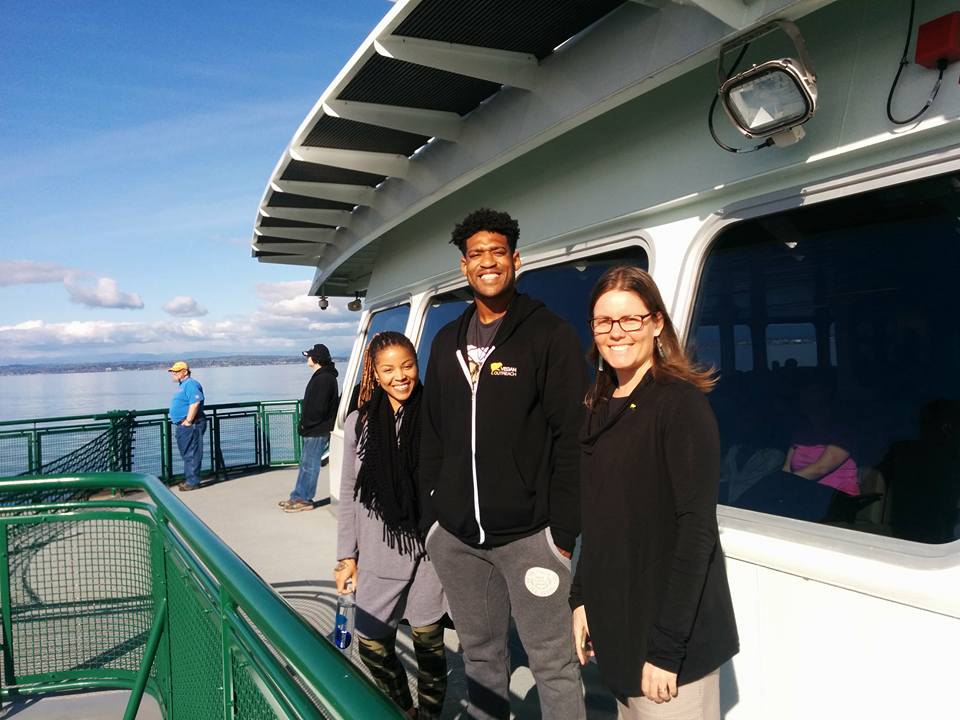 When we arrived, we drove through the darkening woods to the beautiful Whidbey Institute (below).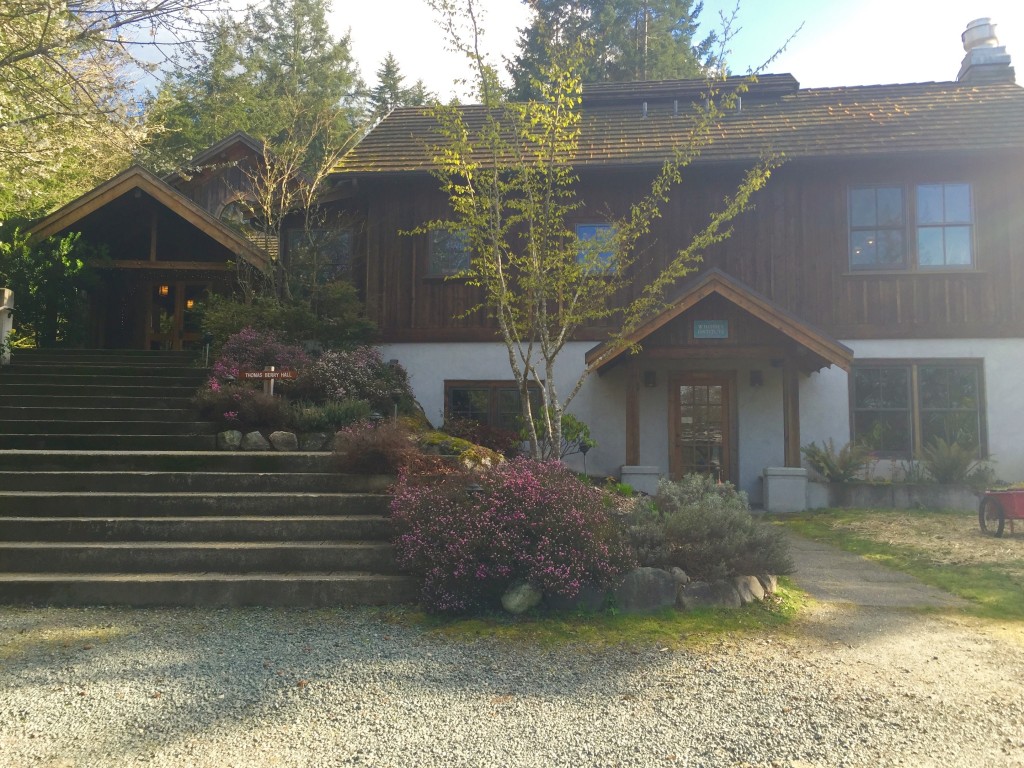 While the Whidbey Institute wasn't the most accessible location, the speakers who made it there are leaving an indelible mark on the field of social justice. And although Alex had told me about many of the speakers going in, I wasn't prepared to be so impacted, intellectually and emotionally!
The conference gave space for voices that have been suppressed–people who aren't publicized as the face of veganism–including people of color, feminists, and LGBTQ activists.
The questions raised by vegan social justice activists include, "What does racial profiling have to do with factory farming?" And, "What does equal pay for women have to do with LGBTQ rights?"
Such questions encompass a myriad of oppressions including speciesism, classism, racism, sexism, ageism, ableism, sizeism, anti-semitism, heterosexism, etc. If you can understand the common source of oppression, can you address that source to liberate not only animals, but human communities?
Speakers Aph Ko and Dr. A. Breeze Harper each gave powerful speeches. Both spoke about racism and veganism, including how the southern diet, with its high intake of fried food, was incorporated into black communities as a result of the history of slavery. This diet damages human health and also promotes animal agriculture.
pattrice jones illustrated the example of cow's milk in free and reduced cost lunches. People of color are more likely to receive free or reduced cost lunches and to be lactose intolerant. Again, this practice affects human health–and likely academic performance–and also promotes animal agriculture.
However the speakers emphasized that it's not how these issues are similar, but their common source that's most relevant: the societal institutions that reinforce these oppressions. These aren't necessarily new ideas—it's just the first time I'm hearing them.

One thing I learned is that supporting vegan intersectional activists doesn't mean finding a place for them in the existing animal rights movement. They're thriving in the spaces that they've created. While people in mainstream animal rights organizations may want to work toward diversifying their workplaces, it's equally, if not more important to stand witness to diverse voices in social justice and either support and promote them, or, to be blunt, let them be. There is no educating that "experienced" animal rights activists need to do. These activists know how to do their work–they're doing it!
A few other people I got to spend time with were Keith Tucker who hosts Hip Hop Green Dinners around the country, as well as Gerardo Tristan and Rocío Cavazos of Faun Acción, who are connecting animal activists in Mexico. Brenda Sanders of Better Health, Better Life is doing incredible work in Baltimore.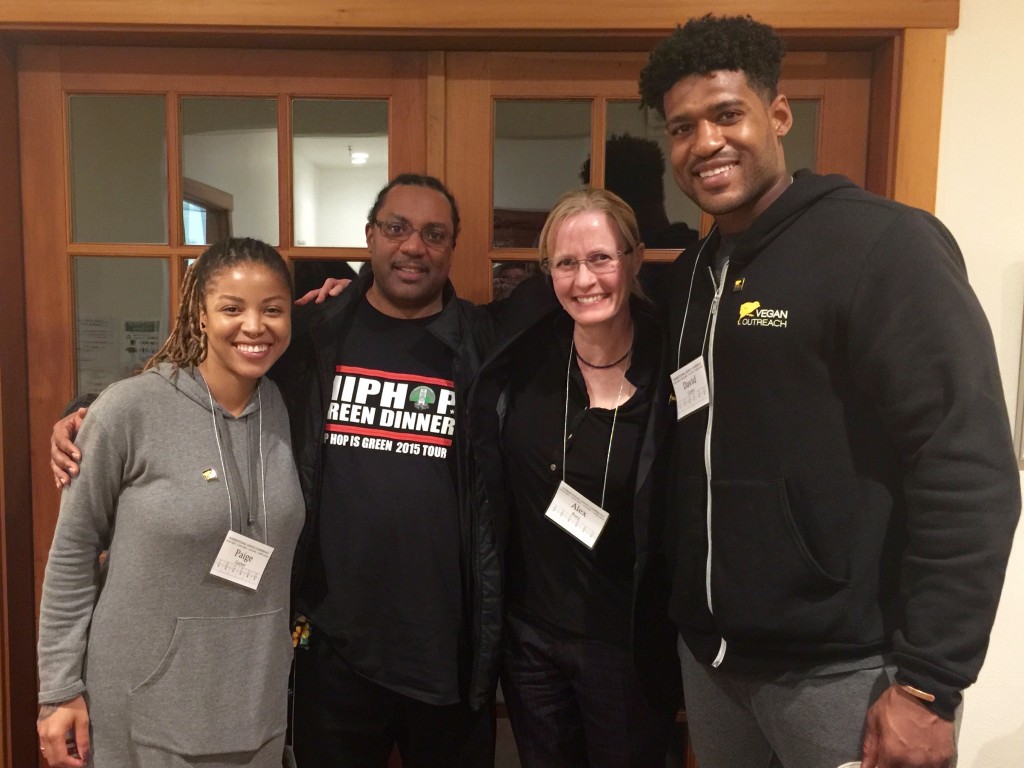 There were many other wonderful speakers, volunteers, and guests including Zarna Joshi, lauren Ornelas, Carol J. Adams, and more.
For another perspective on the conference (and more photos), see Pax Ahimsa Gethen's article on funcrunch.
Videos from the conference are forthcoming. In the meantime, if you want to learn more, here are some resources:
A site dedicated to black feminist thought and critical analysis.
A public health organization whose primary focus is health education and support.
A digital space that seeks to spotlight everyday black vegans.
Author of the Sexual Politics of Meat. Heart-opening work of loving and responding with care to this fragile world and its inhabitants has shaped me as a writer and activist.
Providing quality training and practical tools to Mexican activists through workshops, conferences, forums, and mentoring.
Seeking to create a more just and sustainable world by recognizing the power of one's food choices.
A collective of vegan businesses in the Baltimore area that has developed a line of delicious, healthy foods that offer an affordable alternative to animal products.
Dedicated to critical engagement with issues around ethical consumption, the food system, and diversity.
Offering refuge to animals who have escaped or been rescued from the meat, dairy and egg industries or other injurious circumstances, such as cockfighting and zoos.
A hunger relief and animal protection organization chipping away at two of the world's most immense, unnecessary, and unconscionable forms of suffering. A Well Fed World was a key sponsor of the conference.
A collective of Seattle activists working to educate and inform our communities on the climate crisis.
A national health initiative that is set in urban communities and designed to introduce new people especially youth, to delicious, healthy vegan food.