Nettie Schwager and Cobie deLespinasse are two of the Adopt a College program's most dedicated volunteers. Nettie (below, right) has leafleted 6 different campuses this semester, directly handing Vegan Outreach booklets to more than 4,900 students! And Cobie (below, left) has been to 7 different schools this fall, directly handing VO booklets to over 2,800 students!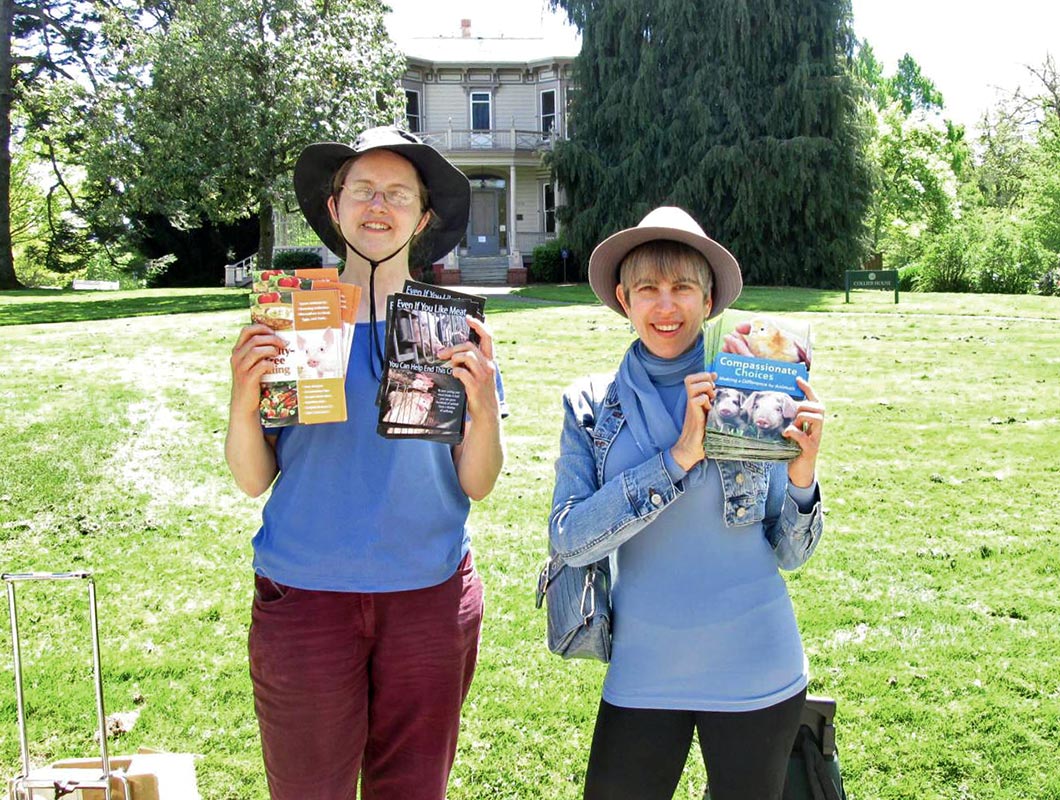 Oregon State University is the school I leaflet at regularly, so I will be back multiple times this year. I had 500 mixed booklets with me, which I gave out fairly quickly. It took about an hour and forty minutes.

By the way, in August, Alicia Silverstone had a meetup in Portland which I went to. I got to meet, hang out with, and chat with her (and Chris and Bear). It was kind of surreal. She is very nice – warm and friendly. She said she knew VO. I gave her some booklets. Another one of the people there had graduated from OSU. I asked if she had ever gotten a booklet and she said, "Yes! That was what started me on the vegan path!" And when I showed her a Compassionate Choices, she said, "Yeah, that's it." That was gratifying.

—Nettie Schwager, 9/29/14
A lot of good feedback at Mt. Hood Community College. Several people talked about wanting to change their diets. Some said that the booklets were sad. A woman said that a friend of hers had been involved in a conversation at another school after booklets were handed out, and she (the friend) had gone vegan.

—Cobie deLespinasse, 9/30/14
Create More Vegans: Click here to have your donation doubled before the December 31 matching deadline!