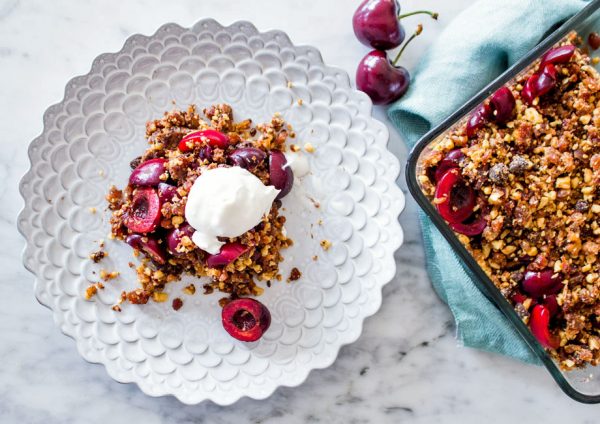 This recipe comes to us from our friend, Jenné Claiborne, at Sweet Potato Soul. You couldn't ask for a better summertime dessert recipe! It doesn't require any baking—no need to run a hot oven—and, best of all, it's cherry season!
Give it a try the next time you pick up a bag of cherries, and let us know how much you liked it!
No-Bake Cherry Walnut Crumble
Yields 8-10 servings.
Ingredients
4 cups ripe cherries, pitted
1 tablespoon balsamic vinegar
2 ½ cups toasted walnuts—raw is fine too
1 ½ cups Medjool dates, pitted—other varieties of dates will also do
½ cup vegan dark chocolate chips
½ cup coconut cream
1 teaspoon maple syrup
Directions
Place the cherries in a bowl, and add balsamic vinegar. Stir to coat them all. Set aside.
Place the walnuts, dates, and chocolate chips into a food processor and pulse to chop.
When the mixture is chopped, but still a very crumbly texture, remove about ⅓ of it. This will be your topping.
Continue to blend the rest of the crumble for another 10 seconds. The mixture should hold together tightly in your hand. Be very careful not to over blend it.
Pour the crumble from the food processor into the bottom of an 8″ x 8″ or 9″ x 9″ baking dish. Press the mixture firmly to the bottom.
Layer the cherries into the baking dish.
Cover with the chunky crumble that you set aside before.
Place the coconut cream into a small to medium sized mixing bowl.
Add the maple syrup to the coconut cream and whisk vigorously. Ideally, your coconut cream will be fluffy and light.
Serve the coconut cream over your servings of cherry crumble.
Recipe Tips and Variations
You can use any nut for this recipe. It would also be great with pecans—raw or toasted. If you buy the toasted nuts, be sure they haven't been toasted or roasted in oil. If you do it yourself, you can roast them in the oven at 350°F for 8 minutes. You could also toast them in a skillet.
If you can, plan on making the crumble the day before you want to serve it. This will allow all of the flavors to marry.
Click here for the original recipe and a video demonstration of how to prepare this delicious dessert.