By Toni Okamoto
It's currently 43 degrees in Sacramento, CA and I'm wrapped in a blanket with the heater on full blast. Usually I wouldn't be thinking about ice cream in this chilly weather, but New York City's newest vegan ice cream shop has my belly grumblin' for some creamy treats!
Read more about DF Mavens below: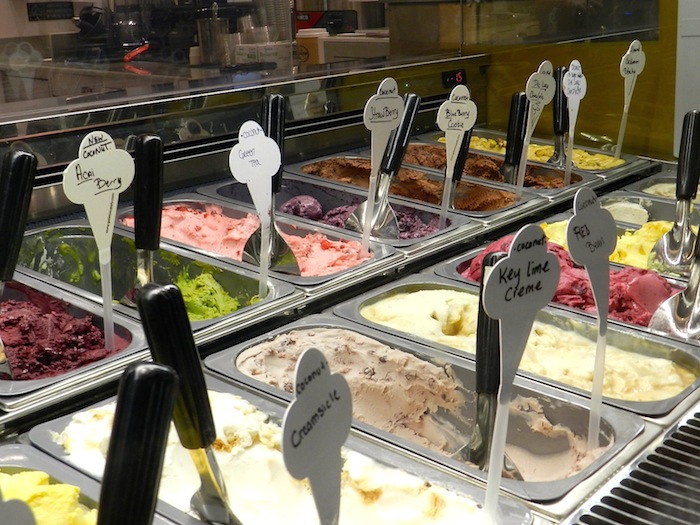 Excerpt from Well+Good, January 12, 2015, Introducing New York City's Biggest Vegan Ice Cream Shop:
DF Mavens just opened in the East Village, and it's New York City's biggest vegan ice cream shop yet, with all kinds of creative flavors, a juice bar, and other treats for the meat- and dairy-averse.

Situated on the corner of St. Mark's and Second Avenue, the shop is owned by Malcolm Stogo, an ice cream business veteran who has a long list of frozen treat accomplishments. (He's credited with inventing the Cookies 'N Cream flavor, for example, in 1977.)

His first dairy-free outfit operates out of a small factory in Astoria and sells its 37 pints at natural food shops (and select Whole Foods) all over New York City. "The demand was there, so they decided they wanted to open a shop," says the store's general manager (and eight-year-vegan) Pamela Amatucci. "The idea is to eventually have a chain of them."

Ice creams at the shop are made with a variety of "milk" bases—soy, coconut, and almond—which makes the flavors range in texture. Coconut milk-based options are creamier, for example, than almond milk-based ones, which are harder. There are also sugar-free options made with stevia, and all are gluten-free except for the Almond Cookie Monster. Prices start at $4.50, for one large scoop.