By Jean Philippe of The Buddhist Chef, Guest Blogger
I discovered this dish in Thailand where I was taking cooking lessons in a very nice vegetarian restaurant. I fell in love with this healthy Pad Thai recipe. I hope you'll like it – you can find more recipes like this at TheBuddhistChef.com!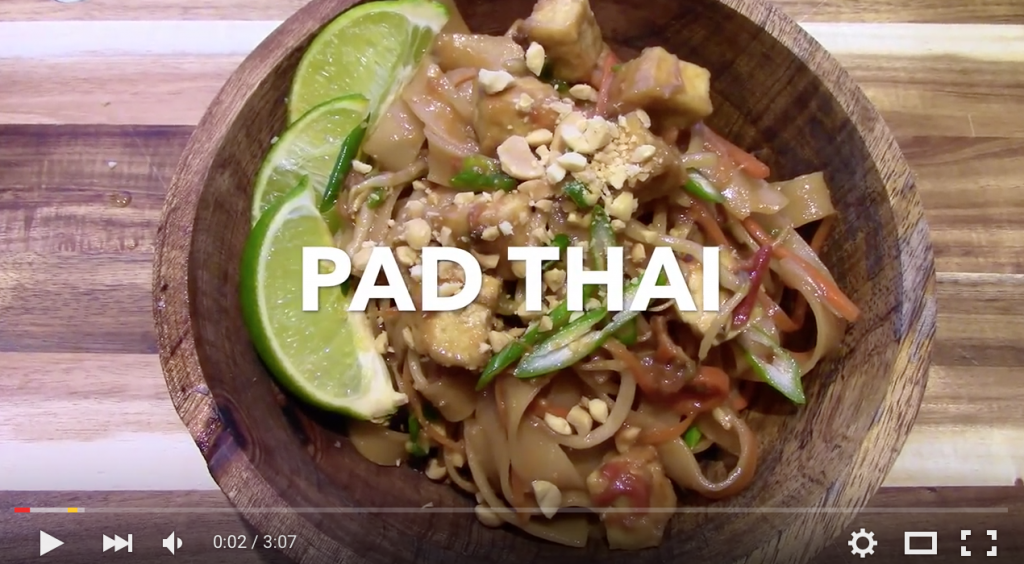 (click image to play video)
Ingredients:
1 cup firm tofu diced
1/4 cup corn starch
2 French shallots, minced
2 green onions, thinly sliced
2 tsp chopped garlic
2 medium carrots julienned or grated
1 diced tomato
4 tbsp soy sauce
4 tbsp cane sugar (or brown sugar)
1 teaspoon chili paste or dried chili to taste
4 cups rehydrated rice noodles
2 cups bean sprouts
1/2 cup crushed peanuts
2 tablespoons rice vinegar
1/4 cup oil
salt and pepper to taste
Directions:
Soak rice noodles in hot water until they are fully hydrated.
Coat the tofu in corn starch. Fry tofu in oil until browned. Set aside.
Sauté the shallots, green onions, garlic, carrots and diced tomatoes in oil for 5 minutes.
Add the soy sauce, cane sugar and chili paste.
Add the rice noodles, bean sprouts, fried tofu, crushed peanuts and rice vinegar. Continue cooking for 3 minutes and serve.