By Lori Stultz, VO Rocky Mountain Outreach Coordinator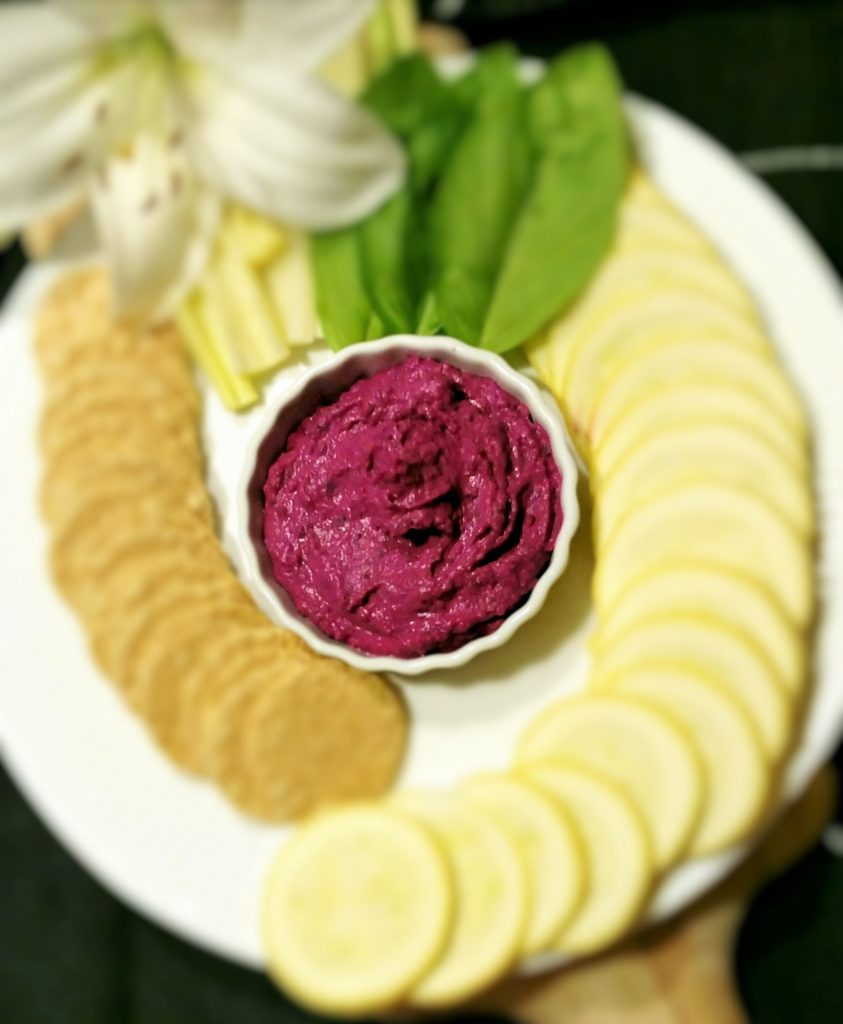 No, I didn't put a fancy filter on this picture. And, no, your eyes are not tricking you. That hummus is pink!
Last week I was trying to find a few creative ways to make use of the beets my best friend, Sheila, had given me—they were fresh from her garden! A quick Google search using the words "vegan" and "beets" yielded more than a handful of creative recipes.
To be honest, I had no intention of sharing a recipe that included beets, but that quickly changed when I ended up with this very aesthetically pleasing and great tasting hummus.
As you probably already noticed from the title, this hummus is unique not only because it incorporates beets, but also because it's made with white beans instead of chickpeas. If you make this hummus at home, don't feel restricted to using white beans. Try it out with the traditional hummus bean—chickpeas!
Don't be intimidated by having to roast the beets. Prepping the beet to roast is quick and simple, and it takes very little time to roast them! In a convection oven, it takes roughly 10 minutes. In a regular oven it might take a bit longer, but not much—just gather and measure the rest of the ingredients while the beets are roasting.
Roasted Beet White Bean Hummus
Serves about 6.
Ingredients
1 large beet
1 15 oz can white beans or chickpeas
3 tablespoons tahini
1 tablespoon lemon juice
½ tablespoon garlic powder (or more if you really like garlic)
Salt and pepper to taste
¼ cup olive oil
Directions
Preheat oven to 375°F.
Remove the stems from the beet, rinse thoroughly, and chop into 1″ pieces.
Place the chopped beets onto a lined cookie sheet and roast for 10 to 15 minutes.
When the beets are done roasting, remove from the oven and let them cool for a few minutes.
Place the beets in a food processor for about 30 seconds.
Add the remaining ingredients into the food processor, except for the oil, and process until all is mixed evenly.
Slowly drizzle the oil into the food processor while the contents are still mixing and process until smooth.