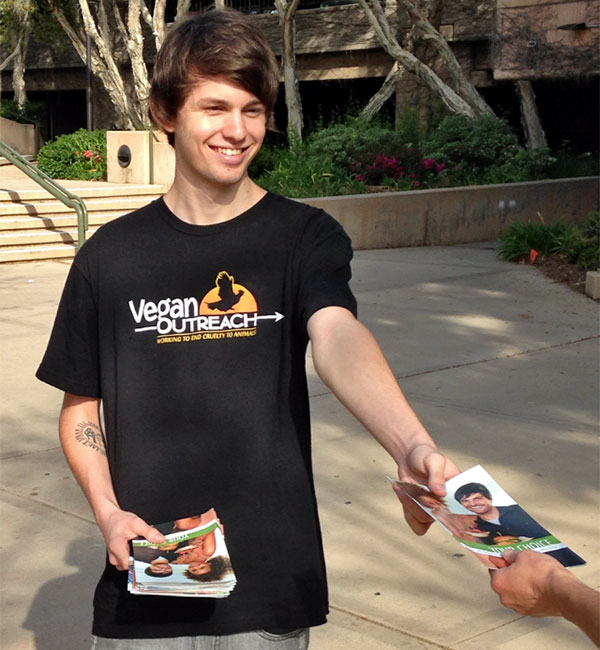 Activist Profile: September 9, 2015

Where are you from and where do you live now?
I'm originally from Hamilton, New Zealand, and now I travel all around Australia promoting veganism at universities across the country. I started the semester in Brisbane and will be ending it in Adelaide, leafleting at as many universities as I can along the way.
What got you interested in veganism and animal advocacy?
The first time I started thinking about the plight of animals in factory farms was when I was 11 years old. I read a book called Man vs. Beast, a fictional book about teenage spies who infiltrate a radical animal rights group. In the book, one of the activists talked about how hens are treated in battery farms and I remember thinking that it must just be a part of the fiction of the book.
I did some research and was shocked to find out that the horrific practices of factory farming described in the book were actually a reality. I decided to cut out all factory farmed products from my diet after seeing videos and pictures of hens crammed into tiny cages, and pigs in stalls without even enough space to turn around.
A year or so later I saw slaughterhouse footage for the first time and began to question whether or not I should be eating any animals, whether or not they came from factory farms. I had grown up around animals my entire life and would never think about harming or killing them, so why was I paying people to kill animals that were no different from the animals I shared my home with? I decided that I didn't want to pay people to kill animals on my behalf, so I became vegetarian.
It wasn't until another year after this that I went vegan. I had always assumed that the production of milk and eggs didn't harm the cows and chickens, but I soon learnt otherwise. I learnt about how baby calves are separated from their mother at only a few hours or days old, and the male calves are confined and killed for veal. I learnt about how millions of male baby chicks are ground alive every year because they don't lay eggs, and how both egg-laying hens and dairy cows are killed as soon as their production decreases.
As soon as I learnt about the realities of the dairy and egg industries, I knew it was something I could no longer support and made the next step from vegetarian to vegan.
Who has been a major influence in your life?
Hardcore and punk bands like Antagonist A.D. and Propagandhi that speak out about animal rights, veganism and other social justice issues have always been a huge source of inspiration to me. My family were a massive influence while I was growing up, they always taught me to be an independent thinker and to care about others, both humans and animals. Vic Sjodin, for teaching me everything I know about leafleting and for always approaching activism with a positive attitude. And of course, anyone else that puts their time, skills or money into making the world a better place for animals.
You ran a radio program about animal rights when you were really young, right? Please tell us about this.
My radio show was called Food For Thought and it was a weekly radio show on a community radio station about animal rights and veganism. I started the show when I was 12 years old, and at the time I was the youngest radio broadcaster in New Zealand. On the show I played music from vegetarian and vegan bands/musicians, read vegan recipes, discussed topical animal rights issues, gave people tips on going vegan and interviewed animal rights activists, professors, musicians, as well others within the animal rights movement.
What do you do for fun when you're not leafleting?
My biggest passion outside of activism is music. I love listening to music, going to shows and writing my own songs. I mostly listen to hardcore and punk, but I also listen to a wide range of other genres, including rap, ska, reggae, trance and dubstep. I like to play guitar and write my own songs or play covers. Other than that I also enjoy video games, camping, road trips and bushwalking.
Do you have any advice for those hesitant about leafleting?
Just give it a go and you'll see for yourself how rewarding and overwhelmingly positive the whole experience is! For every 50–100 booklets you hand out, someone will go vegan, vegetarian or drastically reduce their consumption of animal products.
Considering the average person eats 7,000 animals in their lifetime and that you can get out hundreds or thousands of booklets just by leafleting for a few hours in a busy spot, you can potentially save tens of thousands of animals from a lifetime of suffering in a factory farm every time you hand out Vegan Outreach literature.
Virtually every single day I'm leafleting, people will come back and tell me they're going vegan or vegetarian after receiving a booklet. Leafleting works, it's effective, it's easy and anybody with an hour or so to spare can do it.