This semester, Karen James (below, left) has handed out 11,939 booklets at 18 different schools, and Lana Smithson, VO's New England Outreach Coordinator (below, right), has handed out 11,076 booklets at 29 different campuses!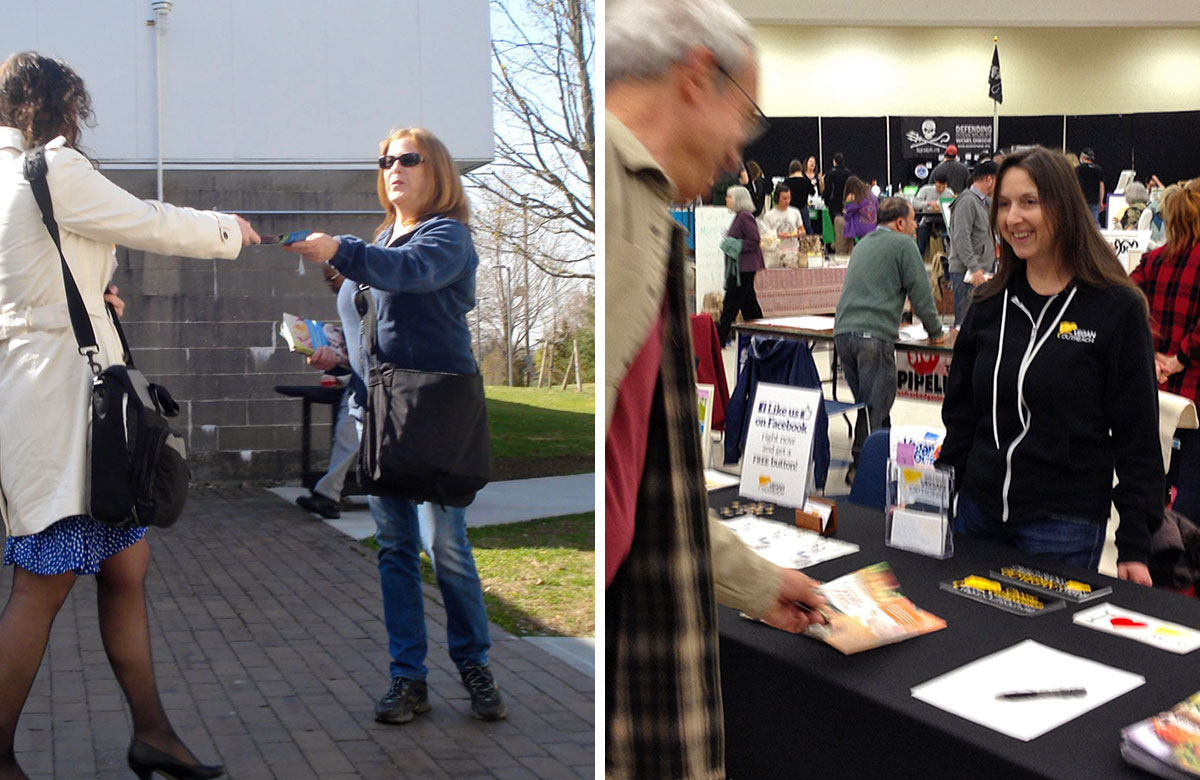 On April 21, Karen and volunteer Marion reached more than 700 students at SUNY Purchase College:
Marion is the woman who gave me the name/contact info of her sister, the vegan chef at Wesleyan University! She came out to help for an hour today.

Moss is a vegetarian who said she does not eat any animal products off-campus, but eats cheeses once in a while in the cafe at school because they do not have vegan cheeses. We talked about starting a petition on campus to get non-dairy items into their vegetarian cafe.

Devon [below] gave his Your Choice to someone else, but came back to me for another one, and got a Guide to Cruelty-Free Eating, too. He is looking to eat much healthier!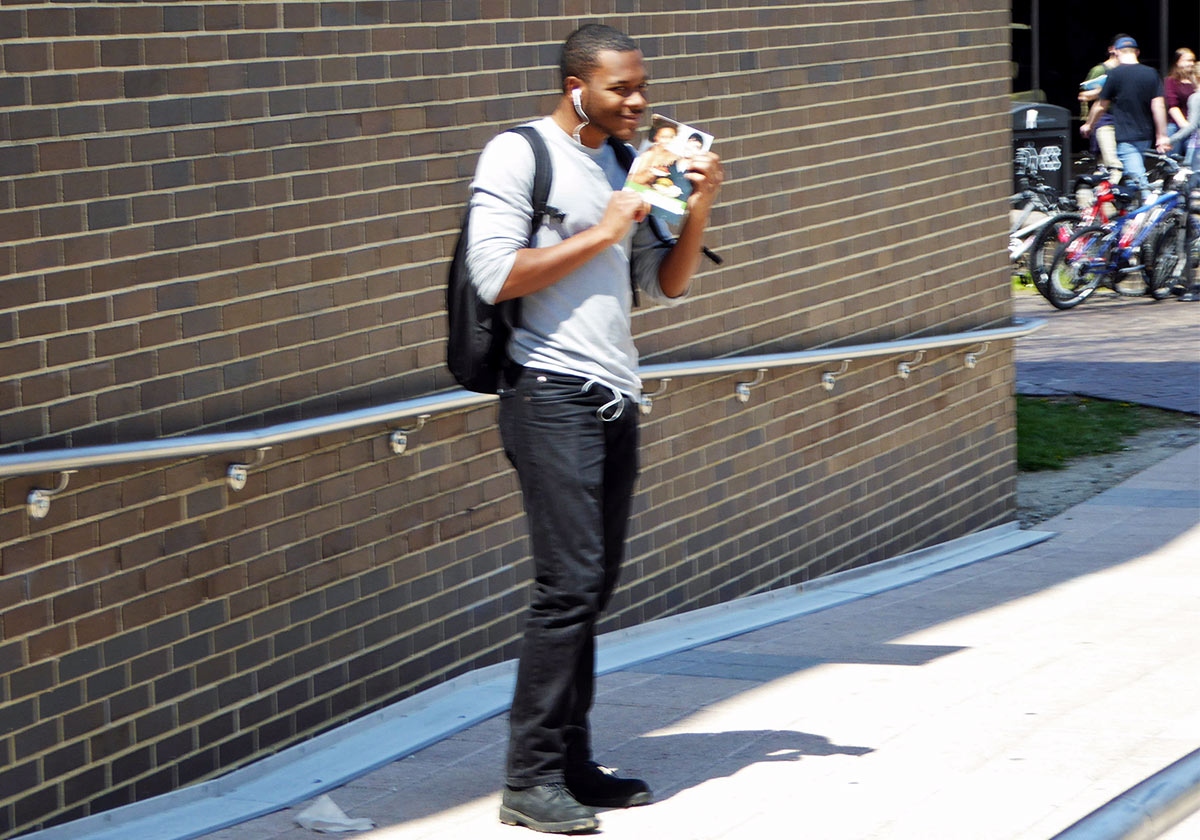 On April 27, Lana and volunteers handed out over 1,000 booklets at the University of Maine in Orono:
I was joined by two wonderful student activists (Audrey Hoyle and Tyler Cote) who started the school's official veg group called Vegan Education and Empowerment. This is the group's second semester, and it has been active doing outreach to students and convincing the dining services to add more veg options.

Last week for Earth Day, they tabled on campus and worked with VegFund to be able to give out 350 free food samples; and they got new students to sign up for their group. They were happy to have VO pamphlets to give out and specifically thanked Vegan Outreach in their Facebook post about the event. I've attached a photo of Tyler leafleting today [below]. He is vice president of their group.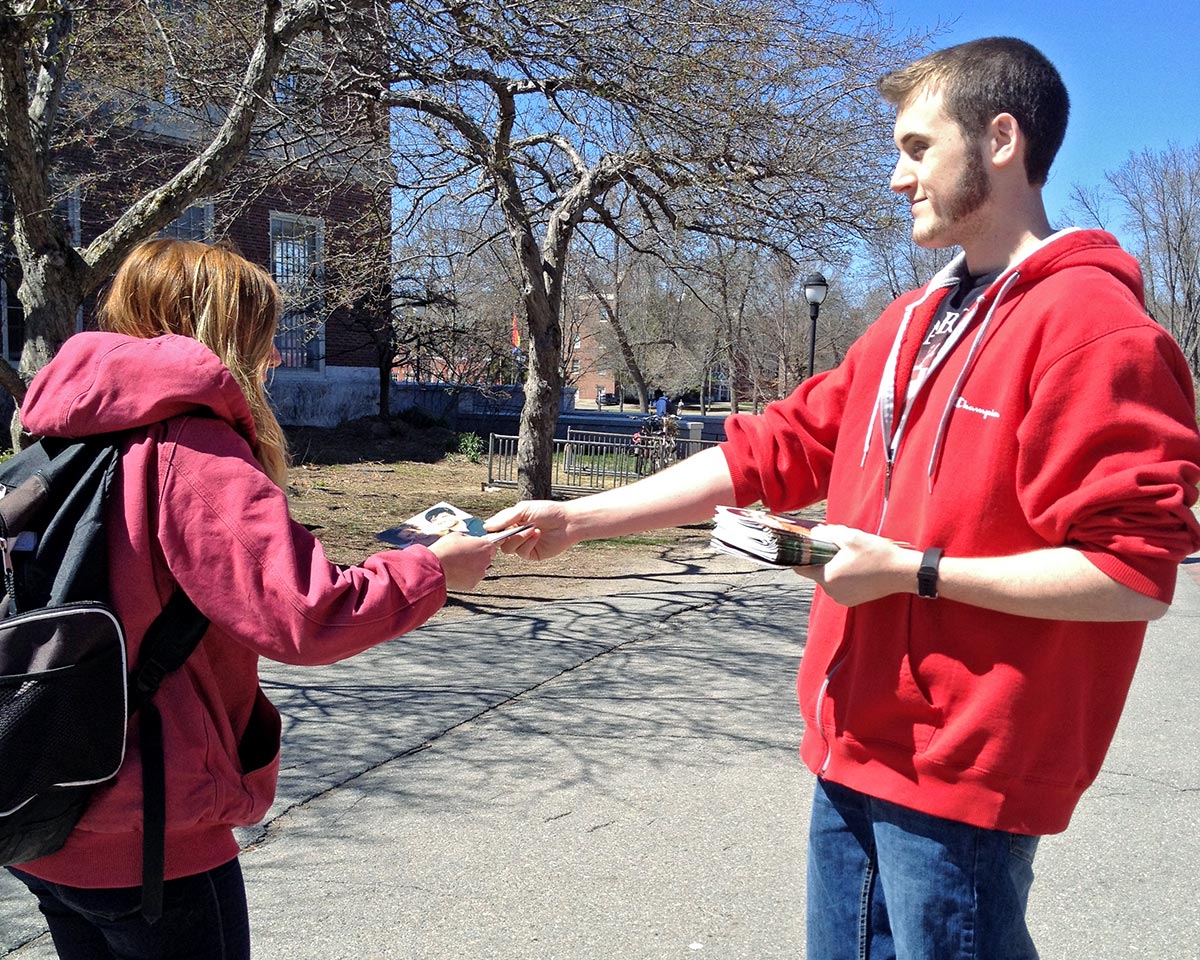 Also on April 27, Karen teamed with Carl Santoro (below), and together they handed out 1,700 Your Choice booklets at Nassau Community College:
Nassau was rocking today with very polite students, and a fun loving Carl, who I leafleted with for the first time. Thanks Jennifer Greene for putting out the word with your Long Island meetup group! Carl was with me for two hours, and we were on fire! He had a few talks with students, and we met about six vegetarians and five vegans. Carl spoke with a guy who had been vegan, said it was difficult, but was now inspired to try again!

Jasmine is vegan. She stopped to thank us for being there. We spoke about getting a petition together for better food in the cafeteria, and she is going to do it. While we spoke, another vegan girl stopped; Jasmine gave her a business card so they could contact each other, and she gave me one as well.
Thank you, Karen, for stepping in at the last minute for a month of leafleting when VO needed you!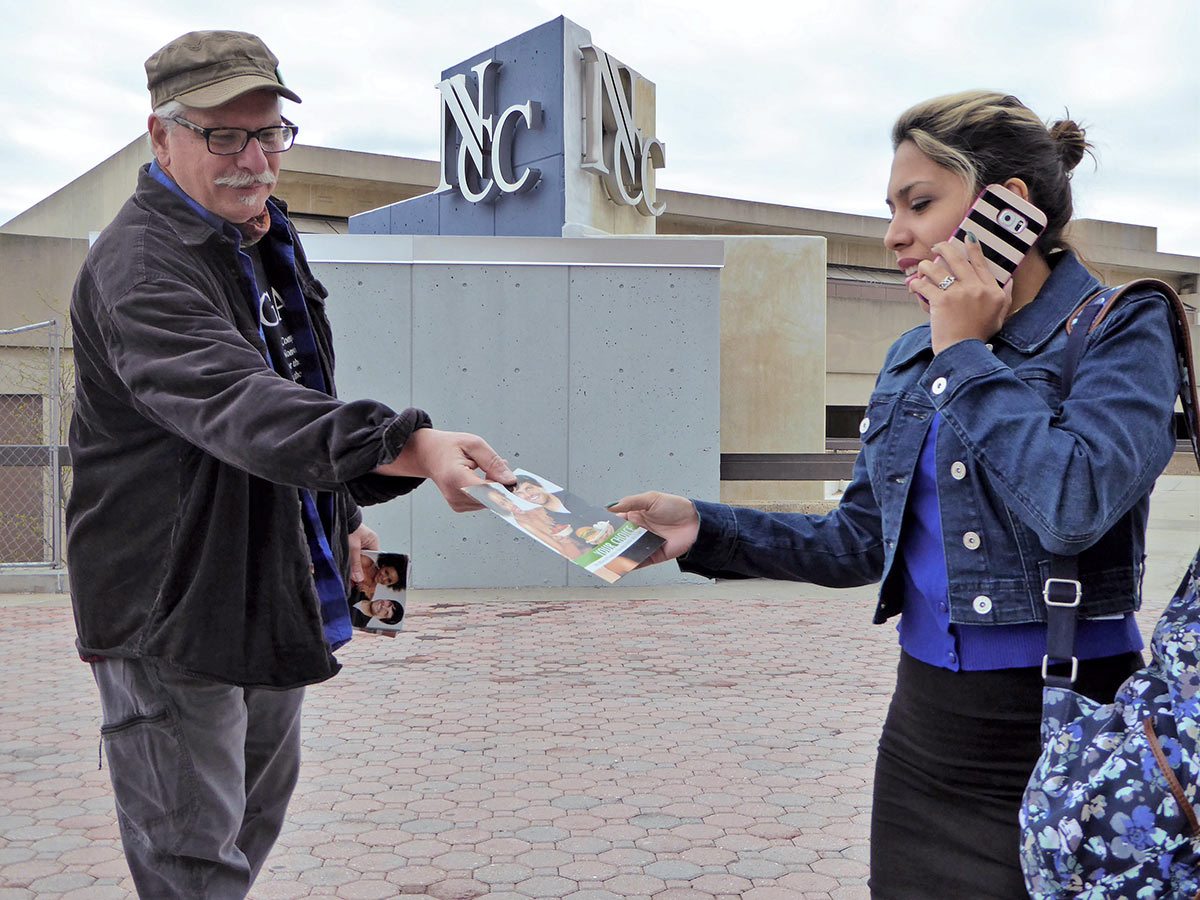 Support VO's Adopt a College leafleting program by taking part in our Team Vegan campaign: Register for your own fundraising page, help Lana or one of the many other team members reach their goals, or make a donation to the general fund!