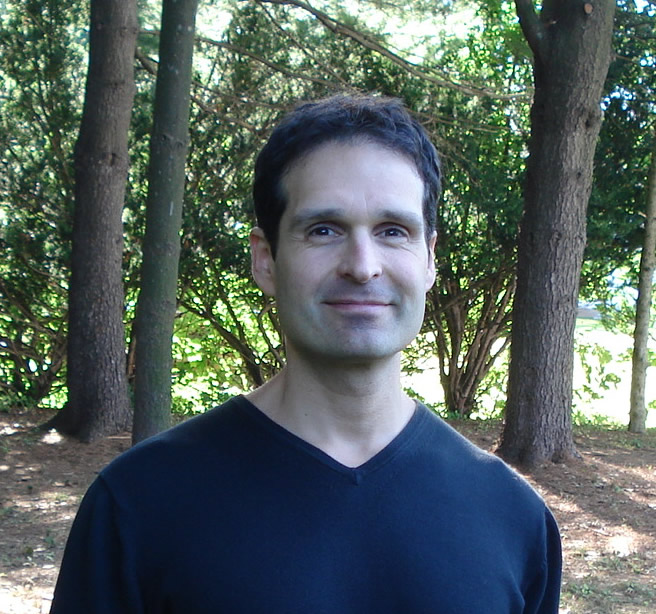 If you've enjoyed our Supporter Spotlight posts, which are new this year and have been appearing monthly, you'll be excited to know they'll be appearing more often from now on!
We have so many supporters, all of whom have interesting stories about how they got involved with animal advocacy and Vegan Outreach! These posts let us take a moment to shine a spotlight on our members, whose hard work and generosity truly enable the work of VO.
This time we talk to David Sudarsky, Founder of The Vegetarian Site. For the rest of April, you can shop at The Vegetarian Site for vegan food, clothing, and more – and 10% of all sales will be donated to VO! Let's get to know the generous guy behind this donation!
Tell us about yourself, David.
I'm a 44-year-old longtime vegan now residing in Connecticut (where I grew up) after many years living out west. In fact, I originally met VO's Jack Norris in the mid-1990s in Tucson when I was a grad student at the University of Arizona.
I love to get outside, even if it's just to fit in a short jog at the nearby park. And I'm a weight-training gym addict year-round. I'm close with my immediate family, most of whom are vegetarian or vegan – including the dogs. When I'm not running The Vegetarian Site, I enjoy dabbling in music and art, as well as other hobbies such as electronics and computers, as time allows.
How and when did you become vegan?
I've been vegetarian since I was a teenager, but I became vegan in the early 1990s (at age 23) once I fully realized that egg and dairy production are just as cruel – and often more so – than meat production. At that time, being a male vegetarian was rather unusual, and going vegan was deemed nutritionally misguided and unhealthy. Nonetheless, after learning more about nutrition, I was convinced that it should be possible – at least I'd give it a serious try.
I soon realized that I was doing quite well, feeling great both physically and psychologically. While the animal rights/welfare issue has always been the primary purpose for me, the environmental and health advantages of well-planned vegan living are also remarkable.
Why did you start The Vegetarian Site?
Before The Vegetarian Site, I wanted to spread the word regarding the vegan lifestyle. I produced a 24-page vegetarian guide to restaurants in Tucson, which I distributed through the independent natural food stores, book stores, and some restaurants and shops there. I had called up literally every restaurant in the greater Tucson area, and each one that offered at least one fully vegan entree appeared in the guide.
I started TheVegetarianSite.com in late 1999 as an informational website with sections on diet and health, ethics, and environment. It was a fully vegan website, but to make it more inviting to the general public, I chose to brand it as "vegetarian." (Since that time, "vegan" has gone from a fringe label to one that is in common use today.) Within the first year, I decided that it was a good time to expand the website into a part-time business, selling a variety of vegan products. After a number of years, it became my full-time career.
And you always donate 10% of sales to non-profits.

Since the first month of business, we have been donating 10% of sales to non-profit vegan and animal rights organizations. Most of our customers want to further the vegan cause as much as I do, and many appreciate that a percentage of their dollars are going to the important organizations (such as VO) that are making it happen.
What is your favorite product currently for sale on TVS?
I use many of our vegan foods quite regularly, but I think my favorite product of all is the Vegetarian Shoes Hemp Spider XT Trail Shoe. It offers the best of all worlds: it's vegan, very high quality, fair labor (made in Portugal), eco-friendly, and quite comfortable.
Shop now at The Vegetarian Site! Ten percent of all sales through April will be donated to Vegan Outreach.
Thank you, David!