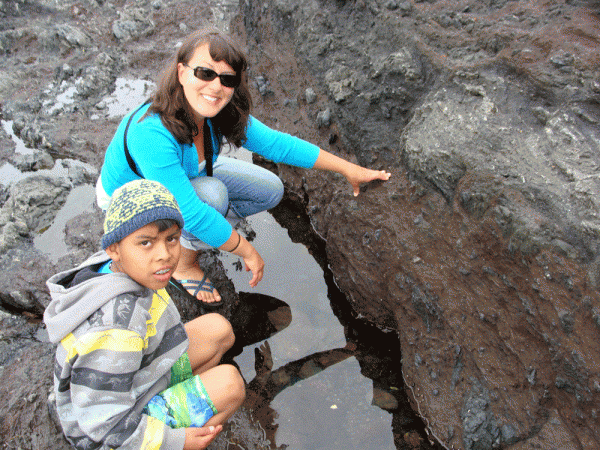 By Lisa Rimmert, Director of Development

Tamara McFarland is a longtime supporter of Vegan Outreach who plays a big role in our annual Team Vegan campaigns. She also volunteers as a mentor in our Vegan Mentor Program, which connects knowledgeable vegans with people looking to go vegan or take steps in that direction. Let's meet Tamara!
Tell us about yourself, Tamara.
I'm married with two kids, ages 4 and 9, plus three dogs, two bunnies, one duck, and an assortment of rescued chickens. I love to garden in the summertime, knit in the wintertime, and spend time at the beach year-round.
Tell us about your business.
I operate McFarland Designs from my home studio. I make handmade custom wedding and engagement rings with an ethical/fair-trade/recycled emphasis. My studio is solar powered and I donate 5 percent of my gross sales each month to various charities (including Vegan Outreach each Spring). I'm on Facebook, Twitter, Pinterest, and Instagram – I'd love to connect with more vegans on any of those platforms!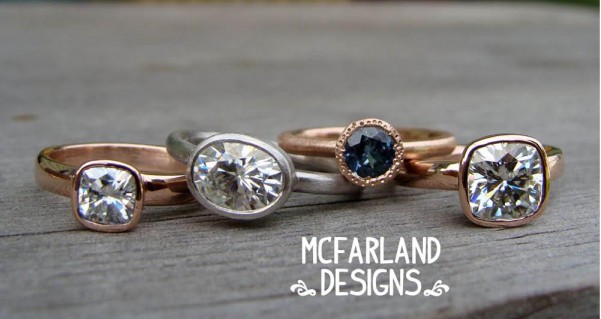 Share with us the story of your vegan journey.
Despite having been vegetarian for about 10 years previously, I had honestly never considered the cruelty that was inherent in dairy and egg production until I met my dear friend Jennifer Raymond around 2001. Through her example and gentle but honest explanations, I felt that I had no choice but to embrace veganism – it was so inline with everything I valued. I have been vegan for nearly 15 years now with absolutely no regrets! Becoming vegan back then was a little more challenging than it is now, and it definitely forced me to become a much better cook, which is a skill I appreciate every day. In more recent years, I feel that by having opened my consciousnesses to veganism, I became more receptive to learning about (and acting upon) other issues such as labor exploitation, environmental issues, dirty mining, and circus abuse, so it really has played a huge role in the person I have become in adulthood, and in how I am raising my children.
How did you first get involved with Vegan Outreach?
Hmm… I don't remember what the catalyst was – just that it has been many years! I'm sure that I found VO by researching charities doing effective outreach for veganism – you are the clear leader in that regard! I have leafleted at local colleges a few times and found all of my interactions with VO over the years to be just great.
You've supported VO for years. What inspires this?
It's easy to become overwhelmed, depressed, or demoralized when you become aware of the overwhelming cruelty in the world. For me, being able to continue moving forward in my own life without becoming completely paralyzed with sadness is only achievable when I feel like I'm working towards the solution. Being involved with VO is a big part of how I do that.
What advice would you give to someone reading this who is considering adopting a vegan diet?
You have nothing to lose by giving it a try! Most likely, like me, you will never look back, and find yourself feeling physically and emotionally better for it.
Find a vegan friend or mentor. It's so much easier with help.
Do what works for you. If embracing the vegan meat and dairy analogues makes it better for you, do that! If you feel best on a totally whole foods diet, do that! And don't feel bad for how you make veganism yours – no matter how you do it, you're doing more for animals, the planet, and your own health than 95% of the population and that's something to feel good about!
Don't think of veganism as an exercise in achieving purity or perfection, and don't let others reduce it to that in conversation with you. Do the best you can, but know that it's impossible for any of us to completely eliminate our impact on the environment, and therefore, on animals. All we can do is our best.
Finally, share with us your absolute favorite meal.
Just one??? It's too hard to choose!!! When I'm eating out, I love to order spicy potato tacos at Mexican restaurants (and who can beat the simple perfection of chips and fresh guacamole?), or all varieties of veggie sushi (bonus points if it contains avocado and/or nut butters).
At home, a few of the things that have been big hits for my family (and omnivorous guests) include Cold Udon Noodles with Peanut Sauce and Seitan (Vegan With a Vengeance), Lasagna Americana (Everyday Vegan Eats), homemade sushi, and various versions of enchiladas (vegan sour cream is mandatory!). My #1 crowd-pleasing dessert is the Fruit Tart I have on my blog – though I also make a mean chocolate cake.
Thank you, Tamara!