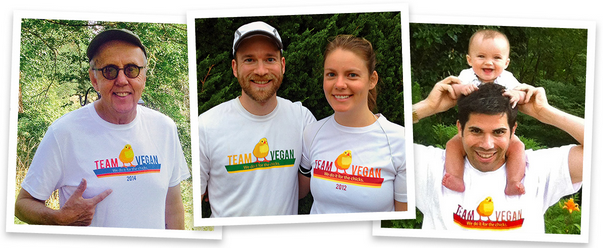 By Lisa Rimmert, Donor Relations Manager
May is an exciting time for Vegan Outreach, and it's right around the corner!
Every year in May (through June), dozens of Vegan Outreach supporters come together to raise money for VO by participating in a physical challenge like a 5K or triathlon, any other activity, or even none at all! It's called Team Vegan, and its donations are matched dollar-for-dollar to double the impact for animals.
Past participants have trained for marathons, set a biking or swimming goal, planned a leaflet-a-thon, held bake sales, and so much more. Others have raised money without an activity, and that's great too!
Your participation in Team Vegan is so important. The funds raised will fuel our Fall outreach – outreach that saw us breaking our semester record last year by handing out more than one million booklets in the Fall.
Team Vegan also presents a unique opportunity for you to reach out to family and friends who may not otherwise give to the vegan cause – or may not otherwise think about veganism at all! It's a great gateway into thinking about and supporting vegan advocacy!
Learn more or get involved today. Contact me today at [email protected].
Fundraising begins May 1st and goes through June 30th.
Pictured above: Seth Tibbott, Founder and President of Tofurky; VO Supporters Steve Sprang and Lauren Farnsworth; and VO Supporter Brian Ottens and Daughter Emily