By Sharon Palmer, Guest Blogger
Looking for an easy, vegan comfort meal-in-one? I've got your number with these easy, individual pot pies. Filled with veggies—zucchini, corn, carrots, peppers, onions—and tempeh, these savory mini pots of stew are topped with whipped potatoes and browned in the oven. The next time you're making mashed potatoes, save the leftovers for this recipe and you can make it no time!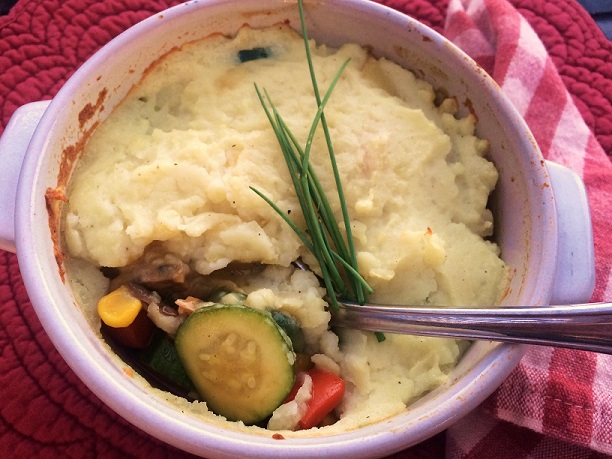 Ingredients:
1 tablespoon olive oil
4 medium heirloom carrots (or orange carrots)
1 onion, diced
2 cloves garlic, minced
2 small zucchini, sliced
1 small bell pepper (green, red, yellow or orange)
1 cup frozen corn (or fresh, shucked)
1 teaspoon poultry seasoning (vegetarian seasoning blend)
1 teasapoon parsely flakes
½ teaspoon celery salt
½ teaspoon dried mustard
¼ teaspoon black pepper
Pinch sea salt
2 cups vegetable broth
1 ½ tablespoons flour
1 teaspoon vegan worcestorshire sauce
6 ounces tempeh, sliced
2 cups prepared mashed potatoes
Chives, chopped
Heat olive oil in a large sauce pan.
Add carrots, onion, garlic, zucchini, and bell pepper and saute for 10 minutes.
Add corn and seasonings. Mix flour into broth and add to saute pan and stir well. Stir in worcestorshire sauce and tempeh.
Simmer, covered, stirring frequenlty, for an additional 10 minutes, until vegetables are just tender.
While vegetables are simmering, preheat oven to 400 F.
Divide vegetable stew among 4 oven-proof soup or mini-casserole dishes. (May place all of stew into one larger dish, if desired). Top each dish with ½ cup mashed potatoes, smootihng over surface of stew. (If using one large dish then use the entire recipe of mashed potatoes to cover surface.
Place dishes on the top rack of the oven and heat for 15-20 minutes, until mixture is golden on top.
Remove, garnish with chopped chives, and seve immediately.
Makes 4 servings
Sharon Palmer, RDN, The Plant-Powered Dietitian™, is an award-winning food and nutrition expert, journalist, and editor. She is author of The Plant-Powered Diet: The Lifelong Eating Plan for Achieving Health, Beginning Today (The Experiment, 2012) and Plant-Powered for Life: Eat Your Way to Lasting Health with 52 Simple Steps & 125 Delicious Recipes (The Experiment, 2014). Sharon also is editor of Environmental Nutrition, nutrition editor of Today's Dietitian, blogger for The Plant-Powered Blog, and publisher of her monthly The Plant-Powered Newsletter. Living in the chaparral hills overlooking Los Angeles with her husband and two sons, Sharon enjoys visiting her local farmers market, gardening, and cooking for friends and family.