Activist Profile: September 30, 2009
---
Update: October 1, 2014
This morning, the Pollination Project released their first round of Unsung Vegan Heroes and the list includes Vegan Outreach's Senior Outreach & Strategy Coordinator, Vic Sjodin! To date, Vic has directly handed VO booklets to more than three quarters of a million people!
---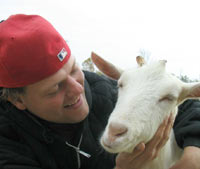 Where are you from and where do you live now?
I was born in Sweden, now live out of an old Toyota traveling about meeting good folks and doing vegan outreach and other forms of activism.
What are your favorite things to do outside of leafleting?
Playing basketball in the inner city, reading, talking revolution and veganism. I love to be around people.
Who has been a major influence in your life and why?
I am inspired by anyone who has the courage to follow their heart, especially people who go veg. People who feel uncomfortable sitting in their car but overcome the inertia and go out and leaflet. People who sacrifice for others. Ideas are not enough, we have to sweat to make things happen. Everyone who sacrifices for the movement is a friend of mine.
What made you decide to start leafleting?
Nick Cooney gave us five dollars per box of leaflets handed out, so me and my buddy leafleted West Chester University. It was 20 degrees outside, not many took the leaflets, and I cursed the day I was born. After standing out in the cold on a slow sidewalk for four hours, I decided I would never leaflet again. However, I got dragged along a few times, and after hearing Jon Camp speak at an event, I became convinced leafleting was the best way to help animals and so I forced myself to leaflet. We then had the idea to do more Warped Tour dates – we did 13 one summer, volunteered a lot for VO, and then became an employee. And now I veg-anize, as I like to call it, every day. Who would have thought?
What was your most positive leafleting experience this year and why?
I can't say just one – more of an overall journey. I'm just thankful to be able to work for animals every day, and meet so many wonderful people. I have had so much fun. Leafleting with Barbara, Jon, Italia and Don, the kids at Penn State, dragging a dozen friends out, recruiting people at parties, meeting David in Knoxville, laughing with Eileen in NYC, conning people into joining me on the Warped Tour, and so many others, embracing the suffering every day, Julie in Boston, getting to meet Joe and Casey, my trip to Kentucky with Darius, Dan in Youngstown, telling bad jokes and watching people wake up and go veg is awesome. Leafleting has enriched my life in so many ways and has been such an adventure, I feel like the luckiest man alive sometimes. Not that it's easy – got to earn it – but that allows me to sleep, knowing I wasn't silent, that I didn't turn my back on the helpless ones. I know a lot of people have sacrificed to put me out there on campus so I take it very seriously to represent veganism and the animals' plight, as one of the few who is able to do so full-time. I thank you for all your sacrifices and for making this work possible.