While most of our in-person outreach has been on hiatus since the COVID-19 pandemic,  you can still help us by leafleting or sharing our 10 Weeks to Vegan program with friends, family, and community members on social media or other channels.
Leafleting
To order booklets, you aren't required to pay for the cost of the booklets, but rather only to cover shipping. Please let us know when, where, and how many you handed them out at [email protected] If you establish yourself as a regular leafleter, we can discuss covering your shipping costs.
10 Weeks to Vegan
Did you know that research has shown that vegan challenges make a tremendous difference in getting people to commit to going veg?
Signup link to share: www.10Weeks.org
Download and print our pull-tab posters to hang around your campus or community.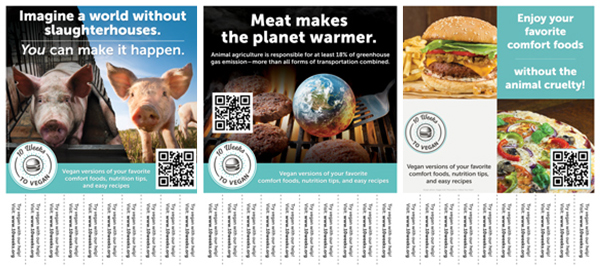 Or we have many ways to help online!
U.S. and Canada
Mexico
Katia Rodriguez
Mexico Campaigns and Spanish Media Manager
[email protected]
India
To volunteer in India, please fill out our Volunteer Form.