You can help spread the word about veganism in your community or among your family and friends by sharing our 10 Weeks to Vegan program on social media or other channels. You can also do the public outreach described below.
Leafleting and Tabling
To order booklets, you aren't required to pay for the cost of the booklets, but rather only to cover shipping. Please let us know when, where, and how many you handed out at [email protected]. If you establish yourself as a regular leafleter, we can discuss covering your shipping costs. See our Tips for Tabling page for ideas.
10 Weeks to Vegan
Did you know that research has shown that vegan challenges make a tremendous difference in getting people to commit to going veg?
Signup link to share: www.10Weeks.org
Download and print our pull-tab posters to hang around your campus or community.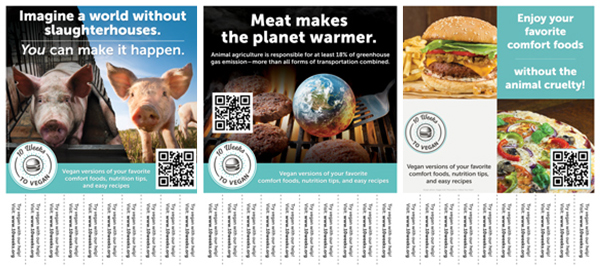 Vegan Chef Challenges
Create more vegan options in your city! These month-long events showcase new vegan menu items at local non-vegan restaurants. Typically, 10 to 30 restaurants take part and the dining public is encouraged to vote for their favorite dishes. Visit www.veganchefchallenge.org for more information on volunteering or organizing an event.
Vegan Mentor Program
Are you an experienced vegan who wants to help others adopt this compassionate lifestyle? Sign up to be matched with a new vegan near you in our Vegan Mentor Program!
India
To volunteer in India, please fill out our Volunteer Form.