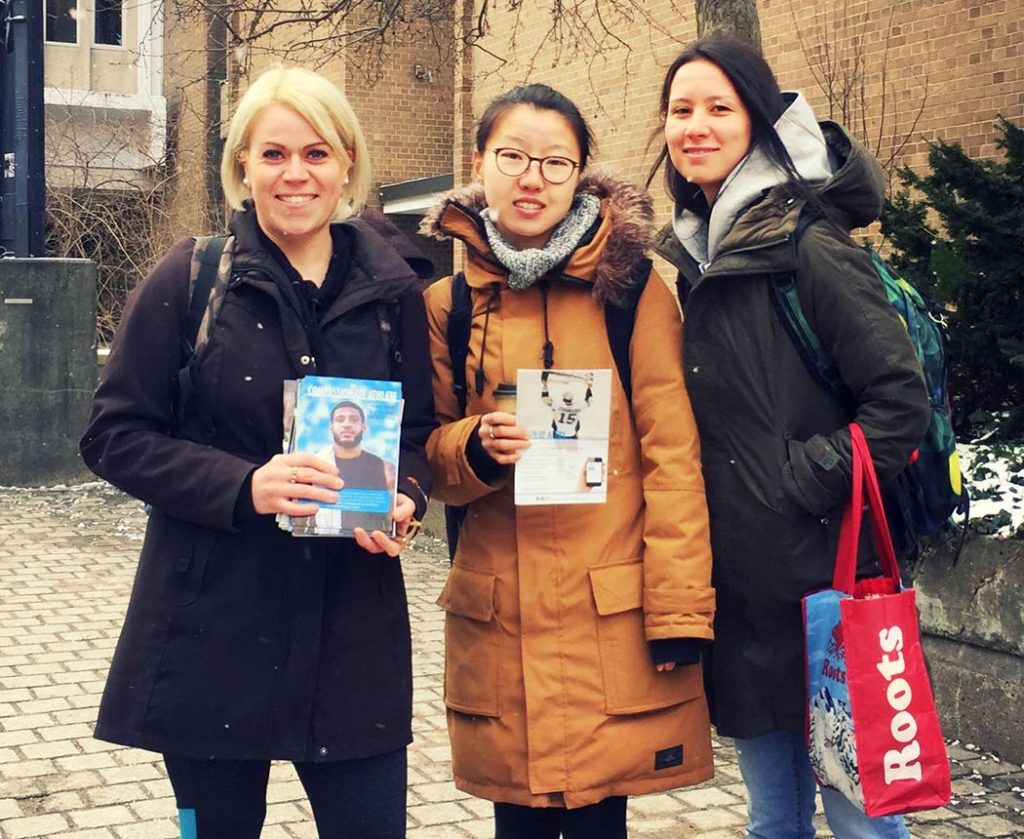 You can both liberate animals and earn $25 per hour for your favorite animal charity by helping the Christian Vegetarian Association (CVA) leaflet a Winter Jam concert in your area.
Winter Jam is a traveling Christian concert festival that attracts thousands of young people to each event. It runs from January 5–March 31.
Peak leafleting time is from 5–7 pm.
The CVA will provide you with their Christian-oriented booklet, Joyful, Compassionate Eating and guidance. In exchange for leafleting, they'll donate to the animal charity of your choice!
The audience is mostly young, very polite, and receptive to our message—and you don't need to be Christian yourself!
Please check out the list of the Midwest and East dates (also listed below)—with the West Coast dates coming soon!—on the Winter Jam website.
To get involved, contact Lorena at [email protected].
Thank you!
Winter Jam Dates — Midwest and East
JAN 5, 2018 — Charleston, WV — Charleston Civic Center
JAN 6, 2018 — Louisville, KY — Freedom Hall
JAN 7, 2018 — Grand Rapids, MI — Van Andel Arena
JAN 12, 2018 — Jacksonville, FL — Jacksonville Veterans Memorial Arena
JAN 13, 2018 — Tampa, FL — Amalie Arena
JAN 14, 2018 — Sunrise, FL — BB&T Center
JAN 18, 2018 — Reading, PA — Santander Arena
JAN 19, 2018 — State College, PA — Bryce Jordan Center
JAN 20, 2018 — Columbus, OH — Schottenstein Center
JAN 21, 2018 — Charlotte, NC — Spectrum Center
JAN 25, 2018 — Springfield, MO — JQH Arena
JAN 26, 2018 — Des Moines, IA — Wells Fargo Arena
JAN 27, 2018 — St. Louis, MO — Scottrade Center
JAN 28, 2018 — Tulsa, OK — BOK Center
FEB 1, 2018 — Mobile, AL — Mitchell Center
FEB 2, 2018 — Nashville, TN — Bridgestone Arena
FEB 3, 2018 — Atlanta, GA — Philips Arena
FEB 8, 2018 — Ft. Wayne, IN — Allen County War Memorial Coliseum
FEB 9, 2018 — Cleveland, OH — Wolstein Center
FEB 10, 2018 — Indianapolis, IN — Bankers Life Fieldhouse
FEB 11, 2018 — Detroit, MI — Little Caesars Arena
FEB 15, 2018 — Evansville, IN — The Ford Center
FEB 16, 2018 — Pittsburgh, PA — PPG Paints Arena
FEB 17, 2018 — Cincinnati, OH — U.S. Bank Arena
FEB 18, 2018 — Birmingham, AL — Legacy Arena at the BJCC
FEB 22, 2018 — Tupelo, MS — BancorpSouth Arena
FEB 23, 2018 — Knoxville, TN — Thompson-Boling Arena
FEB 24, 2018 — Greensboro, NC — Greensboro Coliseum
FEB 25, 2018 — Chattanooga, TN — McKenzie Arena
MAR 2, 2018 — New Orleans, LA — Lakefront Arena
MAR 3, 2018 — Memphis, TN — FedExForum
MAR 4, 2018 — Houston, TX — Toyota Center
MAR 9, 2018 — Wichita, KS — INTRUST Bank Arena
MAR 10, 2018 — Bossier City, LA — CenturyLink Center
MAR 11, 2018 — N. Little Rock, AR — Verizon Arena
MAR 15, 2018 — Council Bluffs, IA — Mid-America Center
MAR 16, 2018 — Kansas City, MO — Sprint Center
MAR 17, 2018 — Oklahoma City, OK — Chesapeake Energy Arena
MAR 18, 2018 — Ft. Worth, TX — Ft. Worth Convention Center
MAR 22, 2018 — Augusta, GA — James Brown Arena
MAR 23, 2018 — Columbia, SC — Colonial Life Arena
MAR 24, 2018 — Raleigh, NC — PNC Arena
MAR 25, 2018 — Greenville, SC — Bon Secours Wellness Arena
MAR 29, 2018 — Peoria, IL — Peoria Civic Center
MAR 30, 2018 — Chicago, IL — Allstate Arena
MAR 31, 2018 — Lexington, KY — Rupp Arena