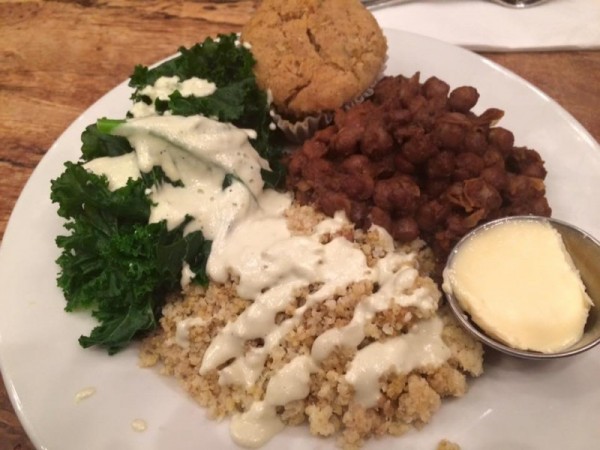 By Lisa Rimmert, Director of Development
I recently had the pleasure of visiting Portland for the first time, to meet with many wonderful Vegan Outreach donors there. Of course I had a long list of restaurants and shops to visit too, as everyone knows Portland is a haven of vegan goodness. I had some expected favorites, like Vtopian Artisan Cheese shop, Portobello, and a few others. But one place I ate surprised me and stood out.
Diane, an awesome VO donor, suggested Prasad, a little cafe inside a yoga studio, and I'm so glad she did. I ordered the BBQ Plate, made with barbecue chickpeas, jalapeño cornbread, millet, and steamed greens with jalapeño cashew cheese. It was one of my favorite meals in Portland, and that's really saying something!
When I arrived home in Denver, I knew I had to recreate the meal. I made a couple changes due to laziness–using buckwheat instead of millet, because I had that on hand, and not including jalapeños in the cashew cheese. It was delicious! I made the dish for my parents, too, using farrow as the grain, and without nutritional yeast (a vegan sin, I know, but it's hard to find where they live in rural Illinois!). It was delicious once again! I hope you make it and enjoy it even half as much as I did!
BBQ Chickpeas & Kale
Ingredients:
1-1/2 cups dry buckwheat, farro or rice
1/4 cup raw cashews*
2 Tbsp nutritional yeast
2 tsp cumin
1 tsp garlic powder
1/4 cup plant milk, unsweetened
1 bunch of kale
2 cans chickpeas
2 tbsp oil for frying
2 Tbsp oil for sauteing
1/4 cup of your favorite barbecue sauce
Preparation:
Cook the buckwheat, farro, or rice according to directions.
Blend cashews* thoroughly in a food processor with the nutritional yeast, cumin, garlic, and half of the milk. Add more milk as needed so it's smooth and creamy. Set aside.
Meanwhile, rinse the kale in a strainer, squeeze out the water, and remove stems. Cut into bite-sized pieces.
Heat a large frying pan on medium and add a tablespoon of oil. When hot, add the kale. Stir as needed until soft, about 5 minutes. Set aside.
Return pan to medium heat, add a tablespoon of oil, and when hot add the drained chickpeas. Stir so they don't stick and when heated through stir in the bbq sauce and turn off pan.
Serve the kale and chickpeas over the grains with the cashew cream sauce drizzled on top.

*It's best, but not required, to use soaked cashews. They can be covered in water and soaked overnight in the fridge, or quick-soaked in the microwave, on the stovetop, or covered with boiling water. Let stand for 20 minutes before draining and using.