By Katia Rodríguez, Mexico Campaigns and Spanish Media Coordinator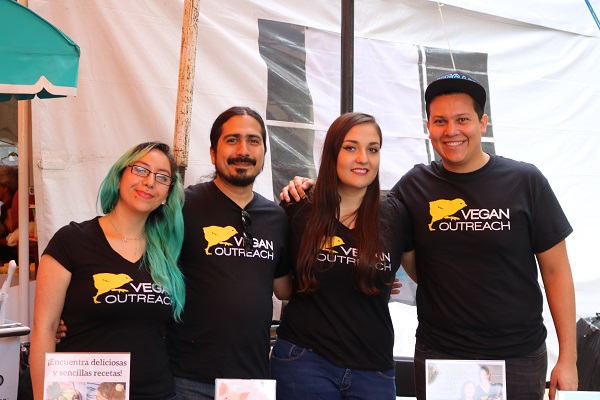 About a month ago, Emmanuel Márquez—VO's Mexico Outreach Coordinator—and I were invited to a small vegfest called "Bazar la Veganería" held in a public park in Mexico City, Mexico.
Originally, our Mexico City volunteers were going to be in charge of setting up the VO table, but luckily Emmanuel and I were nearby—in the Mexican state of San Luis Potosí—finishing a week of leafleting. So we decided to drive to Mexico City to join them for the weekend before heading to another Mexican state to leaflet.
While Emmanuel drove us to Mexico City, I took that time to send out some emails to our vegan mentors in Mexico City. We told them that we'd soon be visiting the area and would love to meet with them. Emmanuel and I wanted to get to know them, hear about their experiences of being mentors, and see if they had any suggestions for how we can improve the mentor program.
Four Spanish vegan mentors in Mexico City—Carla Ríos, Claudia Zamora, Jessica Hernández, and Martha Castillo—came to see us while we were there in town. We could hardly contain our excitement after talking with them and hearing all of their positive feedback. They told us how excited and happy they are to be helping other people achieve their goal of consuming less animal food products. We can't wait to return to Mexico City someday to meet up with these star mentors again!
Then, at the Bazar la Veganería vegfest, we set up a table with leaflets, stickers, pins, and VO shirts. We were so happy with the response—our table was constantly busy. The leaflet take rate was great, and some people even asked if they could take leaflets to share with their family and friends. You could see our leaflets everywhere you looked around. We also had a lot of people stopping by to ask about our Spanish Vegan Mentor Program, and the Spanish section of the VO website.
I should mention that this was my first time visiting Mexico City, so I was really excited to do outreach and try all of the amazing vegan food the city has to offer.
During the vegfest event, there was a lot of delicious vegan food being sold—including ice cream, chocolates, traditional Mexican food, desserts, and other handmade products.
This is what being vegan in Mexico City looks like!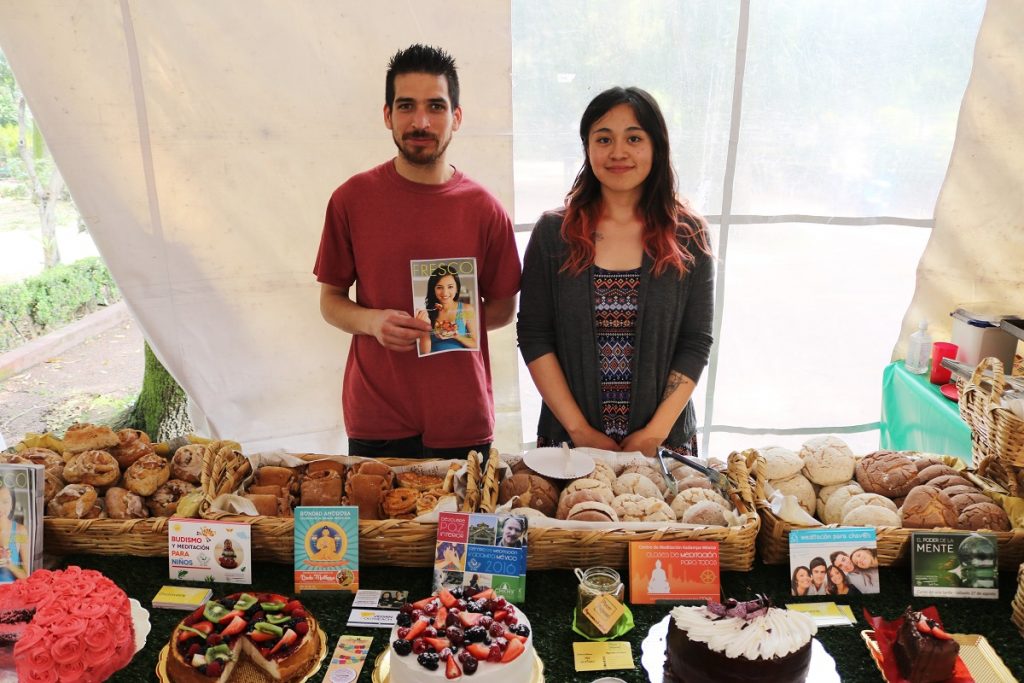 Can you tell I loved my first time in Mexico City!
I can't wait to share more with you about what it's like being vegan in Mexico!