By Josie Moody, Office Manager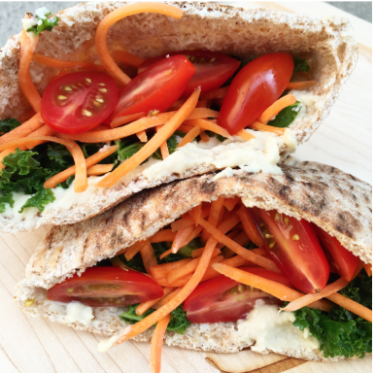 When I was asked if I wanted to review BFree's vegan, gluten-free products, I said "yes," but I was skeptical. I was even more skeptical when a box filled with half a dozen different BFree products showed up on my porch. Until this point, I never had a gluten-free bread product that didn't taste, well, gluten-free.
After biting into one of their Brown Seeded Rolls, I was more than pleasantly surprised with how soft, chewy, and delicious this bread was! As a test, I left the package out in the kitchen knowing that my husband wouldn't be able to resist a little carbo-loading. He, too, thought they were incredible. Within a couple of days, all of the rolls were gone.
The same pattern followed with their Soft White Rolls, their Sandwich Loaves—the new, hip way to say "bread"—and their Hot Dog Buns. I again had reservations when I opened the Pita Bread. In my experience, any pita bread I've had that wasn't fresh tasted like it was baked from a mixture of dust and cardboard—not the case with BFree! It was moist and tasted great paired with a little Miso Mayo and Tofurky Deli Slices.
The only BFree product that I tasted that I wouldn't recommend was their bagels. I found those to be the dry fare I'd previously expected in gluten-free bread. However, I think bagels are really just an excuse to eat vegan cream cheese, so I'd recommend slathering some on one of their other yummy products.
Like many vegan food companies, BFree is helping to remove the stigma of what gluten-free food tastes like. All of their products are vegan, and I'd love to see all of their recipe recommendations on their website be vegan as well!
Click here to find out where you can buy BFree products near you! If there aren't any products nearby, they'll be available for online purchase nationwide at Gluten-Free Mall in early April.