By Jenny Engel and Heather Bell, Guest Contributors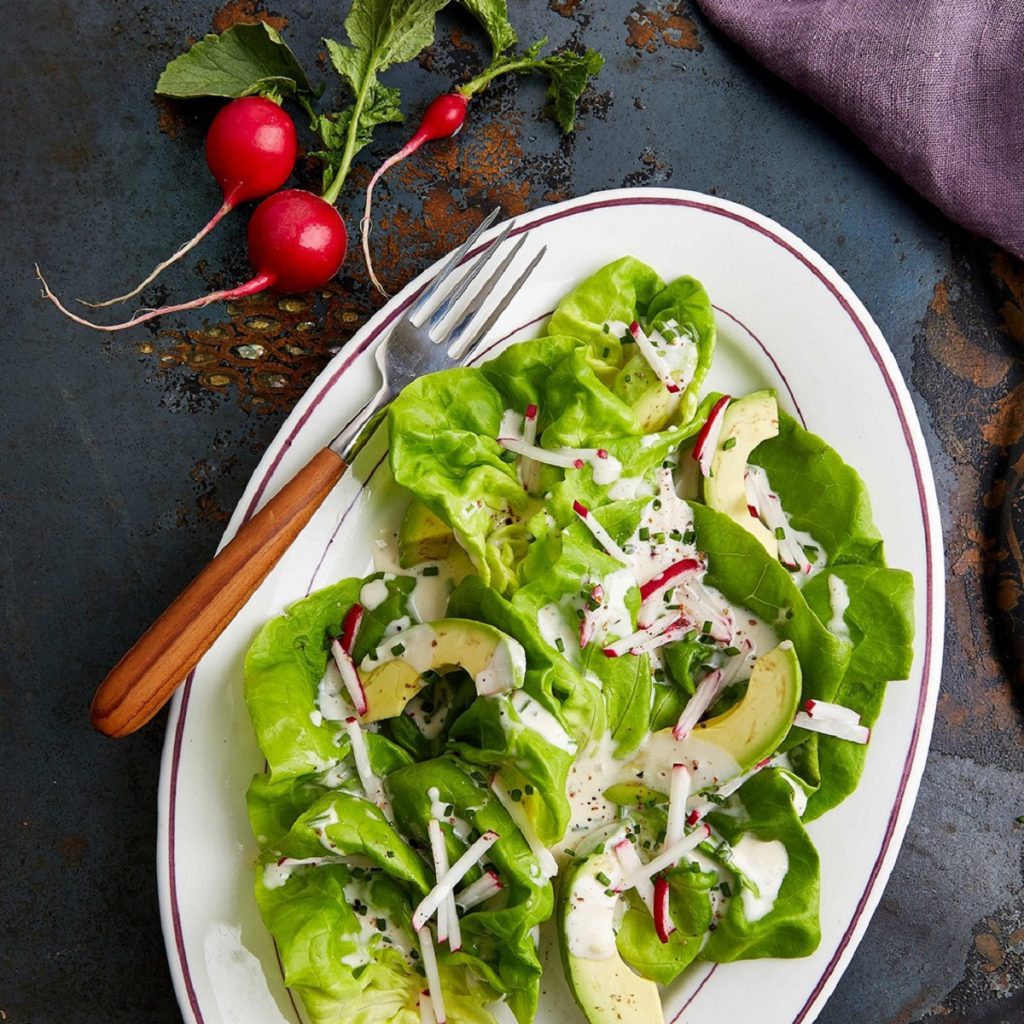 At first glance this salad seems simple, but don't let her fool ya. She gets her delicate nature from the Bibb lettuce, spicy demeanor from the radishes, and a little spunk from the buttermilk dressing, made by curdling soy milk creamer with vinegar. This salad has a ton of personality.
Yields 4 to 6 servings.
Bibb Lettuce and Radish Salad with Chive Buttermilk Dressing
1 bulb garlic, top sliced off to expose cloves
¼ teaspoon neutral-tasting oil
¼ teaspoon sea salt, plus pinch, divided
¼ teaspoon freshly ground black pepper, plus pinch, divided
⅓ cup soy milk creamer
1 teaspoon apple cider vinegar
¼ cup vegan mayonnaise
2 teaspoons freshly squeezed lemon juice
2 teaspoons maple syrup
2 tablespoons fresh chives, coarsely chopped
1 head Bibb lettuce, roughly chopped
4 to 6 radishes, cut into thin strips
1 avocado, peeled and cut into thin segments
Directions
Preheat oven to 375°F. Place garlic cut-side down in heatproof ramekin. Drizzle with oil. Sprinkle with pinch sea salt and pepper. Roast for 35 minutes, or until cloves are soft.
Combine creamer and vinegar in a bowl. Whisk gently and set aside for 1 to 2 minutes.
When cool enough to handle, remove 3 or 4 cloves roasted garlic from the bulb and use the blade of a knife to squeeze flesh out of skin into a blender or food processor. Add curdled creamer, mayonnaise, lemon juice, maple syrup, and remaining ¼ teaspoon sea salt and ¼ teaspoon pepper. Blend until smooth and fold in chives.
To serve salad, divide lettuce among salad plates. Drizzle with dressing. Top each serving with radishes and avocado.
Recipe Tips/Variations
When storing radishes in the refrigerator, don't wash them; they will go bad more quickly. Be sure to remove the leaves, however, as they leach moisture from the radishes, drying them out prematurely.
Jenny and Heather are co-owners of Los Angeles-based vegan cooking school Spork Foods, which travels to universities, health care companies, hotels, markets, and restaurants all around the world to teach chefs how to prepare tasty vegan meals.
You can learn more about Spork Foods and Jenny and Heather's cookbook on Facebook, Instagram, and Twitter.