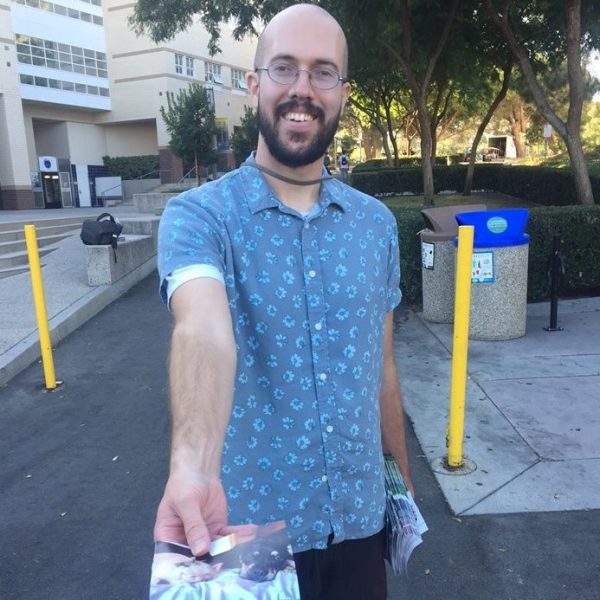 As part of our activist profile series, today we meet Brian Chavez. Brian has been involved in the animal rights movement for several years, and this semester he's been helping Vegan Outreach leaflet college campuses in Southern California. To date, he's traveled to 18 schools and handed out 17,743 leaflets. Let's get to know Brian!
Where are you from and where do you live now?
I'm from San Diego, and that's where I currently live.
What got you interested in animal rights and veganism?
It was an accumulation of many thoughts—I wanted to help create a more peaceful and joyful society, and I realized that respecting animals is an important step in doing that.
How did you get involved with Vegan Outreach and leafleting?
I signed up in 2007 as a volunteer to help pass the Prevention of Farm Animal Cruelty Act. The San Diego campaign was coordinated by Kath Rogers, who co-founded the Animal Protection and Rescue League (APRL). After the proposition passed, I handed out Vegan Outreach leaflets as a volunteer at many events hosted by APRL. I liked leafleting so much, I started ordering them from the Vegan Outreach website.
Do you have a favorite leafleting moment to share?
One time, a student told me she'd decided to go vegan after reading the leaflet I'd given to her. When I asked to take her picture for the Vegan Outreach e-newsletter, she agreed and then proceeded to ask her friend—who was walking alongside—to go vegetarian. Her friend said yes, and I ended up taking a picture of both of them!
What do you do for fun when you're not leafleting?
I like to hike, bike, go out to eat, and listen to music. I also love to play board games, soccer, and the guitar.
Do you have anything else you'd like to add about leafleting?
When it's slow and a student stops to tell me they've read the leaflet, I like to ask what their thoughts are on the subject and briefly respond if they have concerns. I've also found that many people are very close to going veg. Overall, leafleting is a great way for vegans to volunteer together, prevent burnout, and get new people interested in volunteering!
Can you tell us one of your favorite vegan products to share with our readers?
I like the Black Bean Tamale Verde frozen meal by Amy's Kitchen.