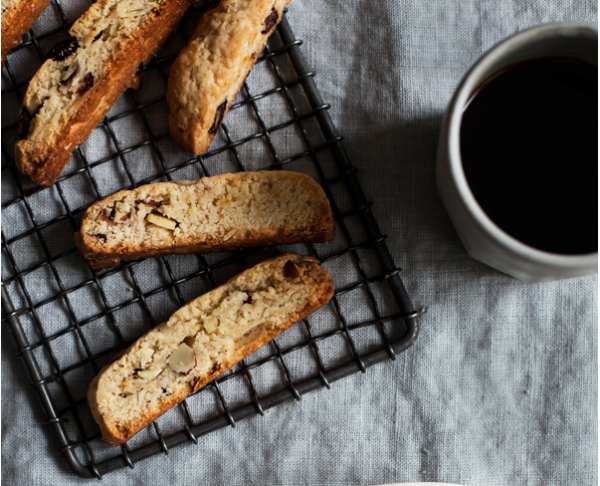 Here's a little motivation to wake up and conquer the morning—Cranberry Almond Biscotti. Thanks to Gena Hamshaw at The Full Helping for providing this sweet, seasonal breakfast idea.
Cranberry Almond Biscotti
Yields 2-3 Dozen Biscotti
Ingredients
2 cups unbleached, all-purpose flour—or a half and half combination of all-purpose and whole wheat pastry flour
½ teaspoon baking powder
¼ teaspoon salt
Zest and juice of 1 orange
⅔-¾ cup sugar
½ cup—8 tablespoons—vegan buttery spread
3 tablespoons aquafaba or 1 flax egg
1 teaspoon vanilla extract
1 teaspoon almond extract
½ cup dried cranberries, roughly chopped—or a chopped, dried fruit of choice
½ cup chopped, slivered, or sliced almonds—or a chopped nut of choice
Directions
Sift together the flour, baking powder, and salt.
If using a flax egg, whisk together 1 tablespoon ground flax meal and 3 tablespoons warm water and allow the mixture to thicken before using.
In an electric mixer fitted with the paddle attachment, beat together the orange zest, sugar, and buttery spread on medium speed, until the mixture is light and fluffy. Add the aquafaba or flax egg and the two extracts. Beat for one more minute.
Turn the speed of the mixer to low, then add half of the flour mixture. When the flour is fully incorporated, add the orange juice to the mixer and beat until it's incorporated. Add the rest of the flour mixture, the cranberries, and the almonds. Beat until the dough is evenly mixed and forming large clumps. Cover and refrigerate the dough for at least 30 minutes (and up to 2 hours).
Preheat the oven to 325 °F and line a baking sheet with parchment. Divide the dough into two evenly sized pieces and shape each of them into a log that's about 8 inches long, 1 inch high, and 3 inches wide—space the logs a few inches apart on your baking sheet.
Bake the logs for 30-35 minutes, or until golden and firm to the touch. Raise the oven heat to 350°F. Remove the logs from the oven and allow them to cool for 15 minutes. Use a serrated knife to cut the logs into slices that are about ½-¾ inch thick. Arrange the slices on your cookie sheet cut side up and transfer them back to the oven. Bake for 11-13 minutes, or until the biscotti are golden brown. Transfer them to a cooling rack and cool completely before serving.
Click here for Gena's original recipe.