By Janet Kearney, Guest Contributor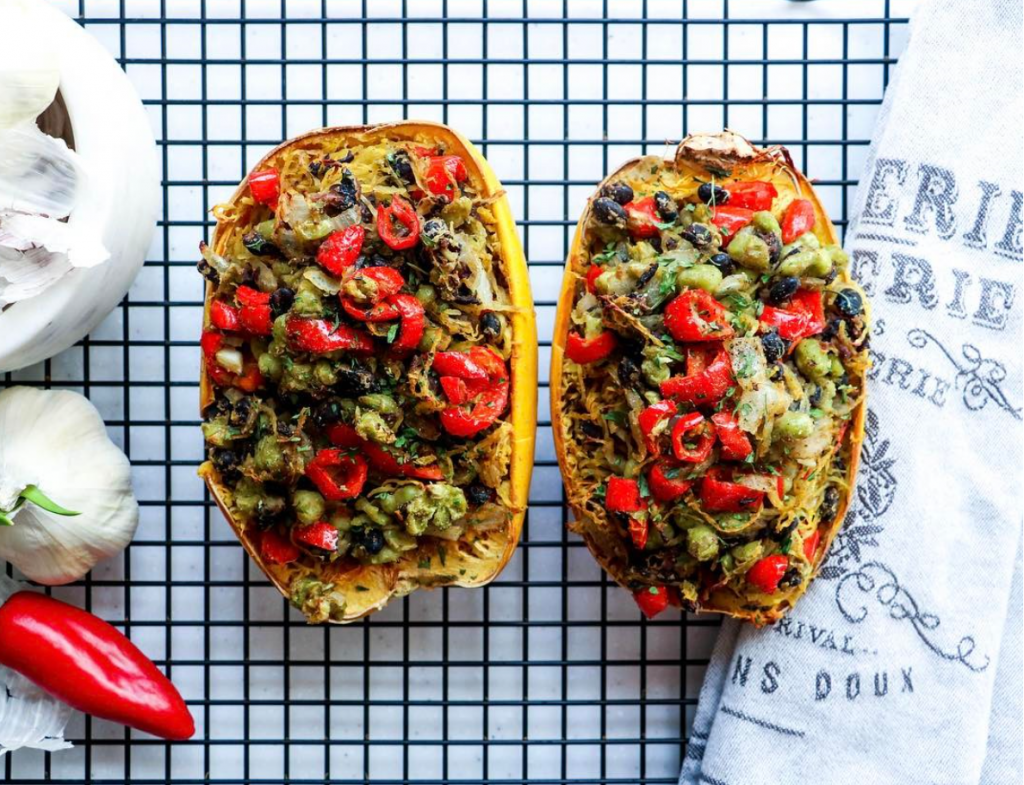 Janet is the founder of Vegan Pregnancy and Parenting, the largest online vegan parenting group in the world. She also owns Raise Vegan, an online resource for parents who are raising or considering raising their families plant-based. Find her on Instagram—link in the picture caption—if you have any questions.
This delicious and creative squash recipe calls for spaghetti squash, but it would taste just as delicious with your favorite seasonal winter squash!
Easy Peasy Pepper Squash
Yields 2 servings.
Ingredients
1 large spaghetti squash—or your favorite winter squash
1 14-oz can of green peas—do not drain
1-2 tablespoons oil
1 large diced yellow onion
1 tablespoon garlic, minced
2 red peppers, cut into large, rough chunks
1 14-oz can beans—black, kidney, etc.
1 tablespoon of parsley
Pinch of Salt
Pinch of Pepper
Directions
Preheat oven to 400°F.
Cut the squash in half lengthways. Remove any seeds and drizzle oil around the inside.
Place the squash open face on a cooking sheet and roast for approximately 45 minutes.
In a skillet, add oil and onion. Sauté on medium heat until translucent, about five minutes.
Add peas, garlic, red peppers, beans, parsley, salt, and pepper to the skillet. Cook on low heat for ten minutes, stirring occasionally.
When roasted thoroughly, remove the squash and scrape out the cooked contents. Combine with bean mixture in a separate bowl and spoon back into the squash shells.
Return to oven and roast for another 10 to 15 minutes.
Remove from oven, let cool, and enjoy!