By Lori Stultz, Communications Manager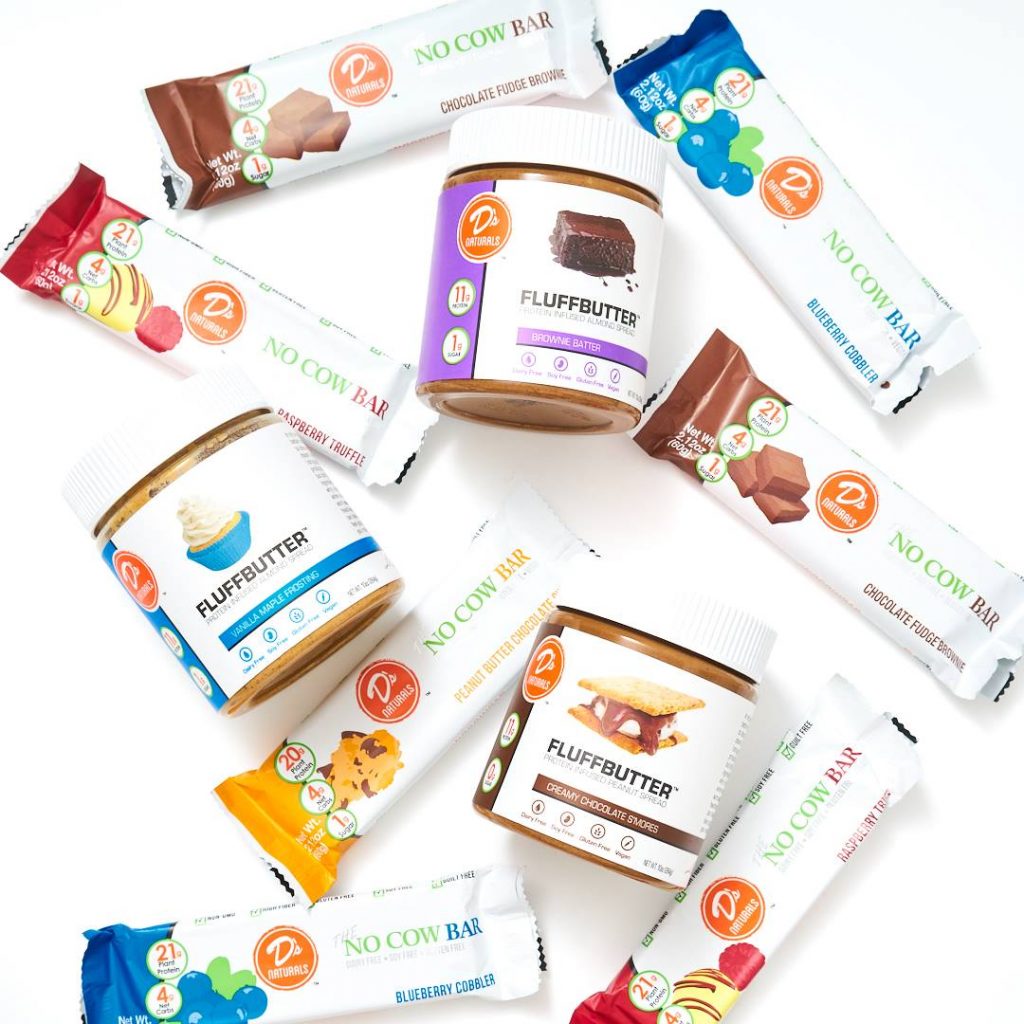 A few weeks ago, I received an email from D's Naturals, makers of the delicious No Cow Bar and Fluffbutter. I didn't even have to read the entire email asking if I'd like to review the products before a wave of nostalgia rushed over me.
In the fall of 2015 and spring of 2016, I toured a good portion of the country for Vegan Outreach as an Outreach Coordinator—leafleting dozens of college campuses. And during those wonderful eight or nine months, I frequently had a box of No Cow Bars in my car. They were the perfect pick-me-up snack as I was doing outreach or driving from one city to the next.
At the time, D's Naturals only offered a few bar flavors—Mint Cacao Chip was my fav—so I was surprised to see that they now offer eight No Cow Bar flavors in addition to an entirely new product, Fluffbutter. D's Naturals kindly offered to send me samples of their products, so I had the opportunity to try their new Dark Raspberry Chocolate and Chocolate Banana Bread bars. I also tried the Brownie Batter Almond Fluffbutter.
The bars were as good as I remembered, but the star of the show was definitely the Fluffbutter. I used my Brownie Batter Fluffbutter on toast topped with sliced bananas, and I also drizzled a few tablespoons over my morning smoothie bowl. The most unique way I used the Fluffbutter, though, was swapping out peanut butter for Brownie Batter Fluffbutter when I made a delicious batch of Puppy Chow (a.k.a Muddy Buddies)*.
Don't wait to get yourself a jar—or two or three—of every flavor of Fluffbutter. I also highly recommend you get yourself a few different kinds of No Cow Bars! All bars and Fluffbutters are vegan, offer a great source of fiber, and are jam packed with protein—20g per bar and 11g per serving of Fluffbutter.
Visit D's Naturals website to try their products! And after you received your jars of Fluffbutter, give the following recipe a try!
*Despite what the name suggests, Puppy Chow is a treat only to be enjoyed by humans—dogs should not eat chocolate. This is why I've re-named the recipe.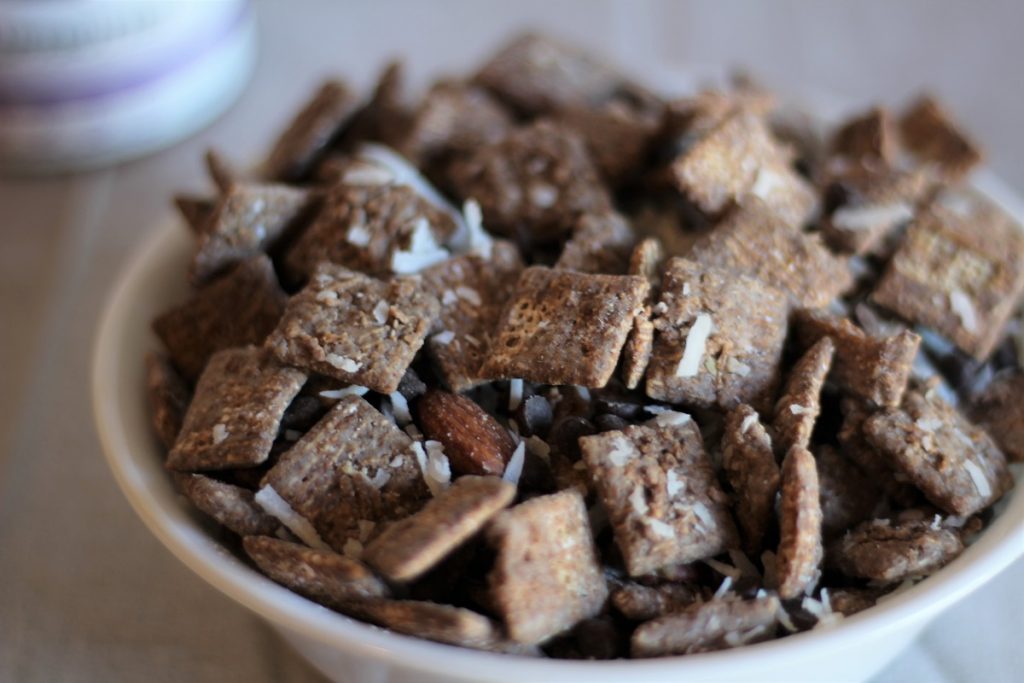 Brownie Batter Not For Puppies Chow
Yields 6 servings.
Ingredients
6 cups Chex cereal—rice or corn
½ cup powdered sugar
1 cup dairy-free chocolate chips
½ cup D's Naturals Brownie Batter Almond Butter
1 cup shredded coconut
⅔ cups mixed nuts, optional
Directions
Add the cereal to a large bowl and set aside.
Measure powdered sugar into a gallon-sized Ziploc bag and set aside.
In a small saucepan, melt almond butter and ½ cup chocolate chips over low heat.
Pour melted chocolate mixture over cereal and stir with a large spoon until evenly coated.
Place chocolate covered cereal in Ziploc bag, close tightly, and shake bag until cereal is evenly coated with powdered sugar.
Spread cereal on wax paper and let cool for one hour.
Place the cooled cereal back in the bag and add coconut, remaining chocolate chips, and nuts (if using). Close bag tightly and shake. Enjoy!
This recipe was adapted from Justin's Almond Coco-Nutty Buddies.