Review by Roopashree Rao, Indian American Community Engagement and Events Coordinator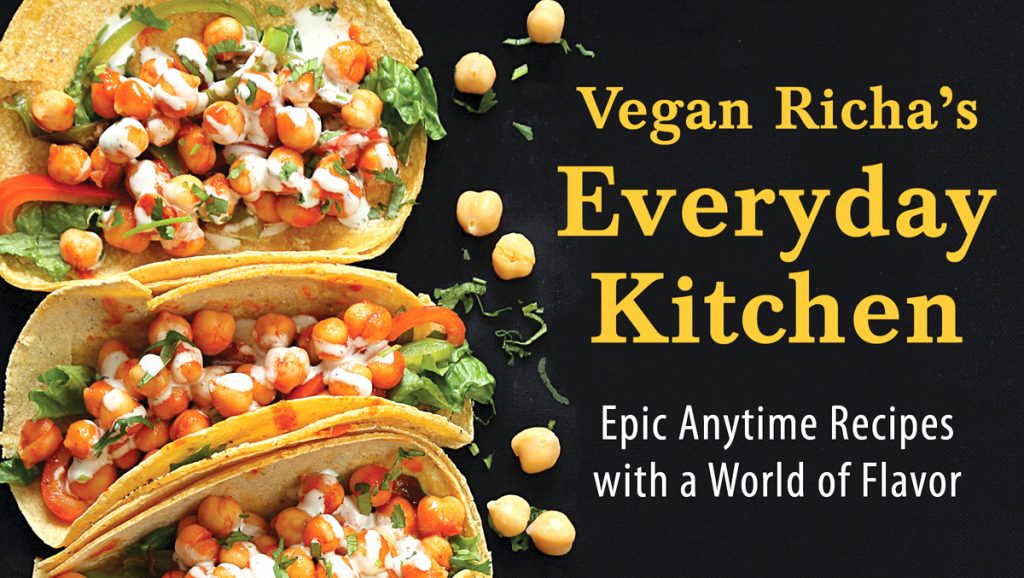 Vegan Richa's second cookbook, Vegan Richa's Everyday Kitchen, is a great resource for all who want to eat and entertain, enjoying food in all its delicious glory!
What I love about the book is how it's built around sauces! Who doesn't love a good sauce? They're versatile and can be used as dips, condiments, and marinades. They can be used for complexity in a dish, in soups, and—of course—in curries.
Knowing how to make sauces and the ease of freezing them means you're always well-prepared to whip up a great dish. To borrow words from my favorite children's book, "In half a minute less than no time!" Okay, maybe not that fast, but you'll be pretty close.
Another aspect of the book that I like is how Richa helps the reader understand that making food and enjoying meals are always a shared opportunity for happiness. Moreover, the book is centered around making and enjoying vegan food, which means the happiness is shared with all of Earth's beings.
To give you a taste of this happiness, Richa has shared her delicious Buffalo Chickpea Tacos recipe. And if you're hungry for more, you can order a copy of her new book today! Enjoy!
Buffalo Chickpea Tacos
Yields 4 servings.
Ingredients
⅓ cup hot sauce
3 tablespoons sriracha sauce
2 tablespoons extra-virgin olive oil or melted non-dairy butter
1 teaspoon distilled white vinegar—optional
2 to 2 ½ cups room-temperature cooked chickpeas, drained and rinsed
1 cup Celery Ranch Sauce (see below)
1 ½ cups finely chopped celery or cucumber
1 teaspoon organic safflower or other neutral oil
1 medium green bell pepper, thinly sliced
1 medium red bell pepper, thinly sliced
½ teaspoon salt, divided
8 to 10 tortillas or taco shells
2 cups baby spinach
Directions
Combine the hot sauce, sriracha, olive oil, and vinegar (if using) in a medium bowl. Add the chickpeas, tossing to coat them in the sauce, and set aside. In another medium bowl, combine half the celery ranch sauce with the celery. In a third medium bowl, thin the other half of the celery ranch sauce with water if needed.
Heat the safflower oil in a large skillet over medium-high heat. Add the green bell pepper, red bell pepper, and ¼ teaspoon of the salt. Cook the bell peppers until they are golden on some sides, 4 to 5 minutes, stirring occasionally. Warm the tortillas if desired.
Add some of the baby spinach, roasted bell peppers, and celery to every taco. Divide the remaining ¼ teaspoon salt between all the tacos. Add some buffalo chickpeas and a generous drizzle of the celery ranch sauce to each taco and serve.
Celery Ranch Sauce
Yields about 1 cup.
Ingredients
½ cup raw cashews, soaked for 15 minutes and drained, or ground raw cashews
⅔ cup plain unsweetened non-dairy milk or ½ cup water
½ teaspoon salt
2 teaspoons extra-virgin olive oil
¼ teaspoon black pepper
1 teaspoon garlic powder or 4 cloves roasted garlic
¾ teaspoon onion powder
1 to 2 tablespoons nutritional yeast
2 teaspoons apple cider vinegar or distilled white vinegar
½ teaspoon celery seeds
½ teaspoon dried parsley
½ teaspoon dried thyme
¼ teaspoon dried dill
2 teaspoons finely chopped fresh chives or 1 teaspoon dried chives—optional
Directions
In a blender, combine the cashews, milk, salt, oil, pepper, garlic powder, onion powder, nutritional yeast, vinegar, parsley, thyme, and dill. Blend until smooth and creamy. Taste and adjust the seasonings. Add the chives (if using) and stir gently to combine.