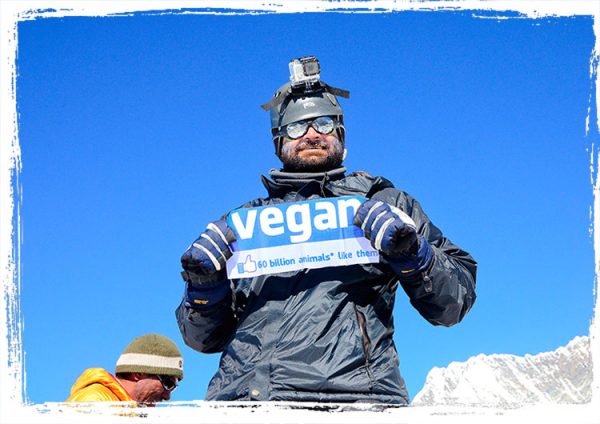 Today we're hearing from Kuntal Joisher, the first documented vegan to summit Mt. Everest. Aside from his athleticism, we greatly admire Kuntal for his genuine care and compassion for people, animals, and the earth.
It's our pleasure to introduce him in this interview, but be sure to follow the links at the bottom of the page to read more about his truly unbelievable Everest journey.
Vegan Outreach: Why and when did you become vegan?
Kuntal Joisher: I was born into a vegetarian family. However, I was a vegetarian because of my religion, rather than an ethical vegetarian. It wasn't until I moved to Los Angeles in 2001 to attend university that I was exposed to veganism. One of my roommates exposed me to the horrors of dairy and leather—that's when I realized that these industries are just vicious cycles of animal-cruelty.
The next few months my life was an adjustment phase—it was the first time in my life I took a strong stance on a major issue. It opened floodgates of change in me. Those introspective years were some of the most fruitful years of my life and made me the person I am today. All of it started with taking a stand for animals!
Vegan Outreach: You attempted to climb Mt. Everest a few times before making it to the top—what did you learn from those experiences?
Kuntal: After my first two attempts—in 2014 and 2015—several people tried to dissuade me from climbing. They said, "The mountain doesn't want you there." And some even said that I didn't have what it took. I didn't listen to them. Instead, I kept the fire inside me burning, trained harder than ever, and finally made it to the top in May 2016.
I learned the importance of never giving up. People may try to tell you that your goals are impossible, or that you're sure to fail. If you want to achieve your dream, nurture and protect it like your baby. Work and train hard, learn from your mistakes, and keep going until you reach the top!
When I escaped death during my attempt to climb Everest in 2015, I also learned this—if you have dreams or passions, the best time to work toward them is now. Not tomorrow, not the day after, and not in 60 years. Now.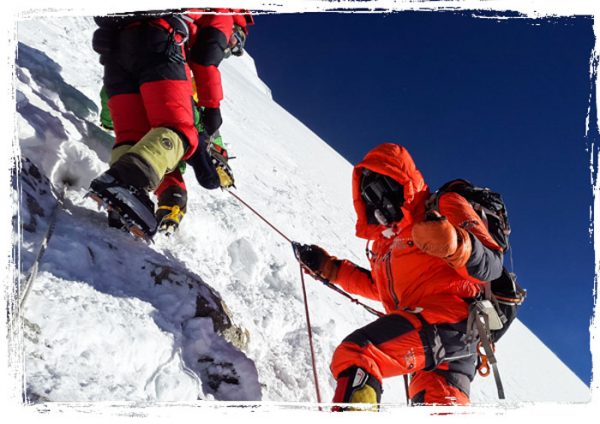 Vegan Outreach: There have been other articles and blogs detailing climbs of vegans who've summited Mt. Everest prior to your climb. Why do other news sources refer to yourself as the first?
Kuntal: Honestly, I don't really care if I'm the first, second, third, or 100th vegan to reach the top. I'm just glad that I climbed Everest and made it back in a single piece. And I'm super happy that I did it as a passionate vegan. I want to prove to the world that Everest, or any big mountain for that matter, can be climbed on a vegan diet.
At the same time, every time I'm referred to as the "first vegan" to climb Mt. Everest, it gives me an enormous amount of publicity and exposure. To me, ​this is very important because it gives me a platform to talk about animal rights, veganism, and related issues that are important to me.
Vegan Outreach: What did you eat when you climbed Everest?
Kuntal: At the base camp, I ate beaten rice, semolina and oat porridge, deep fried Indian bread and curry, Tibetan bread, pancakes, lentils and rice, pasta, french fries, veggie burgers, and other several Indian food items. Our awesome cooks, Ngima Tamang and Anup Rai, even baked us a vegan cake! Truly speaking, I don't think I missed out on anything.
Beyond base camp two I survived on Unived RRUNN gels and sports nutrition drinks, Outdoor Herbivore freeze-dried meals, Oreo cookies, dried kiwi fruit pieces, cashews, and some deep fried snack items.
Vegan Outreach: What are some of your hobbies other than climbing?
Kuntal: Photography. I take photos to share the beauty of our world and inspire people to go experience it for themselves. My hope is that once people experience nature and understand how important it is to our survival—both physical and spiritual—they will become more conscious of their everyday choices and try to conserve our beautiful planet.
Vegan Outreach: Thank you for taking the time to talk with us, Kuntal! Best of luck in all of your future climbing adventures.
Additional Sources
Kuntal's Huffington Post blog, where he extensively writes about his Everest journey
Everest photo stories: Journey To The Top of the World, Nepal Himalaya.