Chelsea Collins, VO's Australia Outreach Coordinator, has leafleted 29 different schools this semester, handing out more than 15,000 Vegan Outreach booklets!
Below are Chelsea (on a freezing morning at Federation University Australia) and University of Newcastle veg club member Louis Hill with Caitlin Davies, who went vegan as a result of receiving a VO booklet from him on campus last semester!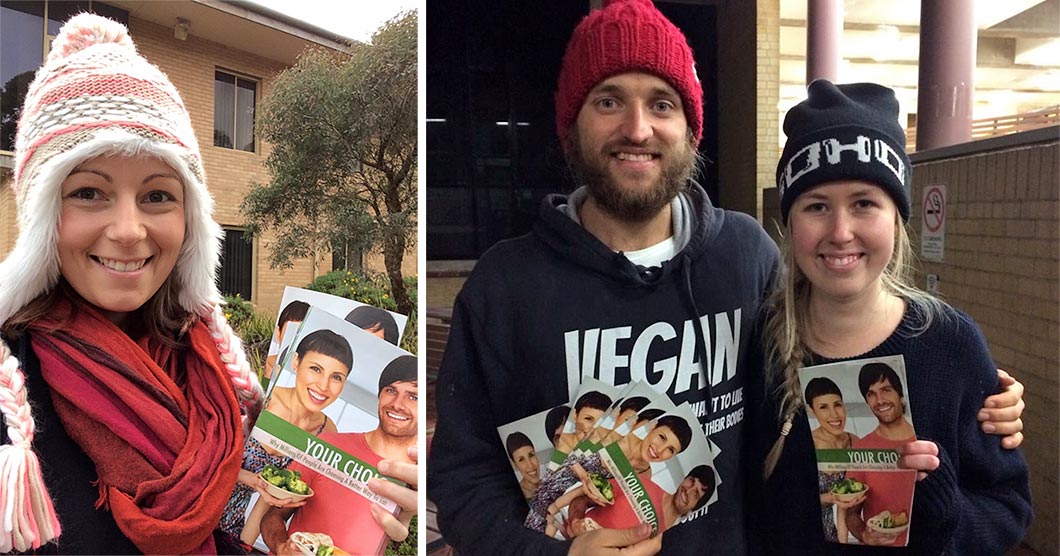 This semester at the Royal Melbourne Institute of Technology in Melbourne City, Chelsea reached 450 students with Your Choice booklets:
Today was absolutely freezing, windy, and it was raining again. I felt like I was standing on ice blocks in a gale all morning, and I only lasted a few hours before throwing in the proverbial towel. Umbrellas and hands in pockets were my enemy. I take my hat off to those of you who are able to leaflet when it's below freezing and/or snowing. Seriously.

One lady came back past and stopped to tell me that she thought our work was really important; and she told me that she has a couple of colleagues doing their PhDs on animal issues at this school, which I thought was cool.

Melbourne is famous for being the city of "four seasons in one day." Well…by the time I got home the rain had stopped, the clouds were gone, and there was nothing but blue skies. It even warmed up and I felt foolish. Melbourne, you win this round but I'll be back.

—Chelsea Collins, 9/2/14
Support VO's Adopt a College leafleting program: Give to Vegan Outreach by December 31, and your donation will be matched, dollar for dollar!