Dave Mosick is one of the Adopt a College program's most dedicated volunteers. He's leafleted 13 different campuses this semester, directly handing Vegan Outreach booklets to more than 14,000 students!
Below are Kassy Ortega and Dave at George Washington University, where they got booklets into the hands of 1,700 students in a single day! Kassy reports: "Record breaking day at GWU! With the help of Dave 'Vegan Superhero' Mosick, we killed the record by 500!"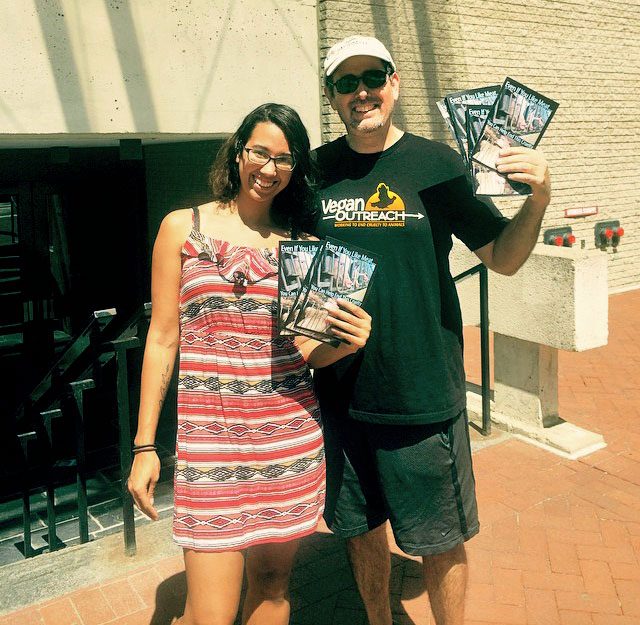 The following week, Dave teamed with Kassy at Howard University, and together they reached 1,350 students:
Best day at Howard ever! Where do I start? In the morning when I got there, I leafleted for about an hour and half, and a student came and chatted with me. He was extremely defensive at first, claiming that I can't force my beliefs on other people. Continuing to leaflet, I told him I wasn't forcing anyone to take a booklet or forcing anyone to read the booklet; I also told him the booklet wasn't about beliefs – it's factual information which people can do whatever they want with. He then asked me: "Do people actually go vegetarian from this booklet?" I told him, "Through my experiences, YES! People care about animals, and make positive changes based on this factual information; you should really just read about it yourself." I wasn't mean, but I was firm. He wouldn't take an Even If You Like Meat, but he took a Guide to Cruelty-Free Eating [below]. He came back to me 45 minutes later and told me he got a veggie sub at Subway, and that he wants to try eating meatless for a week!

Dave showed up, being awesome as usual. (It was around 95°F by now!) He's so sweet – he brought me an iced tea. He also had an amazing conversation with a kid who got an Even If You Like Meat and now wants to go VEGAN! Insane in the membrane!

AMAZING DAY.

—Kassy Ortega, 9/2/14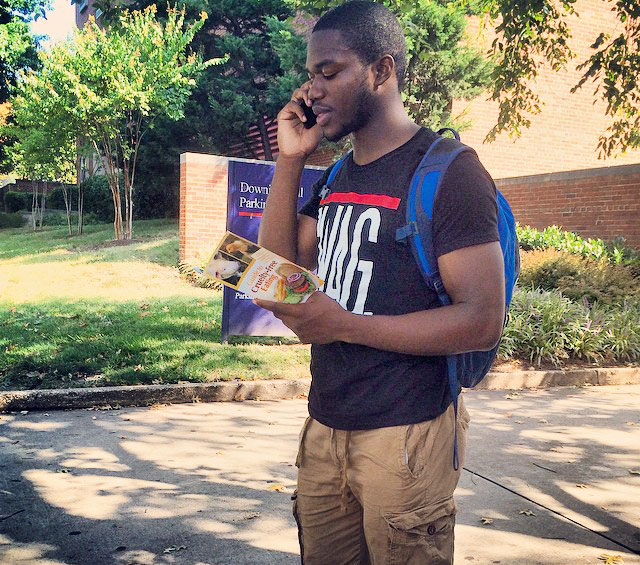 Your donation to Vegan Outreach will create more vegans: Give to VO by the December 31 deadline to double your impact for the animals!