By Constance James, Guest Contributor
Today's delectable breakfast recipe was submitted to us by our good friend Constance James. A graduate of Denver's College of Culinary Arts at Johnson & Wales University, you can say that Constance has more than a knack for vegan baking and cooking. Let's have the chef introduce herself and then we'll get cinna-rolling!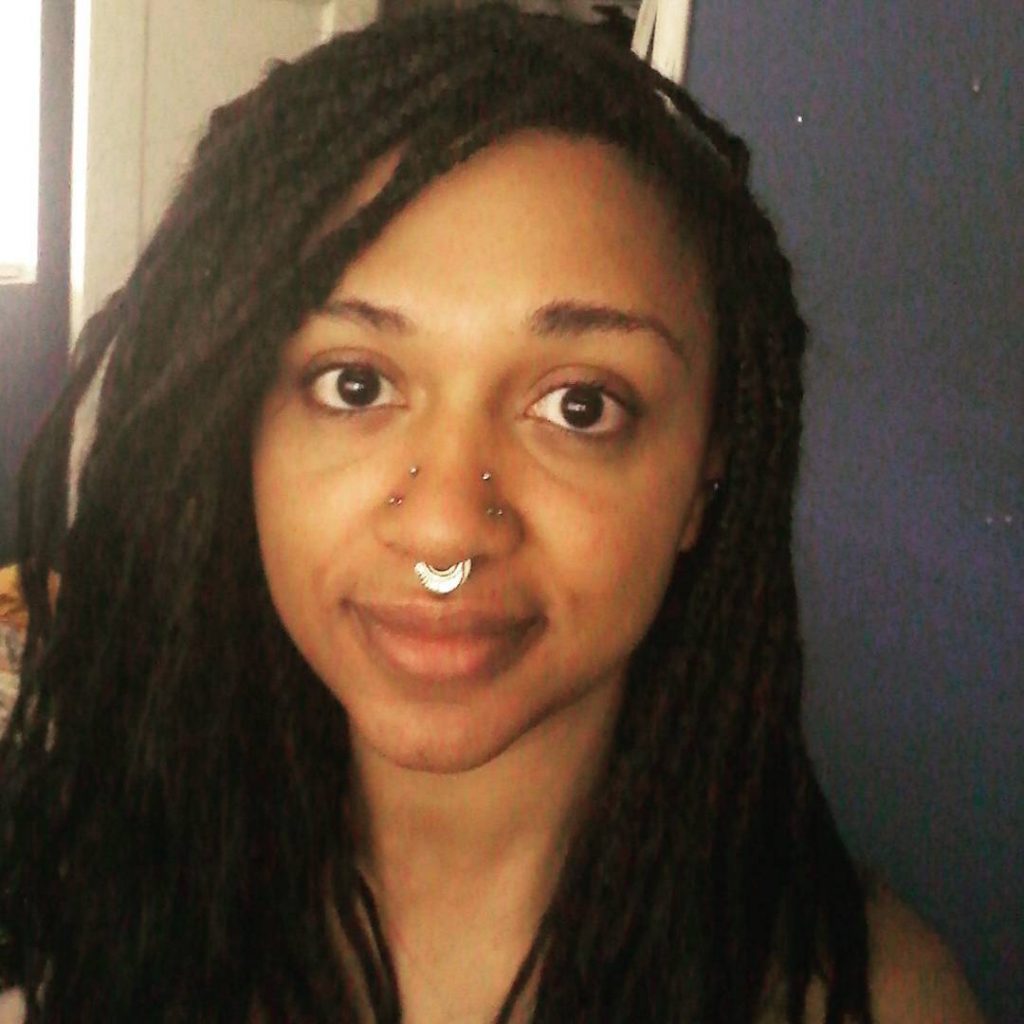 "I've been vegan for two and a half years, and I graduated from culinary school in 2008. Since graduating, I've been exploring vegan baking and cooking, as well as gluten-free baking and cooking. I have a major sweet tooth, but I also love hearty stews and casseroles. I like learning about other cultures through baking, and I especially love creating French-inspired dishes—both sweet and savory."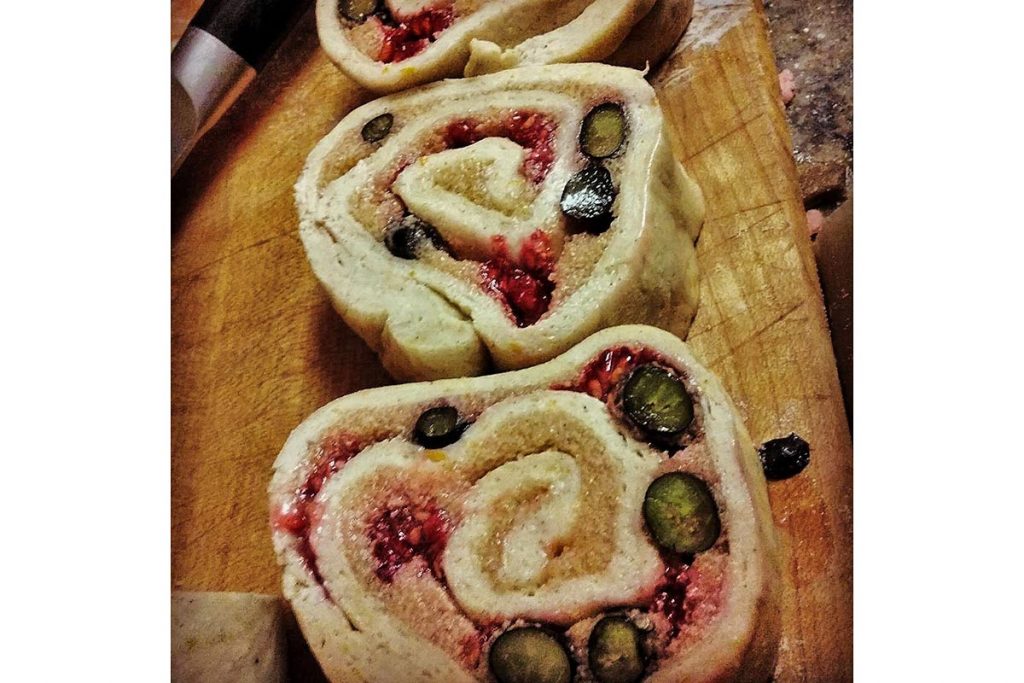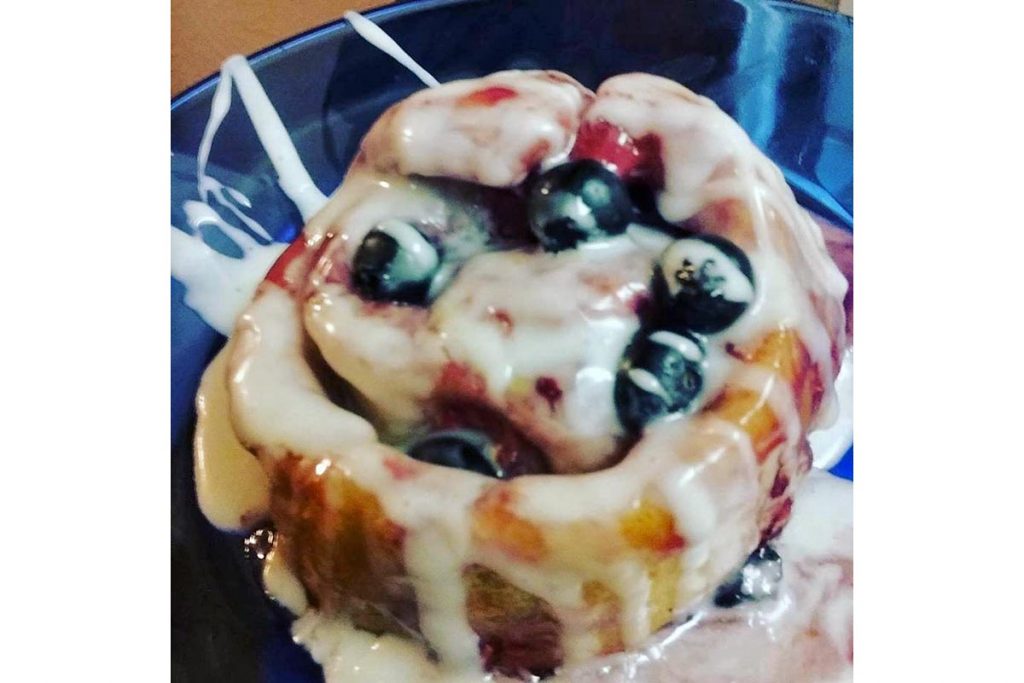 Citrus Berry Cinnamon Rolls
Yields 9-12 rolls.
Ingredients
Dough
¾ cup warm almond milk (coconut milk works too)
1 package active dry yeast
⅓ cup sugar
3 tablespoons vegan butter, room temperature
½ teaspoon salt
1 "egg" replacer (Follow Your Heart VeganEgg or flax egg will both work well)
3 ¼ cup all-purpose flour
1 teaspoon lemon zest
1 teaspoon ground cinnamon
½ teaspoon ground cardamom
1 tablespoon vanilla extract
Small amount of olive oil or coconut oil
Small amount of flour for dusting (after dough has risen)
Filling
6 tablespoons vegan butter, softened
⅔ cup brown sugar
1 tablespoon cinnamon
1 tablespoon flour
1 tablespoon orange zest
1 shot of bourbon
¼ teaspoon sea salt
½ to 1 cup roughly chopped mixed berries (blueberries, raspberries, blackberries)
Icing
3 tablespoons vegan butter, melted
2 tablespoons plain vegan cream cheese, room temperature
1 ½ cups powdered sugar
1 teaspoon vanilla extract
1 teaspoon orange juice
Directions
For the Dough

: Heat the almond milk on the stovetop to 120°F. Add milk and yeast and to small bowl and stir. Let stand for a few minutes.
Place sugar, butter, salt, and egg replacer in the bowl of a stand mixer fitted with the paddle attachment. Mix until combined—lumpiness is ok. Pour in the milk/yeast mixture and stir for a few seconds.
Add flour, lemon zest, and spices. Stir with the paddle attachment just until the mixture starts to stick to the paddle. Then replace the paddle with the dough hook. Continue mixing on low speed until the dough forms a ball in the center of the bowl. If the dough is still very sticky, you can add an additional ¼ cup of flour.
Place the dough in an oiled bowl. Lightly oil the dough ball with olive oil or coconut oil and cover the bowl. Let sit for 2-4 hours—until it's doubled in size.

For the Filling

: Meanwhile, prepare the filling. Stir together all ingredients except for the berries and set aside.
After the dough has risen, dust the rolling surface with flour and roll the ball into a rectangle, about 10" x 14." Spread the filling as evenly as possible over the rectangle. Make sure the filling reaches the sides so the outer rolls will have enough filling. Sprinkle berries over the filling. Roll the dough up tightly from the long end.
Slice roll into equal sized rolls. If you want large rolls, you'll cut about 10. Place the rolls into a greased 9" x 9" pan or 9 ½" round pie plate. Chill the rolls for at least 4-6 hours.
Bring the rolls to room temperature by removing from fridge. Preheat oven to 350°F and bake for 25-30 minutes or until they're golden brown.

For the Icing

: While the rolls are baking, cream the butter and cream cheese with a whisk in a small bowl—"creaming" is the whipping together of fats.
Add powdered sugar in small amounts until the mixture is thick.
Add the liquids and whisk mixture until the frosting streams slowly from the whisk.
Drizzle over the rolls when they're done baking. Serve and enjoy!
Recipe Tips/Variations
I like to cut the roll into roughly 13 rolls and place them in greased cupcake/muffin tins to bake.