By Josie Moody, VO Office Manager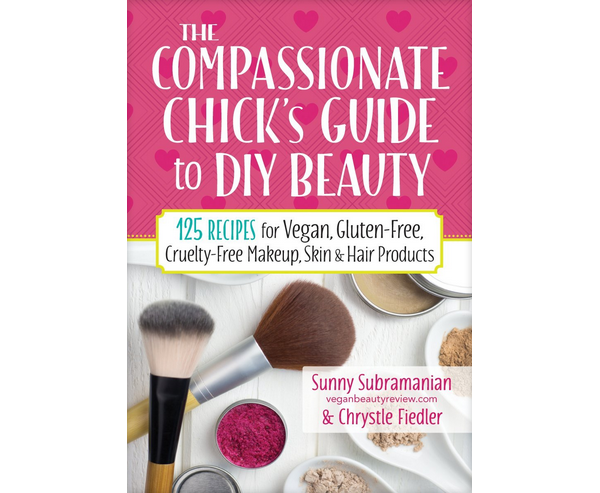 The Compassionate Chick's Guide to DIY Beauty by Sunny Subramanian and Chrystle Fiedler is so much more than a guide! It's an awesome, easy-to-read encyclopedia on hair, skin care and beauty products, and, despite the title, it's not geared only towards women. It's accessible and full of so much information about why you should be vegan, what ingredients and cruelty go into many traditional beauty products, and of course tons of recipes. Now you'll know EXACTLY what's going into your body care products and on to your body! Bonus—it's chock full of beautiful photography by Vegan Outreach's own Michelle Cehn!
There was so much that I wanted to share with you, that I've decided to divide this blog post into two parts. Stay tuned for Part II!
Peppermint Toothpaste
I'm a practical person, and I just happened to get this book the same day that I wrote "toothpaste" on my shopping list, so that was the first concoction I decided to create.
This recipe was so easy—I thought maybe I'd missed a step! I'd never used essential oils before, and I fell in love with the peppermint scent…it wasn't overwhelming the way that synthetic fragrances can be, it was just a bright, appealing smell.
There's an option to add stevia for taste, and I enjoyed it both with and without the added sweetness. I'm a salt-aholic, so I didn't mind that this was very salty tasting, but for those who aren't, I'd suggest halving the amount of salt this recipe calls for and then adding more, bit by bit, until you get the taste just right.
Ingredients
⅓ cup baking soda
1 teaspoon fine sea salt
1 packet stevia (optional)
15 drops peppermint essential oil
Coconut oil
Directions
In a small bowl, stir together baking soda, sea salt, stevia (if using), and peppermint essential oil until well combined.
Mash in coconut oil, a little at a time, until a paste forms and the mixture is the desired consistency. Spoon into jar.
Dip a clean toothbrush into toothpaste. Moisten with water and brush teeth. Rinse mouth with water.
Store at room temperature for up to 6 months.
__________________________________________________
Hair Spray-bilizer
This DIY hair spray is no joke! My hair is very fine, so I liked this because it added both texture and control. I'd compare this to an ultra-hold hair spray, so you may want to add less sugar if you're looking for less hold. My biggest concern was that hummingbirds were going to swarm my head, but as of this writing, it hasn't happened yet. A final note—the spray bottle I used shot more of a stream than a spray, so make sure that you're using a bottle that will actually spritz your head to hold that style!
Ingredients
1 cup filtered water
4 teaspoons granulated sugar
4 to 6 drops essential oil of your choice (optional)
Directions
In a small saucepan, bring water just to a simmer. Stir in sugar until dissolved. Remove from heat. Let cool completely.
Stir in essential oil (if using). Using funnel, pour into bottle.
Spray mixture over styled hair to set in place.
Store at room temperature for up to 2 weeks.
There's more of Sunny and Chrystle's DIY goodness to come, so be sure to look for more recipes in an upcoming blog post! In the meanwhile, be sure to check out Sunny's blog, Vegan Beauty Review.