By Lori Stultz, VO Rocky Mountain Outreach Coordinator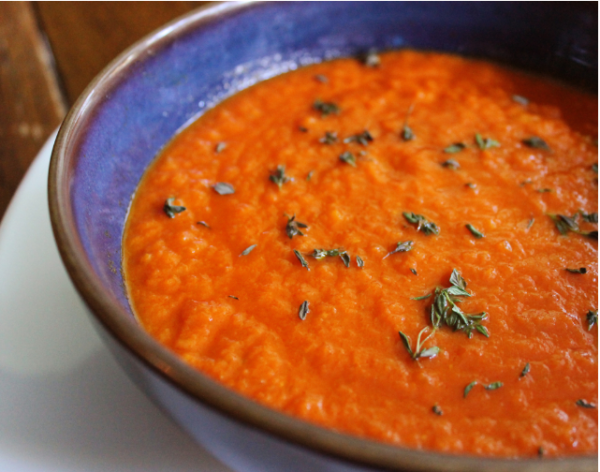 This super simple Creamy Tomato Thyme Soup will satisfy your craving for a warm meal as the fall temperatures continue to drop.
To make this a heartier meal, I highly recommend serving the soup with a vegan grilled cheese sandwich! And if you're over the age of 10, don't worry there'll be no judgment. You're never too old for grilled cheese and tomato soup.
Creamy Tomato Thyme Soup
Yields 4 servings.
Ingredients
1 teaspoon olive oil
1 medium onion, diced
3 garlic cloves, chopped
1 28 oz can of tomatoes, diced, crushed, or pureed
½ cup coconut milk
½ teaspoon salt, you can omit this if the canned tomatoes are salted
½ teaspoon black pepper
1 teaspoon fresh or dried thyme
1 cup water
Directions
In a medium-sized pot, heat olive oil on medium low heat and add the onion and garlic. Saute lightly for 2-3 minutes.
Add canned tomatoes and all other remaining ingredients. Cover and simmer on medium heat for 10 minutes, until heated through and fragrant.
Serve as is or blend to desired creaminess. You can use either an immersion blender or you can transfer to a blender and puree in batches. If you're using a traditional blender, be sure to let the soup cool before blending.
A big thanks to Renee Press at Fire and Earth Kitchen for sharing this recipe and several others over the past few months!