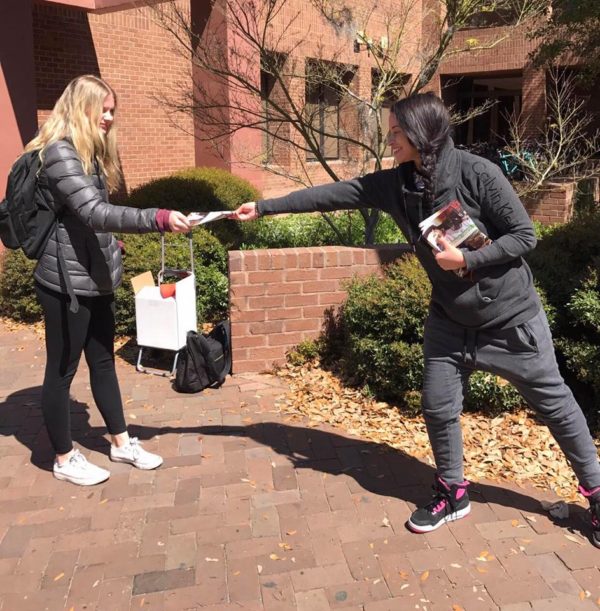 A night home watching Netflix changed Cristina Myers life, transforming her into a dedicated activist for animals and other social issues.
Continuing our series of activist profiles, today we speak with Vegan Outreach's Cristina Myers who, as an Outreach Coordinator, is spreading the vegan message to people all over the world in addition to the college campuses she's been visiting this semester. She's currently on tour in the Southeast and has passed out over 27,000 leaflets at 39 schools.
Where are you from and where do you live now?
I'm from Seville, Spain. I moved to the US when I was a teen. I'm currently based out of Miami.
What got you interested in animal rights and veganism?
I was 80 pounds overweight, dealing with pre-diabetic symptoms, and I struggled with my cholesterol levels. I had a horrible self-image. I suffered from migraines and I didn't know why. I had difficulty breathing, and I had joint pain in my knees from carrying around extra weight. I was 24 years old and my doctor said that I should be very concerned about my heart.
One night I didn't go out with my friends because I had nothing to wear that would fit me—I was embarrassed at how big I'd gotten. Netflix was just becoming a common form of media, and I stumbled over a documentary called Forks Over Knives and it changed my life. The first five minutes described my health issues to a T, and the film explained how to reverse all of those issues. I went vegan that night, and my first month I lost nearly 20 pounds by just cutting out meat and dairy!
My joints ached less and less and my migraines disappeared. I had more energy than I knew what to do with! I discovered weight lifting and kept going on my journey to loving myself. I made a connection to what was happening to animals after watching Earthlings just a few months later. The only way I got through the horrible footage is because I owed it to animals to watch what I had done to them for over two decades. I went vegan for my health, but I stay passionately vegan for animals and the environment.
I just want my fellow brothers and sisters to feel happy with their bodies and to be healthy. I want people to stop contributing to animal suffering. I want complete animal liberation. I want to heal the planet from what we have done and are currently doing to destroy it. There isn't much time left—newer generations will not be able to enjoy life like we have. And I'm going to do the best I can to help.
How did you get involved with Vegan Outreach and leafleting?
I'd been hearing about the leafleting life for years. I started out as a volunteer, joining Vegan Outreach leafleters in the Washington, DC area. I'm still pinching myself VO gave me a shot to do my own tour!
Do you have a favorite leafleting moment to share?
I love meeting people who've gone vegan because of a leaflet Vegan Outreach has given them. I hope one day someone will do the same with one of mine.
What do you do for fun when you're not leafleting?
I sing, weight train, create awareness on social media of the suffering of animals and people, feed the homeless people of Miami, volunteer time to entertain foster children, meditate, and read. I also have a huge interest in metaphysics.
Can you tell us one of your favorite vegan products to share with our readers?
Justin's Chocolate Hazelnut Butter…is life!